Thermax increase its refinery presence through SRU order win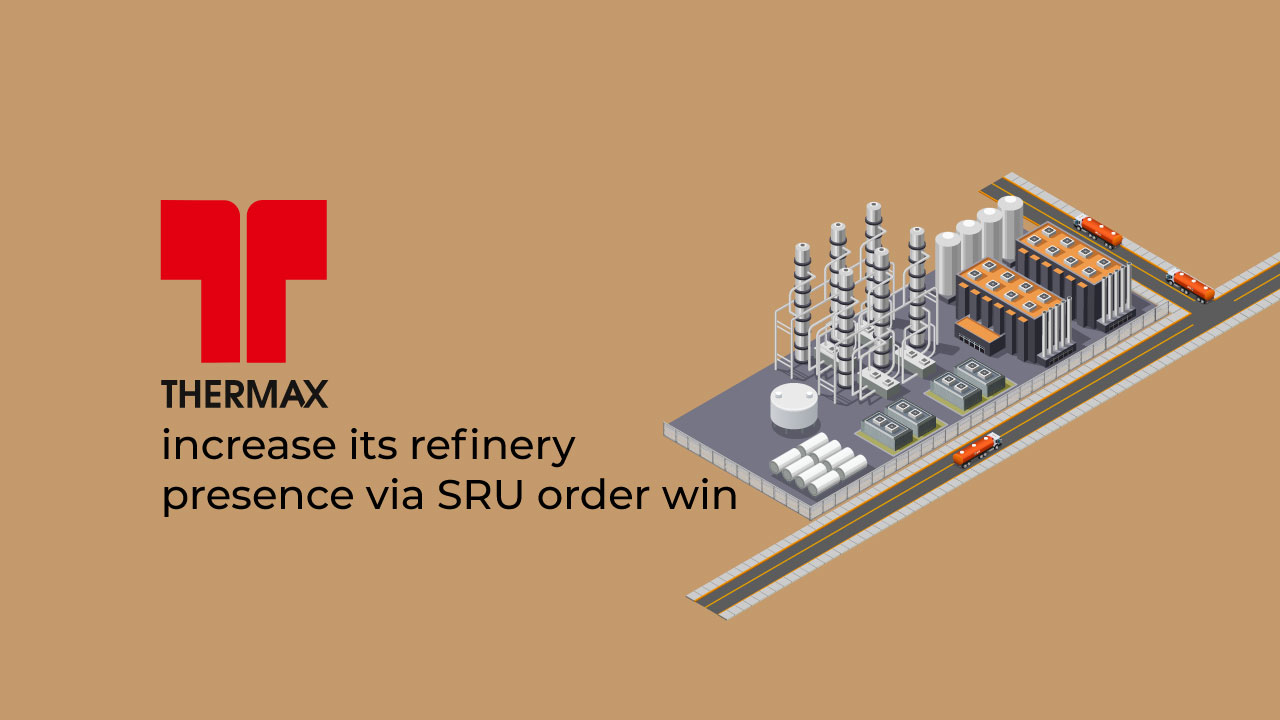 ---

Thermax Ltd has won a $150-mn order for its Sulphur Recovery Unit (SRU) at the Numaligarh Refinery. The entry into SRU enables it to bid for a high single-digit share of refinery CAPEX versus mid-single digit levels until now.
Thermax would likely end FY2022 with an order backlog of greater than Rs.80billion. Most of its new businesses are doing well. It has won orders in three new EPC businesses beyond CPP – Bio CNG, Bioethanol, SRU. It has outgrown the market for its environment offering for its three segments – air, water, FGD. Its utility as a service offering for green energy has grown business manifold over the past few years. Thermax can continue to surpass the domestic market from this point. Thermax's recent initiatives to increase its relevance in three new business lines – waste-to-energy, solar operating expenditure, and digital. 
Thermax's focus on growing its products and services portfolio and on diversifying projects business beyond captive power is playing out well. It has some time to pivot to renewables before the endgame on the pace of refinery CAPEX plays out. A negative-working-capital company for long, Thermax deserves the benefit of the doubt by investors concerning its capital allocation, especially concerning industry-level solar plants.
 Thermax is cognizant of 
(1) related business and technology risks
(2) customer need for a trusted utility as a service provider for solar at an intermediate industry scale
(3) its ability to get financial partners and or sell such solar assets.
Lastly, investors may want to temper expectations of Thermax margin returning to double-digit levels as:
(1) competition is all-pervasive
(2) customers are grappling with inflated project costs
(3) Thermax needs to invest in new capabilities and in curbing attrition. 
Thermax has won an Rs.12-bn order from Numaligarh refinery for an EPC of Sulphur recovery unit (SRU) block. This is Thermax's fourth bid for such an order. In this order, Thermax outbid the two other contenders in ISGEC and BHEL, both of which have recently won similar orders over the past year. As per industry reports, Thermax's Rs11.8 bn was more than 10% lower than BHEL's L2 bid of Rs13.4 bn and way better than >Rs15 bn bid of ISGEC. 
Thermax has increased its wallet share for refinery-related orders with its entry into the SRU block. It has largely limited its play in the refinery sector to the Captive Power Plant and Power Island portions of the refinery CAPEX. Against an earlier 5-7% wallet share for Thermax in refinery orders, the SRU order potentially adds another 2-4%. The current SRU order won is equivalent to 4% of the related Numaligarh refinery project cost and accounting for Thermax having serviced the product demand (Waste Heat Recovery Boilers) for the SRU block to some extent in the past as well. Thermax supplied Waste Heat Recovery Boilers to Reliance's Jamnagar Refinery for its Sulphur Recovery Unit
Unlikely to be a high-margin category. The EPC of the SRU complex does involve any big element of engineering. Punj Lloyd and BHEL were winning such orders in the first decade of this century. The entry into the SRU business is therefore different from the entry into the other EPC works, namely (1) Bio CNG plant based on rice straw and (2) for converting bamboo into fuel for 2G ethanol.
With the SRU order, it will cross Rs80 bn in order backlog. Thermax is likely to bid for more projects at a higher margin threshold, though it can still manage growth by outsourcing a part of the value addition.
Start Investing in 5 mins*
Rs. 20 Flat Per Order | 0% Brokerage
Open Free Demat Account
Mobile No. belongs to
By proceeding, you agree to the T&C.