Things Your Mother Can Teach You About Share Market Trading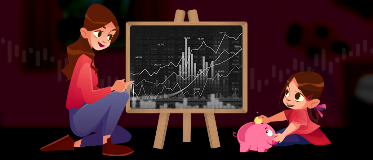 ---

Mothers are the first and the most important source of learning in any child's life. As a child, you might have learned a whole lot of things from your mother. Parenting not only involves teaching your child out of textbooks but also teaching them the nuances of day-to-day life.
Similarly, a very crucial thing that mothers can teach their children is how to manage their finances. Knowing how to manage your finances right from the early years helps lay a good foundation for the future. Understanding the basics of financing such as spending, saving, and investing will ensure a well-managed and a financially secure future for your kids.
Hence, if are looking forward to being a pro with your finances, then here are a few things that your mother would have taught you.
Be Patient: Unlike the previous one, the current generation is a little short on patience. Patience is one of the most important virtues that mothers can teach their children. Patience will help you keep calm while trading/investing such that you do not take any rash decisions during stressful market behavior. This will not only help you remain focused but will also save you from unnecessary panic and from the losses that are a consequence of the panic and loss of focus.
Value Money: One thing which the older generations practiced was valuing money. This is a helpful trait when it comes to trading as well; valuing money will save you from overtrading. It will also keep you from splurging on non-essential requirements, thus contributing to more savings, which could help you scale your investments.
Have Clarity: Clarity of thought is another essential quality you can learn from your mother. Clarity of thought, when setting a goal or choosing targets, is an important trait to have. It will help you set clear and realistic goals, in turn, helping you remain focused and get due returns in a set timeline.
Do Not Get Overwhelmed: Profits can be overwhelming and at such times, you need to keep calm and not indulge in overtrading. At the same time, losses could be dooming too, but you should not let that affect your trading pattern and regimen. The trait of striking the right balance between emotions and maintaining a steady pace is a must-have from your mother. Applying this trait to trading would be very beneficial for you in the longer term.
Keep a Safety Cushion: Ensure a safety cushion in the form of emergency funds, something which your mother has always been maintaining. Learning the same and maintaining emergency funds could save you in tough times or when a trade hits a rough patch.
Calculate Your Risks: Taking calculative risks can help you avert big losses while trading, and this is what most mothers want to teach their children. Consider all the pros and cons along with your risk appetite and the effect it has on your budget. This will help you reduce the impact in case the market hits a low.
Though they might seem outdated or old on the surface, your mother's tips carry the weight of their experience over the years. Hence, it may be a good idea to discuss your financial habits with her as well.
Start Investing in 5 mins*
Rs. 20 Flat Per Order | 0% Brokerage
Open Free Demat Account
Account belongs to
By proceeding, you agree to the T&C.