Why India should opt for Green Hydrogen?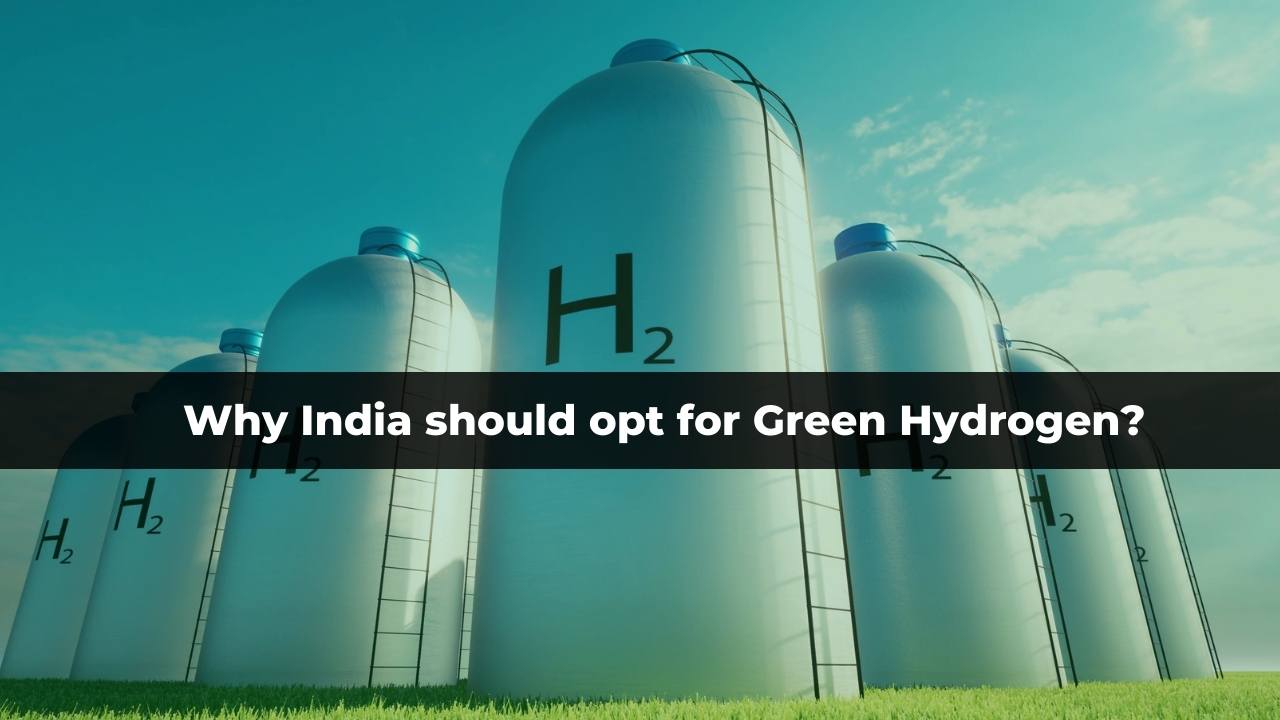 ---

In recent times we have read tonnes of articles regarding Green Energy, Green Hydrogen, etc. Many Indian companies are planning to enter the Green Hydrogen segment but will it be a good decision, should India opt for Green Hydrogen? Let's find out.
But before that let us understand What exactly Green Hydrogen is…
What is Green Hydrogen?
During the Covid-19 pandemic, the world has realized the importance of nature, and countries all over the world pledged to decarbonize the earth by 2050. To achieve this, decarbonizing the production of an element like hydrogen, giving rise to green hydrogen, is one of the keys as this is currently responsible for more than 2 % of total global CO2 emissions.
This technology is based on the generation of hydrogen fuel through a chemical process known as electrolysis. This method uses an electrical current to separate the hydrogen from the oxygen in the water. If this electricity is obtained from renewable sources we will, therefore, produce energy without emitting carbon dioxide into the atmosphere.
As the IEA points out, obtaining green hydrogen would save the 830 million tonnes of CO2 that are emitted annually when this gas is produced using fossil fuels.
Usage of Hydrogen:
Fertilizer: Hydrogen is used to produce ammonia through the Haber Bosch process. 90% of ammonia is used to manufacture fertilizers, which is a regulated market; and low-cost domestic natural gas is provided (US$3-4/MMBTU) to the industry. 
Refining: Hydrogen is used to process crude oil to obtain refined fuels like gasoline and diesel. Hydro-desulfurization is used to remove sulfur impurities. Refining however is a deregulated sector largely dominated by PSUs and few large private companies. This sector primarily uses imported natural gas to produce hydrogen.
Methanol: Hydrogen is also used in the production of methanol which is further used in production of acetic acid and formaldehyde. Furthermore, 80% of methanol is imported because of the high prices of natural gas in India
Different types of Hydrogen:
- Grey and Brown Hydrogen: Hydrogen produced using fossil fuels without carbon capture, usage, and storage (CCUS) technology. Sometimes further divided into 'grey' for gas and 'brown' for coal.
- Blue Hydrogen: Hydrogen produced using fossil fuels with CCUS technology (typically methane reforming) which captures carbon emission (10kg CO2/1kg of hydrogen) and provides storage. Currently, capturing hydrogen through the Blue Hydrogen process costs around US$150/ton.
- Green Hydrogen: Hydrogen produced via electrolysis (alkaline and proton exchange membrane [PEM] technologies) using renewable electricity where hydrogen is extracted from water using an electrolysis process.
Hydrogen Demand in India:
India has envisaged that hydrogen usage in the country will enhance from 6.7MMT in FY21 to 12MMT over the next decade, led by strong growth in the fertilizer and refining sectors and also from the replacement of expensive natural gas/oil/coal across other sectors like steel, chemicals, long-haul transport, shipping, and aviation. In this context, hydrogen needs to be low-carbon from the outset and ultimately green. India targets to achieve 20-30% of this 12 MMT of demand through green hydrogen.
Why should India opt for Green Hydrogen?
- Reduce dependency on expensive and pollutant fuel
India's dependence on imported oil and gas fuels is very high, with nearly 85% of its oil and >50% of its gas requirement being met through imports. Green hydrogen can be used as an alternative and it can displace fossil fuels across the above-mentioned industries; it can also be produced in bulk through the abundant renewable energy resources available in India. The move would not only help decarbonize the economy, but it will ensure much-needed energy security and independence to the country, helping lower imports and thereby smoothening fiscal deficit
- Decarbonising the economy through fuel switch
With high dependency on fossil fuels to meet its energy requirement, India's energy sector accounts for ~70% of the country's greenhouse gas (GHG) emissions, followed by agriculture (20%), industrial processes (6%), land-use change and forestry (4%) and others (2%). Hydrogen, with its versatile prospects, can be applied across these sectors by displacing conventional pollutant fuels; this would help decarbonize the sector as well as the economy
- Enable acceleration of renewable energy capacity
The adaptability of green hydrogen would lead to an acceleration in renewable capacity addition across sectors through the opening of significant alternative end uses. Also, green hydrogen can initially gain traction in refineries and fertilizer industries where grey hydrogen can be displaced; its applicability in the transport and steel sectors will take place over a period of time.
-Hydrogen Mandates
GoI proposes to impose small mandates on the usage of green hydrogen by fertilizer and petroleum industries, which already consume the bulk of hydrogen used in the country produced from fossil fuels. Thus, even a small mandate could create a huge demand for green hydrogen in India. Furthermore, many metals and minerals companies are also planning to replace their captive coal/gas-based power capacities with green hydrogen for manufacturing green steel, green ammonia, etc. All put together, the three sectors viz, fertilizer & chemicals, petrochemicals, and metals & minerals have a cumulative captive conventional power capacity of ~32GW, which can be transitioned to green hydrogen. 
Indian government's initiative – green hydrogen policy
The Government of India (GoI) has introduced the green hydrogen policy, in line with the country's National Hydrogen Mission launched in 2021, which aims at boosting domestic green hydrogen production to 5MTPA by 2030 and making India an export hub for green hydrogen.
Key aspects:  
- Reducing transmission charges: At its core, the policy focuses on reducing the cost of green hydrogen by providing free and easy access to the inter-state transmission system (ISTS) for 25 years for capacity installed by June 2025 for green hydrogen/ammonia production.
- Ease of setting up projects: The policy also facilitates ease of setting up green hydrogen projects by providing a single-window clearance for setting up green hydrogen production as well as a facility for producers to bank any surplus renewable energy generated for up to 30 days and use it as required, by paying relevant banking charges.  
- Priority towards grid connectivity: Furthermore, RES plants set up for green hydrogen projects would be given priority for grid connectivity. Discoms may also procure green power to facilitate supply to green hydrogen projects.  
- Access to RES capacity: Green hydrogen manufacturers can buy renewable power from power exchange or set up renewable energy capacity themselves, or through any other developer. The plant will be granted open access for sourcing RES within 15 days of receipt of the application.
- Storage facility at ports for export purposes: Manufacturers of green hydrogen/ green ammonia shall be allowed to set up bunkers near ports for storage of green ammonia for export/use by shipping. The land for storage purposes shall be provided by respective port authorities at applicable charges.  
- Facilitation for RPO obligation: RES consumed for the production of green hydrogen/ammonia shall count towards RPO compliance of the consuming entity. The RE consumed beyond the obligation of the producer shall count towards RPO compliance of the discom in whose area the project is located.
Wrapping Up:
So this was all about why India should opt for Green Hydrogen. In the coming years, there are possibilities that we will be able to see various industries in India switching to Green Hydrogen from other fuels due to its various uses and benefits.

Tags: Green Hydrogen, What is green hydrogen,  Green Hydrogen Stocks, Green Hydrogen Plant, Green Hydrogen Companies in India
Start Investing in 5 mins*
Get Benefits worth 2100* | Rs. 20 Flat Per Order | 0% Brokerage
Disclaimer
Investment/Trading is subject to market risk, past performance doesn't guarantee future performance. The risk of trading/investment loss in securities markets can be substantial. Also, the above report is compiled from data available on public platforms.
Open Free Demat Account
& get benefits worth 2100*
Have Promo code?

Use code ACT2100
Enter Promo code
By proceeding, you agree to the T&C.
Start Investing Now!
Open Free Demat Account in 5 mins