Why is it important to stay invested in equity?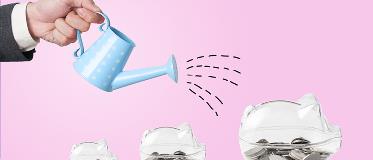 ---

It is said that "investments in the stock markets are subject to market risks". The literal meaning of this statement sounds scary. The market is like an ocean full of big and small waves that constantly move up and down. A smart investor is one who believes in diversification and invests when the wave is down and encashes when it is up.
But is it that simple? A stock purchased at a particular price and which was showing an upward trend suddenly goes down for whatsoever reason after you have bought it. It still shows a negative trend for some time and then panic hits you. You start wondering if you did the right thing by investing in the stock at that particular price. After stressing over this for a few days, you decide to exit to avoid further losses, but still bear some loss.
This is the scenario that almost everyone comes across in the stock markets. However, what you need to know is that there is no need to panic if your stock shows a negative trend. If you want to earn higher returns, it is recommended to stay invested in the equity that you have purchased for the long run.
Market volatility
Market volatility is experienced constantly in the form of small, medium, and big waves in the stock markets. For example, the market suddenly tends to go in the opposite way right when you are expecting a strong economy, thus making us feel lost. You may feel uncomfortable in such a situation, but it is recommended to stay invested in that stock till the wave stabilizes. Remember that the losses you see in the markets during such downfalls are just on paper until and unless the stock that you sold was your own.
It is always recommended to stay invested in diversified equities. The market often experiences ups and downs and equity prices are likely to react in the same way for various reasons. If you remain invested in stocks from different industries or sectors, then market volatilities won't affect you as much. A combination of various stocks can give improved results and a stronger portfolio.
All in all
Volatility is normal

Ups and downs in the equity market are normal. Historical evidence shows that many people who remained invested during volatilities in the market are the ones who benefitted the most out of it. Many people buy and exit stocks out of fear. The wise decision would be to wait for some time and follow the stock's trend. Most volatility in the market is just noise that is irrelevant to the economic and fundamental base of the equities.

Do not exit at the lows

An investor should not concentrate on short-term momentum gains. The market often experiences pullbacks giving false indications to investors. Those who exit the equity market during these rebound pullbacks often bear the losses. An extreme example of the pullback occurred in 1987 on Black Monday, when the stock market lost 20% of its value. However, such extreme scenarios occur just once in a while.

Focus on long-term gains

Investors should always remain focused on long-term gains. You should not change your decisions with each change in the market. Remaining invested in the stock is important, particularly in situations of volatility. However, your exit plans should be calculated and kept ready if your stock reaches the particular desired value. If the analysis shows an upward trend, it's wise to consider the option and remain invested in it.

Consider diversification in equities
It is not possible to predict the trends of the market. Equity investments require a great deal of patience and if you remain invested without fearing short-term volatilities, you can reap great rewards. Keeping a long-term goal and consulting a financial advisor when in doubt can help you win the battle. 
 
Start Investing in 5 mins*
Rs. 20 Flat Per Order | 0% Brokerage
Open Free Demat Account
Account belongs to
By proceeding, you agree to the T&C.