10 Investment Tips That Can Be Learned From The Football World Cup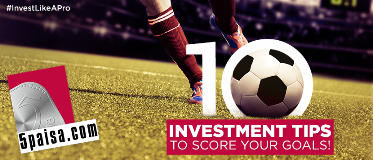 ---

Like in your Online Trading performance, the game of soccer is a matrix of strengths, weaknesses, opportunities and threats. You need to play to your strengths, manage your weaknesses, grab the opportunities and neutralize the threats. Whether it is the 90 minutes of a soccer game or the 400 minutes of a trading day, the logic remains the same. Let us go beyond short term trading and look at investing as a longer term commitment. Are there any lessons from the 90-minute soccer game for investors. Actually, there are 10 such lessons.
Get the basics right
What are the basics in soccer? Skill, fitness, speed and belief are key to a game of soccer. Above all you need a team of guys who are absolutely committed to score goals and win the game. As an investor, your commitment to making profits lies at the core. The basics are the same for investing. You need domain knowledge, ability to take decisions, maintain a fit portfolio and finally believe in your abilities.
Spread your strategy and your risk
In soccer it can be disastrous if the focus is too much on the defence, mid-field or the forward positions. There has to be a balance, otherwise you leave one critical flank exposed. The logic is the same in investments too. You got to combine stock selection, with smart execution, with monitoring and risk management. Only then you get the best results. And of course, as an investor, do not put all your eggs in one basket.
Keep an eye for the superstars
Havells identified in 1996 or Eicher picked in 2001 are a lot more valuable than being bought today. If you want to be successful in investing, pick your stars early and bet on them for the long term. The Maradona, Zidane, Messi and Ronaldo in your portfolio will not happen in a day. You have to keep an eye on the superstars, bet on them and believe in them.
Get over the noise
Have you ever wondered what it is like to play soccer at the Maracana in Brazil or the Stad-de-France. It is hard not to be overwhelmed by the grandeur of the occasion. That is where you need to get over the noise and the distraction and focus on the game. As an investor, you will come up with umpteen distractions. Negative news flows, portfolio reverses, macro risks; they all will add up to rock your portfolio view. You need to hold on. Just get over the noise and play like it's the most important game of your life.
Take calculated risks
Nobody won an important soccer match without taking calculated risks. The 1998 final between France and Brazil was an example of how Zidane used the corner flanks to outwit the Brazilians. Of course, Ronaldo's boys were no pushovers but it was a risk that worked for Zidane and France. When you are investing, you need to take that calculated risk. There is no guarantee of success. It is like buying an Infosys in 1995 or a Bharti in 2002 or Eicher in 2009. Unless you take these calculated risks, you can never be a fabulous investor.
Track record does not add up to much
Remember, the first game of 1990 world cup when un-fancied Cameroon beat the reigning champions Argentina. Roger Milla of Cameroon just chose to ignore the Maradona aura and played his natural game. When you are investing in the markets, it is quite easy to be overawed by the track record of companies and the legendary stories of marquee investors. They really do not add up to very much. Keep your focus on what you are best at.
Be pragmatic in your approach
There is a time in soccer to go for the kill and there is a time in soccer to hold your horses. When you are 2-0 up in the game with 5 minutes to go, the most pragmatic decision is to tighten your defence. That is what most soccer teams would do. There is no point in taking risks. Pragmatism is the key in long term investing too. Some ideas just don't work and some stories just don't translate into results. If it is time to be in cash, no point being fully invested. Pragmatism is the key in investing too.
Make a mistake and move on
You miss a penalty kick, goof on a penalty corner or score a self-goal. What do you do in soccer? Just move on! That is the message for investing too. When you get your reading of the market wrong, when you are forced to give up on the stocks you bet on for a long time or when the macros make a mess of your investment strategy, what do you do? The answer is to just move on.
Do a post-facto analysis
Good soccer teams ponder over their games with their coaches and team managers. This helps them see a different perspective. Where you went wrong is never obvious to you because you are conditioned to believe that you are right. Similarly, in investments, getting second opinion and looking back at your decisions objectively makes a huge difference. Don't miss out on that.
Everything takes time
Great soccer sides are not built overnight and world cup wins are not accomplished overnight. It is a long journey to become like the Brazil, Italy and Germany of the soccer world. Similarly, your portfolio is not built overnight. Super starts don't happen overnight. You have got to wait. It does take time!
Start Investing in 5 mins*
Rs. 20 Flat Per Order | 0% Brokerage
Open Free Demat Account
Account belongs to
By proceeding, you agree to the T&C.