How Self Investment in Stock Market is as Easy as Ordering a Pizza?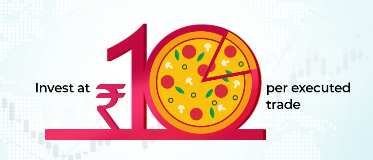 ---

If you thought that investing on your own can be cumbersome, think again! It can be as simple and as exciting as ordering a pizza; seriously. How exactly do you order a pizza today? There are just four simple steps; you download the Pizza delivery app, select the pizza of your choice, select the toppings and make the payment online. Within less than 30 minutes the pizza gets delivered at your doorstep.
Obviously, investing online will require a slightly higher degree of sophistication. You will need to research the stock and check the contours of the order that you are placing. Then you need to fund your trading account and your job is virtually done. The real beauty of this entire process lies elsewhere. As an investor, you have absolute control over the trade, you can decide the price and quantity to order and you can check the status of your order online. Not just that, your bank account and demat account are also linked to your online trading account so you can seamlessly check the status of your portfolio. Let us look at the process of self-investing in greater detail.
How self-investing in the markets actually works?
You need to go through some very simple steps to invest in stocks. Let us look at how the process can be really simplified.
The first step is to download the investment app on your smart phone. For your safety, this app must be downloaded in the phone with the same number as is registered in your demat and trading account. Otherwise it creates a mismatch.

Read up, research and analyze. There is a lot of fun and adventure in doing this on your own. It is not just about reading research reports but also about using the screeners and chart that are built into the online trading platform. You get access to reports, blogs and you can sort companies according to sectors and financial parameters of your choice. Now you are all set to short list the stocks you want to buy or sell.

Having identified the stock to buy, first check that you have enough balance in your bank account and fund your trading account accordingly. In case you are looking to sell a stock, ensure clear balance in your demat account. Online trading accounts are designed to do such checks before executing your order.

It is now time to place the order. Should you place a market order or a limit order? That depends on the market condition. In volatile markets, prefer a limit order and opt for market orders in trending markets. That will give you a better deal and better timing; believe me it matters a lot in the final analysis. You can place the order and ideally keep it valid for the full day.

Like you can check whether your pizza has left the store and where the delivery boy has reached, you can also track your investment order online. If you go to the Order Book section, you can see the status of your orders placed; how many shares are executed and at what price. All executed orders are automatically reflected in the Trade Book.

You need to do a lot of quality checks on a periodic basis. You must download a copy of the contract note and check your actual costs and tally that with the ledger account. Also ensure that stocks bought come into your demat account in T+2 days (trading day plus two working days) and in the event of sale, the proceeds come into your bank account in T+2 days. That more or less completes your order loop.
Ordering a pizza; but is investing not different?
To be fair, ordering a pizza does seem a lot simpler but you just need to get familiar with this Do-It-Yourself approach and you will find that investing can be done as quickly as ordering a pizza. No calls to the dealer and no waiting for dealer confirmation. You have full control over the entire investment value chain.
On a lighter note, there is a difference between ordering a pizza and ordering investments over the app. The pizza order lightens your wallet and adds calories to your waistline. Investing online actually fattens your wallet and helps you create wealth. The choice is yours!
Start Investing in 5 mins*
Rs. 20 Flat Per Order | 0% Brokerage
Open Free Demat Account
Account belongs to
By proceeding, you agree to the T&C.