SEBI Lays Down Operating Norms for Silver ETFs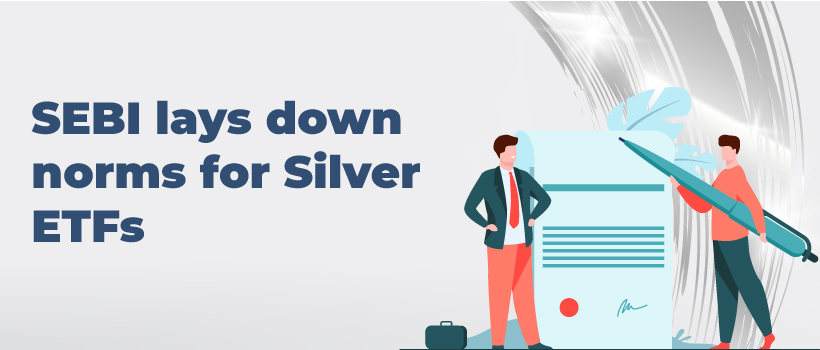 ---

In what was a long anticipated move, SEBI laid down detailed operating norms for silver ETFs. Like gold ETFs which invest in gold as an underlying and issue units against such underlying, the silver ETFs will have graded silver as an underlying asset and issue units against these holdings.

This will enable investors to take exposure to silver as an asset class, which is a half-way between being a precious metal and an industrial metal.

Under the SEBI operating norms laid down, the silver ETFs will have to maintain at least 95% exposure to silver and silver-related instruments. This would include investing in other silver ETFs or even exposure to exchange traded silver derivatives, albeit subject to certain conditions.

With respect to silver derivatives, it cannot exceed 10% of the net asset value or NAV of the scheme. 
In addition, a silver ETF intending to invest in exchange traded silver derivatives will have put in place a written policy and process flow with respect to such derivative investments and get the same approved by the board of the AMC as well as the trustees.

The 10% limit on silver derivatives will not be applicable in case the intention is to take delivery of silver and not for speculative rollover. That would be treated as equal to physical silver.

The cumulative gross exposure of the silver ETF cannot exceed 100% of the net assets of the scheme. SEBI has stipulated that the physical silver underlying the ETF units will have to be of standard 30 KG bars with 99.9% purity.

That is the stipulation of the London Bullion Market Association (LBMA), which the silver ETFs will have to adhere to. All silver ETFs will be benchmarked against the silver price based on the LBMA daily spot price. Like the gold ETFs, the silver ETFs also have to be listed and traded on a recognized stock exchange.

In addition, the AMC will also appoint market makers or authorized participants to create liquidity on a continuous basis in these ETF units. These authorized participants or MMs can directly buy and sell units of the silver ETF with the AMC.

Finally, on the subject of tracking error, SEBI has stipulated that the annualized standard deviation between returns on spot silver and silver ETF units must not exceed 2%. Tracking error refers to the extent to which the ETF does not track the underlying index or asset class and in case of ETFs, lower the tracking error, the better it is. 

ETFs are passive products and are extremely cost efficient offering traders and investors a facility to speculate on the commodity, allocate funds and also diversify their portfolio risk.

All commodity funds of an AMC including silver, gold and other commodity ETFs must have a dedicated manager overall. NAVs must be calculated by the AMC and disseminated on a daily basis.
Start Investing in 5 mins*
Rs. 20 Flat Per Order | 0% Brokerage
Open Free Demat Account
Account belongs to
By proceeding, you agree to the T&C.