Do You Know sectors to Benefit from Joe Biden's win?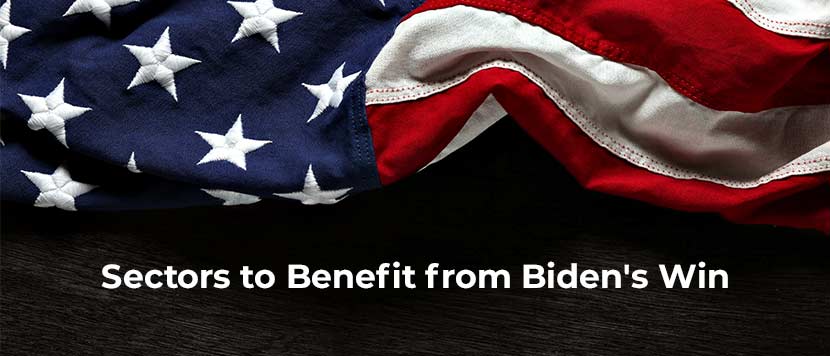 ---

The markets have turned volatile in advance of the United States (U.S) election and continue to remain volatile post-election. The waves were felt not only in India but across the globe in the equity markets. Joe Biden is to be the 46th President of the U.S and it would certainly lift hopes of certain sectors back in India.
Certain industries that might get affected more than others with Biden's victory.  Biden plans to spend roughly US $3.2 trillion over the next decade. His plan includes a spending budget of US $750 billion to improve healthcare and the US $750 billion to revamp education as per the media reports. The win of Joe Biden might not make any material difference in the long run, but in the near term.
We have gathered a list of sectors that are likely to benefit from Joe Biden victory as the U.S President.
Metal Stocks and Pharma stocks:
We expect metal stocks to benefit from Biden's infrastructural push. Metal stocks could gain on the expectation of higher steel export to the U.S for additional infrastructure spending of ~$700-800 bn in the next 10 years.
The Indian Pharma sector is expected to benefit from the Biden win on the back of increased push for generic prescriptions and push to affordable health insurance. Biden plans to protect and strengthen The Affordable Care Act, which ensures a reduction in healthcare costs and access to health insurance for the U.S citizens. This implies more reliance on generic drugs and biosimilars, that would be positive news for Indian Pharma companies. As per the media reports, the U.S imports ~$7 billion worth of formulations from India annually. An increased scope for access to affordable health insurance would also boost the demand for generic drugs.
Electric Vehicle companies:
Biden in his campaign had made it clear that his administration's focus will be on green energy. As per the media reports, Biden has promised $400 billion in public investment to transition to clean energy, including advanced battery technology and electric vehicles. Therefore, Shares of EV companies and the battery and the solar sectors would benefit from Biden's win. Biden could also ease concerns about the trade war with China leading to a positive impact on global trade.
Real Estate, Financial Institutions:
A Biden win would mean a larger stimulus followed by additional means to improve healthcare access and other social welfare programs. Sectors that are likely to get impacted include real estate, financial institutions, student loans, etc.
Chemicals, Cement and IT sector
The Chemical sector which competes with China might have a positive impact as the U.S can take a tough stand against China. Similarly, the infrastructure push by Biden will benefit the cement industry.
The market experts have an opinion that visa restrictions for software engineers sent by Indian IT companies could ease. Trump has tightened norms for H-1B visas, mostly used by software services providers to send engineers for on-site work. That prompted IT companies to ramp up hiring local talent in the past three years, increasing costs in the market that contributes 50-65% of the revenue for India's five largest IT firms. A Biden presidency is, however, seen to be less hostile to immigrants.
Conclusion:
U.S elections are likely to lead to short-term market swings that will be insignificant over the longer run.  Therefore, we recommend the investors to stick to their long-term strategy and stay focused on individual stocks.
Start Investing in 5 mins*
Rs. 20 Flat Per Order | 0% Brokerage
Open Free Demat Account
Account belongs to
By proceeding, you agree to the T&C.