Crude Oil at $75/bbl – Here comes inflation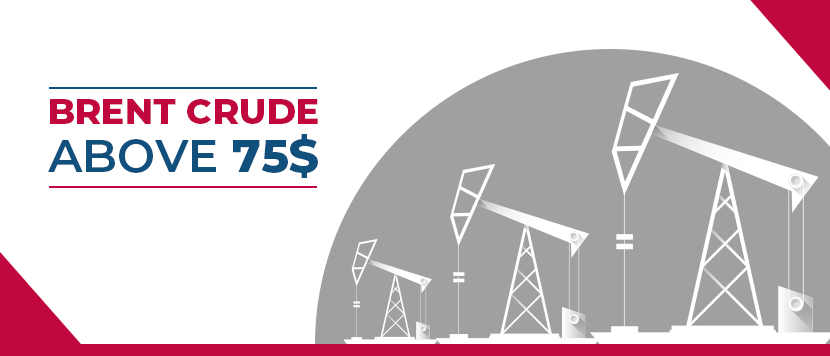 Brent Crude touched $75/bbl after a long gap. The last time Brent Crude was above $75 was back in 2018, when oil peaked around $79/bbl. Of course, crude oil is still a long way off the $100/bbl mark which it scaled prior to 2014. What exactly is driving oil higher? For one, the OPEC talks for increasing oil supply has failed. OPEC is a cartel of oil players led by Saudi Arabia, which controls over 30% of the global oil supply. OPEC had cut oil supply last year to boost oil prices and that has been one of the reasons for the rise in oil prices.
But low supply has a cost to the oil producers too. They are not able to profit fully from the higher prices due to supply constraints. As a result, a clutch of OPEC members including United Arab Emirates have been insisting on a sharp increase in supply. In fact, OPEC was planning to add nearly 7 million barrels per day (bpd) from Aug-21 but that is the crux of the dispute. While UAE and other countries are keen to add supply, big guns like Saudi Arabia want to persist with supply cuts for longer.
This dispute has meant that OPEC supply may not fully return in August. That is not great news for India because every $10 increase in crude oil prices leads to 0.5% increase in inflation. With India relying on imports for 80-85% of its oil needs, this vulnerability is here to stay. That explains petrol and diesel at above Rs.100/litre. As long as the OPEC dispute is on, India must prepare for higher levels of inflation.
Read: Sectors dependent on crude Oil
About the Author
Open Demat Account

Start investing in just
5 minsFree Demat account,
No conditions apply
0%* Brokerage
Flat ₹20 per order
Start Investing Now!
Open Free Demat Account in 5 mins