Stocks, Commodities, Currency
₹20/order
Any value | Any number of trades
Any type | Any segment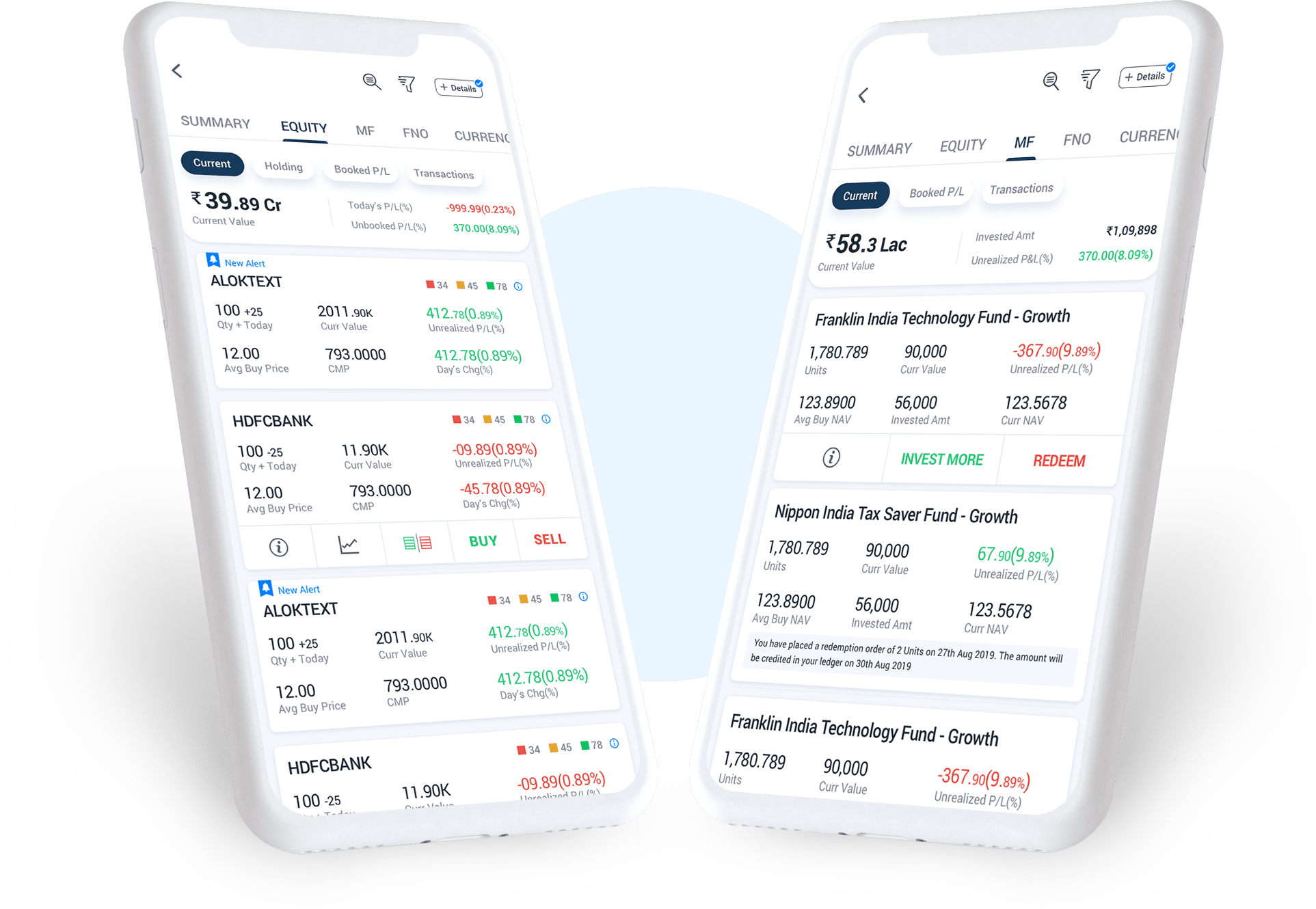 Mutual Funds
₹0 Commission
Direct code investing | No commission
No other charge | No conditions
Taxes and statutory charges
Types of Charges
Equity Intraday
Equity Delivery
Derivatives
Currency
Commodities
Transaction Charges

Equity Intraday

0.00345% (NSE)
0.00345% (BSE)*

Equity Delivery

0.00345% (NSE)
0.00345% (BSE)*

Derivatives

0.0020% (Future)
0.053% (Options)

Currency

0.0009%(Future)
0.035% (Options)

Commodities

Grp A (28 Commodities) 0.0026%

Grp B (4 Commodities) BLACK PEPPER - 0.00005% BRASS - 0.0005% CASTORSEED - 0.0005% RBDPALMOLEIN - 0.001%

Options Contracts: Waived Off till 30-09-2020
Securities Transaction Tax (STT)

Equity Intraday

0.025%

Equity Delivery

0.10%

Derivatives

0.01% (Sell Future)
0.05% (Sell Option)
0.125% (On exercise)

Currency

0

Commodities

N/A
Commodity Transaction Tax (CTT)

Equity Intraday

N/A

Equity Delivery

N/A

Derivatives

N/A

Currency

N/A

Commodities

0.05% (Sell Option)
0.0001% (On exercise purchaser)
0.01% (Sell Future)
Stamp Duty

Equity Intraday

0.003% or Rs. 300 / crore on buy side

Equity Delivery

0.015% or Rs. 1500 / crore on buy side

Derivatives

0.002% or Rs. 200 / crore on buy side (Future)

0.003% or

Rs. 300 / crore on buy side (Options)

Currency

0.001% or Rs. 10/ crore on buy side

Commodities

0.002% or Rs. 200 / crore on buy side (Future) 0.003% or Rs. 300 / crore on buy side (Options)
SEBI Fees

Equity Intraday

00.00010%

Equity Delivery

0.00010%

Derivatives

0.00010%

Currency

0.00010%

Commodities

0.00010%
All About Other Charges
DP (Depository Participant) Annual Maintenance Charge

₹0 if your shares value is less than ₹50,000. If shares in your DP exceed ₹50,000 then ₹75 per quarter is charged.

DP Transaction Charge Credit ₹ 0 (When you purchase shares, no transaction charge)

DP Transaction Charge Debit ₹ 12.5 per script, (When you sell shares, this charge is levied)

Pledge Charges
         ₹12.50 + GST per scrip for Margin pledge.
         ₹25.00 + GST per scrip for MTF.
         ₹50.00 + GST per scrip for Normal pledging charges (Loan Against Shares)
Risk Management Team squaring off

If your margin is inadequate and you on your own do not square off, our Risk team will square off trades in the last 15 minutes of trading session i.e. between 0315-0330 pm, A nominal charge of ₹50 per executed order will be levied.
Call & Trade Charges

₹100 per call on trading section of our customer support. We don't charge anything if called for query or complaint to our customer support number

Funds Transfer Charges

No charge for funds transferred through UPI and IMPS. No charge for funds paid to you from credit in your account. For funds transferred through Net Banking, ₹10 per transaction is levied

Dematerialization of physical shares

₹15 per certificate in case of dematerialization of physical shares.

Delayed payment charge

If your account is in debit, delayed payment charge of 0.06% per day is charged only for amount in debit on a daily basis and only from payin day e.g. for shares purchased, this charge will be applicable if you do not transfer funds for more than 2 working days.