IPO Details
Open Date

01-Nov-21

Close Date

03-Nov-21

Lot Size

90

IPO Size

₹ 125.43 Cr Cr

IPO Price Range

₹ 161 - 163

Min Investment

₹ 14,490

Listing Exchange

NSE, BSE

Basis of Allotment

10-Nov-21

Refunds

11-Nov-21

Credit to Demat Account

12-Nov-21

Listing Date

15-Nov-21
Sigachi Industries Ltd IPO Subscription Status
Sigachi IPO Subscription Status
| | |
| --- | --- |
| Category | Subscription Status |
| Qualified Institutional (QIB) | 86.51 Times |
| Non-Institutional (NII) | 172.43 Times |
| Retail Individual | 80.49 Times |
| Total | 101.91 Times |
Sigachi IPO Subscription Details (Day by Day)
| | | | | |
| --- | --- | --- | --- | --- |
| Date | QIB | NII | Retail | Total |
| November 01, 2021 17:00 | 0.57x | 4.44x | 16.81x | 9.52x |
| November 02, 2021 17:00 | 0.82x  | 16.99x  | 38.49x  | 23.12x  |
| November 03, 2021 17:00 | 86.51x | 172.43x | 80.49x | 101.91x |
IPO Synopsis
The total issue size of Sigachi IPO is ₹125.43 Crore, with the lot size of 90 equity shares at the IPO price range between ₹161-₹163. It is offering 7,695,000 equity shares having face value of ₹10.
IPO proceeds from the fresh issue will be used to:
• Expand production capacity for microcrystalline cellulose (MCC) at Dahej, Gujarat
• Expand production capacity for MCC at Jhagadia, Gujarat
• Fund capital expenditure needed to manufacture CCS
Sigachi Industries Ltd Shareholding Pattern
| | |
| --- | --- |
| % Shareholding | Pre- IPO(%) |
| Promoter & Promoter Group | 64.64 |
| Public | 35.36 |
Source: Company RHP
About Sigachi Industries Ltd
Incorporated in 1989, Sigachi Industries Limited (Sigachi) manufactures 59 different grades of MCC at its units in Hyderabad and Gujarat with an aggregate installed capacity of 11,880 metric tons per year. MCC is widely used as an excipient for finished dosages in the pharmaceutical industry. The inert non-reactive, free flowing and versatile nature of MCC has varied applications in the pharmaceutical, food, nutraceuticals and the cosmetic industries. It has also entered into operations and management agreements with Gujarat Alkalies and Chemicals (GACL) for operating and managing GACL's units and for contract manufacturing of sodium chlorate, stable bleaching powder and poly aluminum chloride.
With over 30 years of continuous growth, three multi-locational manufacturing facilities and consistent focus on delivering superior quality product, Sigachi is one of the leading manufacturers of cellulose based excipients in India, in terms of volume (Source: Research Report on Microcrystalline Cellulose Industry). The major grades of MCC manufactured and marketed by Sigachi are branded as HiCel and AceCel. Sigachi's Research and Development division (R&D Division) is equipped with the necessary facilities to carry out all necessary trials to develop new molecules from concept to commissioning. In 2005, Sigachi, for the first time registered its Drug Master File (―DMF) under the US FDA enabling it to augment its export operations.
Sigachi Industries Ltd - Financial
| | | | |
| --- | --- | --- | --- |
| Particulars (₹ in crores) | FY19 | FY20 | FY21 |
| Total Income | 132.88 | 143.95 | 196.01 |
| Profit After Tax (PAT) | 19.1 | 20.32 | 30.26 |
| PAT Margin (%) | 14% | 14% | 15% |
Source: Company RHP
Strengths
• Well experienced management team with proven project management and implementation skills Sigachi is led by a group of individuals, having a strong background and extensive experience in the excipient and pharmaceutical industry. Its Promoters and Whole-time Directors, Rabindra Prasad Sinha and Chidambarnathan Shanmuganathan have been associated with the company since its inception. They are the founding members and are actively involved in the strategic decision making for the company, pertaining to corporate and administrative affairs, financial operations, expansion activities, business development and management of overall business. Sigachi has an experienced and professional management team with strong management and execution capabilities and considerable experience in the excipient industry. The team comprises of personnel having technical, operational and business development experience.
• Pan India market presence and one of the leading excipient manufacturers among the market leaders of cellulose based excipients in India With the help of its superior quality products, Sigachi has built a pan- India market presence catering to various end users, merchants, distributors and exporters. It has been at the forefront of innovation focusing on R&D and its ability to customize the usage of its products in various applications.
• One of the leading manufacturers of cellulose based excipient industry in India with over 30 years' experience and multiple applications across industries Sigachi has a legacy of more than three decades in the cellulose based excipient industry. Company believes that consumers have a strong loyalty to its brands, empowering its growth. The R&D division is augmented by niche research skills along with promoters' extensive experience and technical capabilities, company has made advancement in development of MCC. Sigachi is positioned amongst top 10 players globally in manufacturing of MCC based excipients. In domestic market, it is one of the leading manufacturers with large operating capacity giving it benefit for its first mover advantage coupled with its technical capabilities, a capable R&D division and manufacturing infrastructure.
• Presence across diverse industry verticals with long standing customer relationships Sigachi has developed long-term relationships with its customers in various sectors including pharmaceutical, nutraceuticals, food, nutraceuticals and cosmetics. It has increased business with some of its customers, since their addition to Sigachi's portfolio, reflecting its ability to develop and strengthen relationships with customers. Company's ability to customize its products based on customer specifications and requirements, as well as its track record of consistent delivery of products and solutions is its key strength. Its innovative research, efficient processing and application testing capabilities has enabled it to develop and maintain long-term relationships with a number of customers.
• Comprehensive product portfolio enables Sigachi to serve diverse end-use applications Owing to the inert non-reactive, free flowing and versatile nature of MCC, Sigachi is in a position to customize the usage and application of its products across several industries including but not limited to pharmaceutical, food, nutraceuticals and cosmetics. To serve these diverse industries, the polymer is available in several grades which varies in their average particle size and bulk density. Sigachi manufactures MCC in various grades ranging from 15 microns to 250 microns. Its in-house R&D division is responsible for expanding its product portfolio and its application across industries.
• Strategically located manufacturing facilities with a core focus on quality With a view to strategically expand its operations and ensure its market presence in domestic and international markets, Sigachi has set up three multi locational manufacturing units namely, Hyderabad, Telangana (―Unit – I), Jhagadia, Gujarat (―Unit – II) and Dahej, Gujarat (―Unit – III). These units enable the company to provide timely, efficient and customized delivery of its products. Its foreign wholly owned subsidiary namely Sigachi U.S. Inc. has been incorporated in Virginia, USA which ensures its international market presence and helps its cater to the needs and requirements of its international customers.
• Quality assurance and quality control of its products Quality assurance and quality control are integral part of Sigachi's manufacturing operations. Company believes that quality is an ongoing process of building and sustaining relationships. All the products are manufactured strictly as per the GMP norms using the expertise of its experienced and trained team to supply superior quality products at competitive prices. All its manufacturing facilities have a fully equipped Quality Division with experienced and qualified staff to carry out quality checks and inspections at all the stages of the manufacturing process. Its Quality Division and in-house laboratories are equipped with the necessary equipment for ensuring the quality and compliance with international standards.
• Growth led by continuous investment and focus on R&D Sigachi's promoters, who form part of its executive management have inculcated a culture of innovation and instilled a firm belief that R&D is a key element of its growth and, will continue to be so. Company has three R&D Divisions and two in-house laboratories. Its laboratory in Unit-I R&D Division has been approved and has received an accreditation from DSIR to undertake research and development activities. Product and process innovations will be key factor going forward and its continued investment in R&D will empower Sigachi to take advantage of any future opportunities.
• Government incentives Sigachi enjoys certain benefits of incentives under the ―Merchandise Exports from India Scheme (MEIS) and Duty Drawback Scheme, provided by the Central Government of India. Under the MEIS scheme, a percentage of achieved FOB (Free on Board) value of 2, 3, or 5% of the exports, is paid as incentives. The incentives are paid as the MEIS duty credit scrip that will be used to pay for numerous taxes/duties along with the excise duty/customs tax. Further, under the Duty Drawback Scheme, the excise duty suffered on inputs, service tax paid for input service and customs duty paid on imported raw material during manufacturing of export goods are remitted after export of such goods. These incentives help the Company to promote its export activities and widen its global footprint.
• Limited impact of COVID-19 on its business operations The outbreak of COVID-19 pandemic has adversely impacted the global economy. As Sigachi is engaged in manufacturing of MCC which is a critical raw material for pharmaceutical products, its products were categorized under the 'essential goods' segment and its manufacturing facilities at Dahej, Jhagadia and Hyderabad were not shut down during this pandemic. Limited availability of labor, logistics and supply chain constraints impacted manufacturing operations at its plants during the initial period of the lockdown. Since then, company has resumed operations as per the Government of India and state government's directives. Its plant utilization has improved, raw material suppliers have resumed operations and supply and logistics have become more regular.
Growth strategy
• Ramp up manufacturing capacity to focus on the growing demand of its core products Company believes that its strong presence in the Indian market positions it well to capitalize on the anticipated growth in demand of its core products (MCC and the various grades of MCC). It intends to expand the manufacturing capacity of its units situated in Dahej and Jhagadia which will drive growth in revenues and expansion of profit margins. The strategic decision to expand its manufacturing units will increase its ability to meet the expected increase in demand of its products. Company will utilize the net proceeds of this issue to increase the manufacturing capacity at its Jhagadia and Dahej facility by an additional 3,600 MTPA each to maximize the capacity utilization thereof.
• Increase focus on its core business segment Going forward, company will focus on its core business of manufacturing MCC and its various grades for various industries or applications. Sigachi foresees an increase in demand of MCC and to tap the growing market, it will fully utilize resources in its own manufacturing units. Net proceeds of this issue will be utilized to enhance the existing capacity of its Unit – II and Unit – III by setting up additional facility in the said units.
• Diversifying and increasing penetration in markets Currently, Sigachi manufactures MCC of 50 different grades ranging from 15 microns to 250 microns. The domestic market offers various opportunities in term of sub-geographic penetration and product/ market diversification which provide opportunity for gaining market share. This will be done by exploring untapped markets and segments by innovating value added products. Company will also continue to explore opportunities in different regions and countries abroad to enhance its geographical reach.
• Increasing its global presence Sigachi currently exports its products to 41 countries including Australia, USA, South America, U.K., Poland, Italy, Denmark, China, Colombia, Bangladesh, etc. and plans to expand further. Company's primary focus is towards offering diversified and customized products based on the customers' specifications and requirements. Through a combination of increased capacities, reduced costs, wider range of product specifications and services adhering to global standards, marketing initiatives, competitive pricing and more efficient use of its resources, Sigachi will expand its global footprint.
• Strengthen its marketing network Sigachi intends to strengthen its existing marketing team by inducting qualified and experienced personnel, who will supplement its existing marketing strategies in the domestic and international markets. Sigachi would aim to make its business strategies more dynamic and proactive, given the macro and micro market environments in which it operates or where it may expand in the future.
Sigachi shall always strive to:
1. Achieve maximum operational efficiency;
2. Strengthen and expand its market position and product portfolio;
3. Enhance its depth of experience, knowledge-base and know-how;
4. Increase its network of distributors, customers and geographical reach
Risk factors
• Inability to innovate new products would make Sigachi's existing product portfolio redundant
• Any downturn in the pharmaceutical industry or an inability to increase or effectively manage its sales
• Any inability to procure adequate amounts of raw materials, at competitive prices
• High dependency on few customers, especially in the pharma sector
• Any delay in planned expansions and capacity additions
• Adverse developments in key export markets
• Any unfavorable regulations governing the company's business
• Withdrawal of export incentives received from the government
• Sharp fluctuations in Indian and foreign currencies
How to apply for IPO?
Login to your 5paisa account and select the issue in the
current IPO section

Enter the number of lots and price at which you wish to
apply for

Enter your UPI ID and click on submit. With this, your
bid will be placed with the exchange

You will receive a mandate notification to block funds in
your UPI app

Approve the mandate request on your UPI and funds
will be blocked
Open Demat Account in 5 minutes
Be a part of the 5paisa community - the first listed discount broker of India
There is some issue, try later
Contact Details of Sigachi Industries Ltd IPO
Contact Information
Sigachi Industries Limited
229/1 & 90, Kalyan's Tulsiram Chambers,
Madinaguda, Hyderabad- 500 049,
Telangana, India
Phone: +91 040 4011 4874
Email: cs@sigachi.com
Website: https://sigachi.com/
Sigachi Industries Ltd IPO Register
Bigshare Services Pvt Ltd
Phone: +91-22-6263 8200
Email: ipo@bigshareonline.com
Website: http://www.bigshareonline.com
Sigachi Industries Ltd IPO Lead Manager
Unistone Capital Pvt Ltd
IPO News
Top Stories for you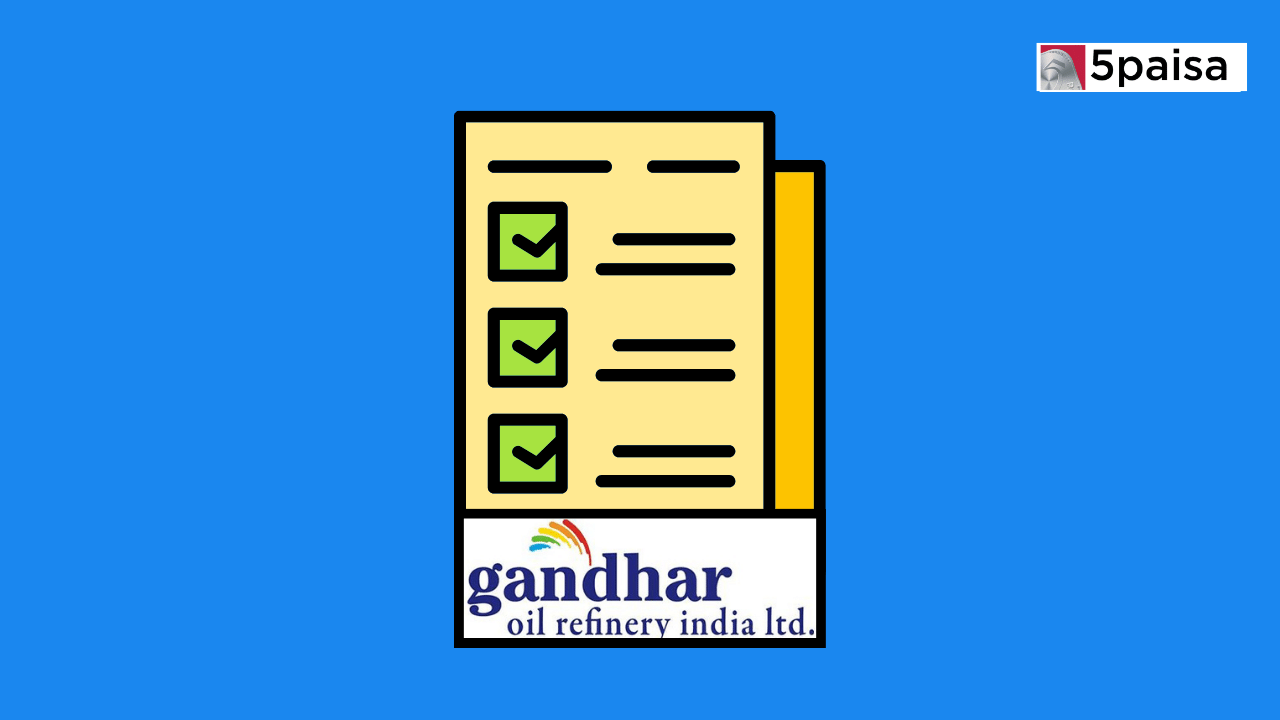 Strong listing for Gandhar Oil Refinery (India) IPO, but modest gains after that Gandhar Oil Refinery (...
IPO Blog
Top Stories for you
Quick take on the IPO of Rocking Deals Circular Economy Ltd The IPO of Rocking Deals Circular Economy Ltd opened for subscription on 22nd November 2023 and closed for subscription on 24th November 2023. The stock of the company had a face value of ₹10 per share and it is a book building issue, with the price band fixed in the range of ₹136 to ₹140 per share. Being a book built issue, the final price will be discovered ...
IPO Guide
Top Stories for you
The IPO cycle, also referred to as Initial Public Offering Cycle, allows private companies to go public and offer the company's shares to the general public for the first time. It ...