09 Feb 2022
LIC Policyholders May Get 5-10% Discount in the IPO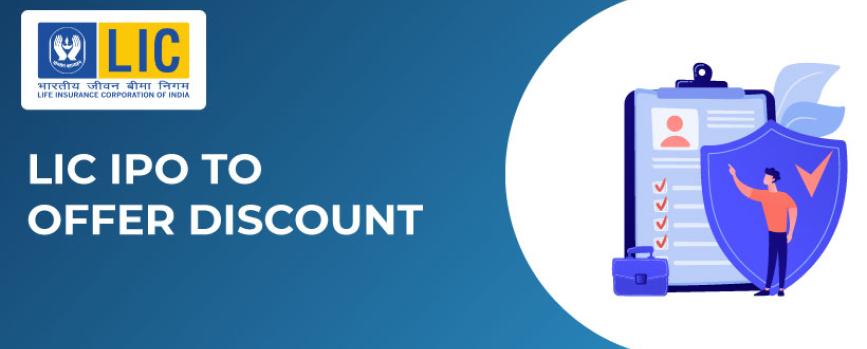 LIC is likely to file its draft red herring prospectus in the current week itself; either on 10th February or 11th February at the very latest. That would put LIC on target to complete its IPO by the second week of March and list the company by the last week of March. This will ensure that the revised estimates for disinvestments for the current fiscal year FY22 are met without any further hiccups.

Even assuming that the revised disinvestment target envisages a smaller issue size for the LIC IPO, it would still be the largest IPO in history by a margin. That means the distinct risk of being able to sell such a massive IPO would always be there.

The government had revised the divestment target to Rs.78,000 crore of which Rs.13,000 crore has been raised till date. So the LIC IPO should be around Rs.65,000 crore, so a 5% stake sale should be enough.

One way to make the IPO of LIC attractive to the retail investors is to offer a discount, which is a common practice in a number of government sponsored IPOs. The government has already made provisions under the LIC Act such that up to 10% of the issue can be offered to policyholders at some discount on competitive basis. In addition, there will also be a quota that can be reserved for employees and policyholders, other than the normal quota.

The secretary of DIPAM, Tuhin Kant Pandey, has also confirmed the possibility of a discount to LIC policyholders but did not elaborate on the discount to other category of investors. In fact, LIC has a massive policyholder captive data of 25 crore customers and another 11 lakh agents on their rolls.

Even if this segment is effectively tapped, they can easily reach their retail target. A discount of up to 5% would be the best way to appeal to this audience.

As of now it is still not clear whether the discounted pricing will only be offered to the LIC policyholders or it would be extended to the other small investors also. That clarity should hopefully emerge once the DRHP is filed with SEBI and the road shows for the institutional portion and the broker meets for the retail portion begins. Clearly, the government needs to look at all possible way to entice the customers to get into a long term partnership.

The experience with PSU IPOs in the past has been that the discount works very well with the retail audience as it automatically gives a big return advantage to the allottees to begin with.
Also Read:-
Upcoming IPOs in February 2022