28 Apr 2022
Mankind Pharma hires investment banks for its $1 billion IPO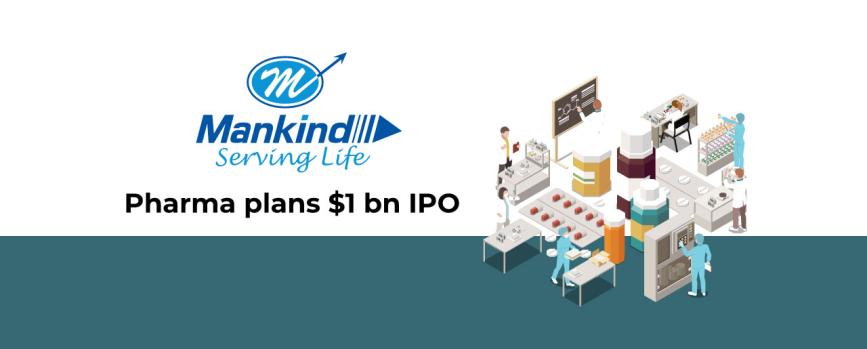 The Mankind Pharma IPO is likely to be announced soon with investment banks already appointed for the job. The entire issue is likely to be an offer for sale. The sellers will include the private equity investors, ChrysCapital selling 1% stake and Capital International selling another 6% stake.
In addition, the promoters of Mankind Pharma, the Juneja family, will also sell about 3%. There will be no fresh issue component in the IPO son no equity dilution.

The Mankind Pharma IPO is expected to value the company overall at Rs.61,000 crore. That is roughly equivalent to about $8 billion at the current exchange rates. Among major PE investors in the company, the consortium of ChrysCapital, Government Investment Corporation (GIC) of Singapore and CPP Investments of Canada own 10% of Mankind Pharma. In addition, Capital International currently owns another 21% stake in Mankind Pharma.

Mankind Pharma is well known in the market for some of its popular products like the Manforce Condoms and Prega News. The pharma company is based out of Delhi and it will be among the most valuable pharma companies in India post the IPO.
Mankind Pharma has already hired JP Morgan, Citigroup, Jefferies, Axis Capital, IIFL Securities and Kotak Mahindra Capital as the investment bankers and the Book Running Lead Managers or the BRLMs for the proposed $1 billion initial public offer by Mankind Pharma via the OFS route.

Apart from some of its highly popular products mentioned previously, Mankind Pharma also brings some interesting OTC products like pregnancy testing kit Prega News, emergency contraception Unwanted-21, AcneStar anti-bacterial gel, Ringout anti-fungal powder, Gas-O-Fast, Kaloree 1 artificial sweetener, Heal-O-Kind anti-bacterial ointment and many more.
It operates in the convergence of pharma and FMCG type products, which offers a unique positioning for its products in the Indian market conditions in terms of sales channels.

This issue will be a big boost for the pharma sector and it is a long time since a really big pharma issue hit the market. The last was the Rs.6,480 crore IPO of Gland Pharma in 2020. Subsequent to that, the unlisted Macleods Pharmaceuticals has filed to raise close to Rs.5,000 crore through an initial public offering (IPO).
Another such mega issue is proposed IPO of Pune-based Emcure Pharma, which is planning to tap the IPO market with Rs.4,500 crore IPO. This will also be a boost to the pharma sector, which has been quiet this year.
 



Just to give a background, Mankind Pharma has a 27 years pedigree having commenced business in 27 years. Currently, Mankind Pharma operates in 34 overseas markets with a total headcount of 14,000 employees.
Mankind Pharma focuses on the cardiovascular, antibiotics, gastrointestinal, anti-allergic, anti-fungal, orthopaedic and gynaecological space. The company boasts of net profits margins in excess of 24%, that is extremely attractive.

Several major pharma companies have come out with IPOs in this healthcare space. While Eris Lifesciences raised Rs.1,740-crore, Glenmark Life Sciences managed to raise a sum of Rs.1,500 crore via its IPO.
In addition, Alkem Labs and Laurus Labs had also recently raised Rs.1,350 crore and Rs.1,330 crore respectively. Generally, due to their de-risked business models, pharma IPOs tend to see good response from the investors at large.
Also Read:-
List of Upcoming IPOs in April 2022