Abakkus Wealths

Abakkus Smart FlexiCap
High Volatility
Predominantly within Top 250 companies with select smaller companies to generate alpha
Advisor Name:
Abakkus Asset Manager LLP
Fees:
2.5% per annum charged monthly
based on the daily average AUM
in the month.
₹3,688 one time charge to start subscription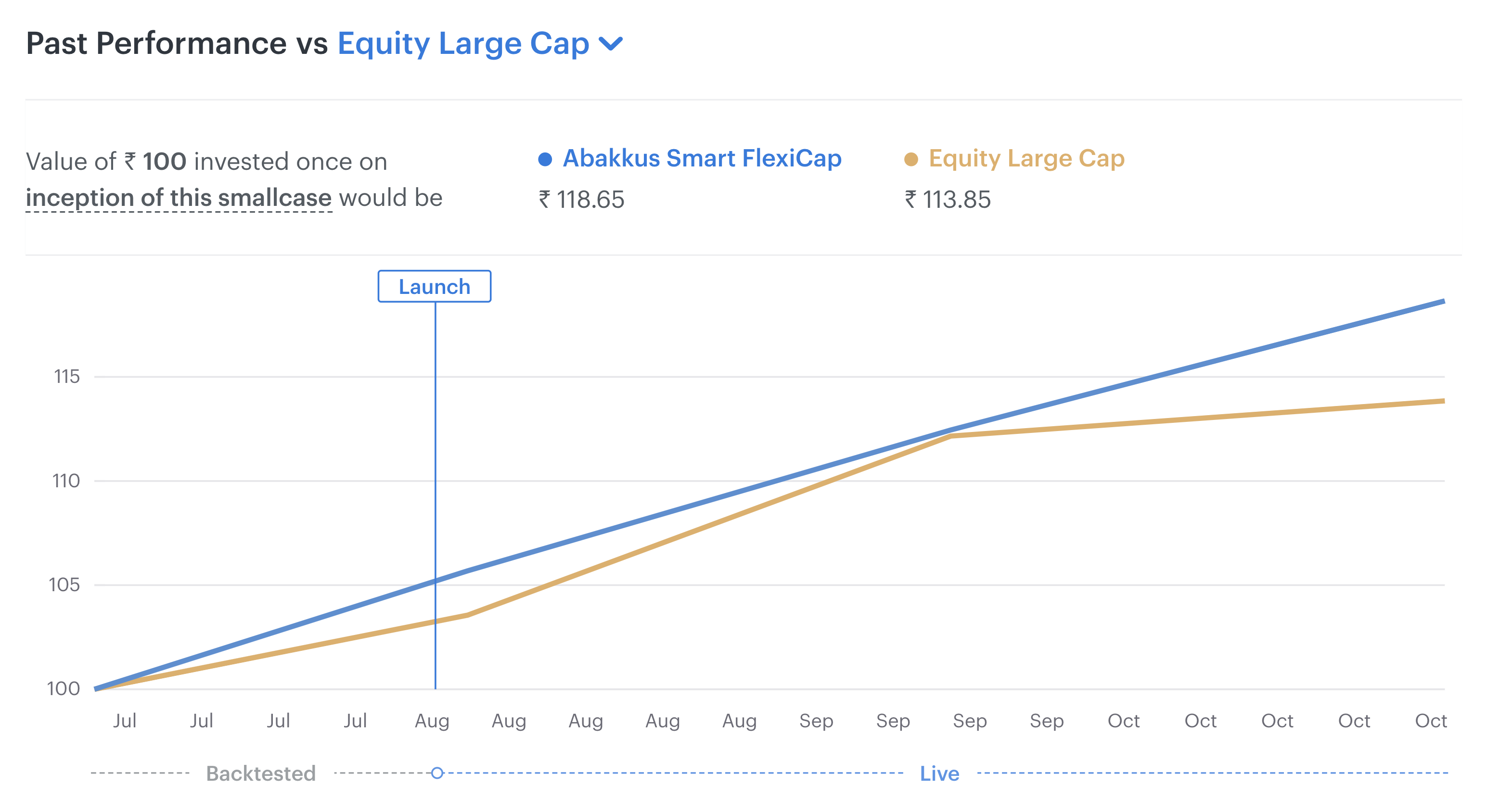 Note: Past performance graph includes changes due to rebalance, events like stock splits & mergers. Also, past performance doesn't guarantee future returns.
Fund Philosophy
The objective of the investment advisory portfolio would be to endeavor to generate alpha and risk adjusted returns for investors by creating a benchmark agnostic portfolio predominantly within the Top 250 companies. To invest in growth companies where profitability is expected to grow higher than market average
PORTFOLIO CHARACTERISTICS
•    Benchmark agnostic diversified portfolio
•    Fundamental based ideas picked via a bottom-up approach
•    Investment universe predominantly within Top 250 companies with focus on alpha generation along with stability and liquidity
•    Select exposure in smaller companies to generate additional alpha
•    Endeavor to generate alpha and wealth creation with typically 3-5 years holding period Differentiated Portfolio adhering to our "MEETS" Framework
•    Portfolio of ~25 companies, single stock exposure limited to less than 10% and sector exposure limited to below 30%
Our Expert
Sunil Singhania
20+ years experience
Sunil is the founder of Abakkus Asset Management, a CA Rank Holder and CFA charter holder, has a distinguished track record of over 2 decades in Equity Investments. Earlier as CIO-Equities for Reliance Mutual Fund, he played an instrumental role in building RMF into one of India's largest AMCs overseeing ~USD 11bn of equity assets. Reliance Growth Fund (MF), independently managed by him, has the unique distinction of having grown over 100 times in 21 years. He is currently appointed on the IFRS Capital Markets Advisory Committee (CMAC) and the only member from India to be appointed for the same. (2020-2023).
Our Fund Manager
Rahul Veera
Rahul Veera has over a decade of equity market experience. Prior to Abakkus Asset Manager LLP, he has been associated as an equity research analyst for organizations like Edelweiss, Morgan Stanley, Elara capital and was tracking multiple sectors like Pharma, Chemicals, Oil & Gas, Cement, etc. His expertise lies in stock selection across the market cap with strong focus on bottom-up research. Rahul is MBA from Swansea, UK and alumnus of IIM Calcutta with specialization in Finance.