IPO Synopsis
Electronics Mart India Ltd, a consumer durables retail chain, filed their DRHP with SEBI, to raise around Rs.500 crore. The book running lead managers to the issue are IIFL Securities Ltd, Anand Rathi Advisors Ltd and JM Financial Ltd. The promoters are Pavan Kumar Bajaj and Karan Bajaj. 
Objectives of the issue:
1. Rs.133.87 crores of the net proceeds are to be used to fund capital expenditures of the company, for expansion and opening of new stores and warehouses.
2. Rs.200 crore is to be used to fund the incremental working capital requirements.
3. Rs.50 crore is to be used to prepay or repay the debts undertaken by the company.
About Electronics Mart India Ltd
Founded in 1980, Hyderabad- based Electronics Mart India Ltd, is the 4th largest consumer durable and electronics retailer in the country, in FY2020 in terms of revenue. The company is concentrated in the states of Telangana and Andhra Pradesh. Their revenue has grown at a CAGR of 25.60% from FY15 to FY20. The company aims at further strengthening its presence in the Southern part of India, before venturing out to more states across the country. The company has 99 stores spread across 31 cities and has a retail business area of 0.99 million sq ft, as on 15 August, 2021.Out of the 99 stores, 8 stores are owned by the company, 85 stores are under a long term lease and 6 stores are partly leased and partly owned. Inspite of the pandemic, the company managed to open 22 new stores in FY21. 

Electronics Mart India offers a wide variety of products including small appliances, mobiles, large appliances like TVs, air conditioners, washing machines and refrigerators, IT and other products. The business activities are divided across 3 channels- retail, wholesale and e-commerce. As on 15 August, 2021, out of the 99 stores operated by the company, 88 are MBOs and 11 are EBOs. 85 MBOs operate under the name "Bajaj Electronics", 1 MBO operates under the name "Tirupati Electronics" and there are 2 specialized stores that operate under the name "Kitchen Stories". In 2017 the company diversified its operations into the e-commerce field and in FY21, the revenue from online sales stood at Rs.44.46 crores i.e. 1.39% of the total revenue from operations of that year.
Particulars

(In Rs cr)

FY21

FY20

FY19

Revenue from operations

3,201.88

3,172.5

2,823.65

PAT

58.62

81.60

77.1

EBITDA

203.88

227.64

216

EPS (In Rs)

1.95

2.72

2.57
Particulars

(In Rs cr)

FY21

FY20

FY19

Total Assets

1,523.53

1,347.6

1,109.15

Total Borrowings

547.95

520.54

377.06

Equity Share Capital

300

300

300
Key Indicators:
Particulars

FY21

FY20

FY19

Net Retail Sales

(In Rs cr)

2,931.29

2,899.13

2,580.17

Inventory Days

63

54

50

Fixed Asset Turnover ratio

12.15

14.85

16.37

EBITDA Margin (%)

6.37%

7.18%

7.65%

ROE (%)

11.92%

18.84%

22.64%

ROCE (%)

14.35%

20.28%

25.94%
Peer comparison:
 
Company

Revenue

(In Rs bn)

Per store Revenue

(In Rs cr)

Employee cost

EBITDA Margin

PAT Margin

Inventory days

ROCE

ROE

Reliance Retail

1303.7

NA

0.70%

7.10%

4.30%

28.2

36.20%

47.80%

Croma

51.5

34.3

4.90%

3.50%

-4.00%

61.3

12.20%

123.70%

Electronics Mart India

31.7

32

1.80%

7.20%

2.60%

49.8

18.30%

20.80%

Sathya

11.9

8.8

3.80%

1.40%

0.60%

41.9

19.70%

18.40%

Sargam

9.2

13.7

3.10%

2.70%

0.70%

57

16.10%

9.90%

Girias

8.4

8.6

6.10%

3.90%

1.25%

62.4

14.50%

7.20%

Aditya vision

8

16.7

2.70%

4.30%

1.70%

87.2

26.70%

43.10%

Adishwar

3.5

4.7

6.80%

3.90%

0.50%

80.2

11.90%

3.20%

Viveks

2.5

7.4

6.40%

-4.50%

-8.50%

48.7

-22.10%

-
Key Points for Electronics Mart India Ltd IPO are:
Key Points
Strengths

1. Electronics Mart India is the 4th largest consumer durable and electronics retailer in India along with having a leadership position in Southern India, in terms of revenue. They are mainly concentrated in the states of Andhra Pradesh and Telangana.

2. They have a track record of consistent growth and have grown at steadily from 53 stores in FY19 to 99 stores as on August 15, 2021.

3. They use a cluster based approach in order to expand their stores which helps them increase their geographical reach and market presence.

4. The products offered by the company are varied and cater to a lot of the customer's wants and needs, all in one place.

5. The company has 7 large warehouses which are very strategically managed using stringent inventory management techniques and IT.

Risks

1. As the company is dependent on external sources for its products, any delay or disruption in supply will have an adverse effect on the business operations and financials.

2. A substantial part of the revenue is dependent on a fixed number of brands. If there is a decrease in the volume supplied by these brands, it will affect the profitability as well as revenue of Electronics Mart India.

3. The industry is open to new entrants and thus very competitive in nature.

4. Expanding into new geographies may lead the company to realize losses in some of their investments.

How to apply for an IPO?
Login to your 5paisa account and select the issue in the
current IPO section

Enter the number of lots and price at which you wish to
apply for

Enter your UPI ID and click on submit. With this, your
bid will be placed with the exchange

You will receive a mandate notification to block funds in
your UPI app

Approve the mandate request on your UPI and funds
will be blocked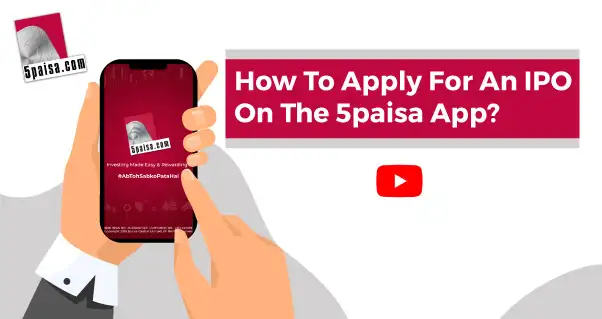 Open account in 5 minutes
Be a part of the 5paisa community now with 10 million mobile app users
There is some issue, try later
Please keep below documents handy:
 PAN Card
 Aadhar Card
 Bank Account Number