IPO Synopsis
IPO Synopsis
Tamilnad Mercantile Bank filed their DRHP with SEBI. The issue comprises of a fresh issue of up to 1,58,27,495 equity shares and an offer for sale of up to 12,505 equity shares. The OFS consists of up to 5,000 shares each being offloaded by D. Prem Palanivel and Priya Rajan, Prabhakar Mahadeo Bobde is offloading 1,000 shares, up to 505 shares are being offloaded by Narsimhan Krishnamurthy and 500 shares each are being offloaded by M. Malliga Rani and Subramanian Venkiteshwaran Iyer.
The book running lead managers to this issue are Axis Capital, Motilal Oswal Investment Advisors, SBI Capital Markets. 

Objectives of the company
The main objective of the issue is to have funds to augment the bank's Tier I capital base in case of any future requirements.
 
About Tamilnad Mercantile Bank Ltd
With an illustrious history of over 100 years, Tamilnad Mercantile Bank is one of the oldest private sector banks in the country. Tamilnad Mercantile Bank was incorporated as "Nadar Bank Ltd" in 1921 and subsequently changed their name to Tamilnad Mercantile Bank in 1962. They are headquartered in Tamil Nadu and have a strong presence in the state, with 396 branches and 941 ATMs all over the state. 
They have over 509 branches and out of these 106 branches are in rural areas, 247 are in semi-urban areas, 80 in urban and 76 are in metropolitan areas. As of June 30, 2021, the bank's entire customer base stood at around 4.93 million, out of which 69.96% comprised customers who had been associated with the bank for over five years. Apart from Tamil Nadu, the bank is present in 15 other states and 4 union territories. They are present in the states of Maharashtra, Gujarat, Karnataka, and Andhra Pradesh and have a presence of 90 branches and 123 ATMs and 15 CRMs as of June 30, 2021.
The bank's largest branch is in Mumbai and contributes ₹ 16,683.90 million or 2.30% to their total business as of March 31, 2021. One of their oldest branches is in Sivakasi, Tamil Nadu, which was started in 1942 and contributes ₹ 12,806.30 million or 1.77% to our Total Business as of March 31, 2021.
 
Financials
Particulars

(In Rs cr)

FY21

FY20

FY19

Total Income

4253.4

3992.5

3638.8

PAT

603.33

407.7

258.6

EPS (In Rs)

42.34

28.61

18.14
Particulars

(In Rs cr)

FY21

FY20

FY19

Total Assets

47527.17

42758.8

40532.8

Total Borrowings

0

324

0

Equity Share Capital

142.5

142.5

142.5
Particulars

(In Rs cr except %)

FY21

FY20

FY19

Deposits

40970.4

36825

35136.2

Credit to Deposit ratio (%)

75.83

75.26

75.39

Net Interest Margin (%)

3.77

3.64

3.65

Operating Profit

1202.2

995

884.3

ROE (%)

14.10

10.73%

7.36%

ROA (%)

1.34

0.99

0.68

CASA to Total deposits ratio (%)

28.52%

25.85%

24.64%

Gross NPA (%)

3.44%

3.62%

4.32%
Key Points
Strengths

1. They have strong history of around 100 years and are spread across 16 states and union territories and have a strong customer base of 4.91 million customers
2. They started their operations in Tamil Nadu and now 76.33% of their total business is from the state
3. Tamilnad Mercantile Bank has always focused on small ticket size loan products which are provided to MSME customers, agricultural and retail customers


Risks

1. The bank cannot open further branches until they are listed on the stock exchanges and have permission from RBI
2. The bank is currently significantly dependent on Retail, MSME and Agri-financing, customers and any adverse developments in these segments could adversely affect the bank's business
3. An increase in NPAs will adversely affect the portfolio of the bank

How to apply for an IPO?
Login to your 5paisa account and select the issue in the
current IPO section

Enter the number of lots and price at which you wish to
apply for

Enter your UPI ID and click on submit. With this, your
bid will be placed with the exchange

You will receive a mandate notification to block funds in
your UPI app

Approve the mandate request on your UPI and funds
will be blocked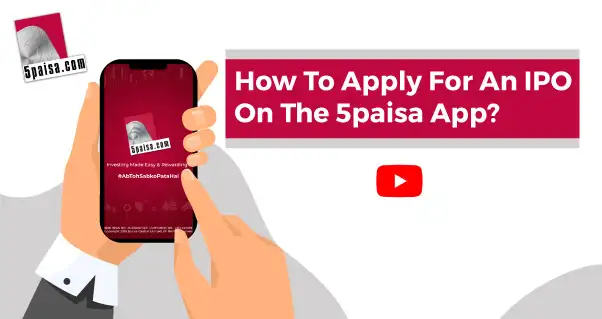 Open account in 5 minutes
Be a part of the 5paisa community now with 10 million mobile app users
There is some issue, try later
Please keep below documents handy:
 PAN Card
 Aadhar Card
 Bank Account Number