How the ₹2,000 note withdrawal will have an impact?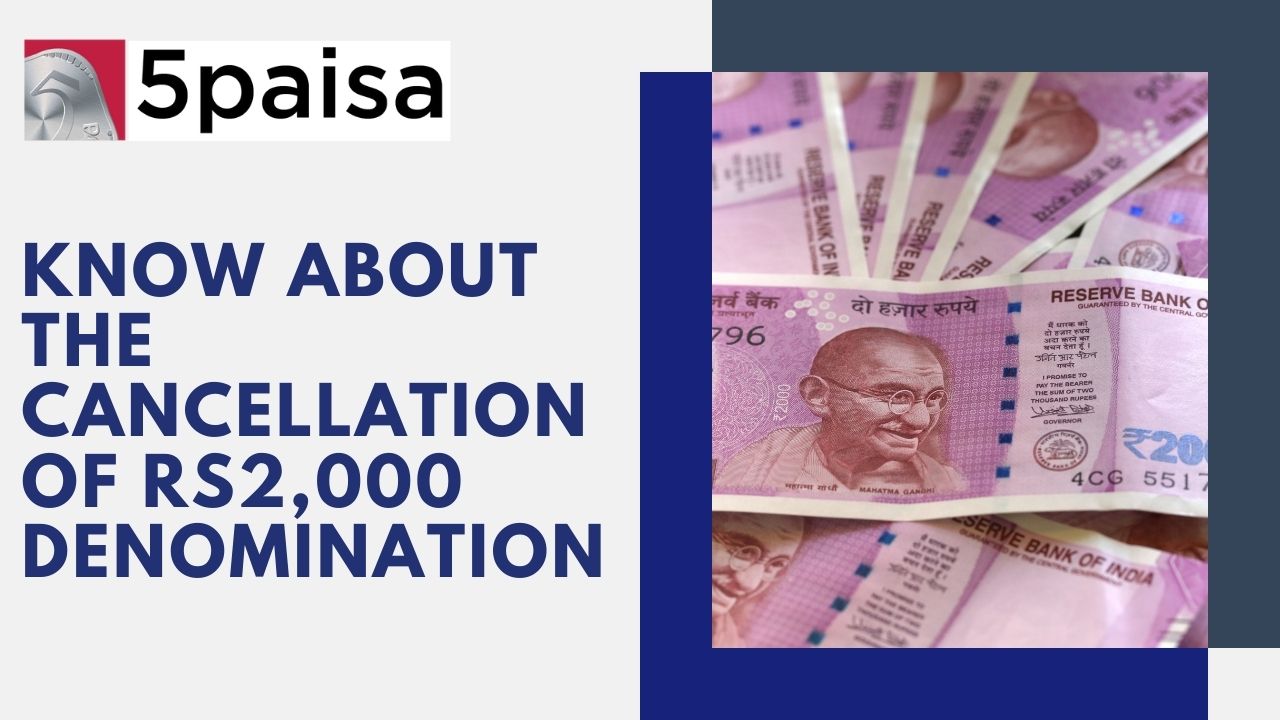 ---

In a rather low-profile move, the RBI has decided to officially withdraw the ₹2,000 notes from the currency circulation. This will be effective from 30th September 2023. Between March 23, 2023 and September 30, 2023, the RBI will offer a special window for the people holding these ₹2,000 currency notes to either exchange their notes or deposit these notes into the bank account. Banks will offer this window only up to September end and after that the ₹2,000 note cannot be either exchanged or even deposited in any of the commercial banks. The billion dollar question is whether this will create a chaos like in 2015 when the ₹1,000 and ₹500 currency notes were demonetized? However, that is unlikely to be the case. Let us look at this entire issue from a more granular perspective.
Withdrawal of ₹2,000 currency notes was expected
It may not be wrong to say that this was an expected move. There was hardly any element of surprise to it due to a number of reasons. It should be remembered that the ₹2,000 currency notes were introduced as an alternate high value currency and was meant as a stop gap arrangement only. Now that sufficient bank notes of smaller denominations are readily available, the RBI saw it fit to withdraw the ₹2,000 note entirely from circulation.
However, the ₹2,000 note has been gradually losing its importance in the last few years. For instance, 89% of the existing ₹2,000 notes in circulation were issued prior to March 2017. If you look at the total value of the ₹2,000 notes, it is down from a high of ₹6.73 trillion in March 2018 down to just ₹3.62 trillion as of March 2023. Even the share of these ₹2,000 notes has fallen from 37.3% to just 10.8%.
In the last couple of years, the ₹2,000 note had almost vanished from shops, bank ATMs and from the bank tellers. Most stores have not been accepting the ₹2,000 notes for some time so people are already used to life without the ₹2,000 note. Hence, the adjustment will be quite smooth and uneventful. There will be an effort in phasing out these notes, but nothing as disruptive as 2016. For the RBI, the ₹2,000 note had just outlived its original purpose.
Currency 101 – What to do with my ₹2,000 notes?
In case you are still having some ₹2,000 notes stacked away, there is enough time for you to find an alternate solution. Broadly, you can look at any one of the 3 solutions available.
The simplest option for you is to just walk into any bank branch and just exchange the ₹2,000 notes for smaller denominations. This window will be available from 23rd May 2023 to 30th September 2023. You can do this at any bank branch but there are 2 conditions. Firstly, any single exchange will be limited to ₹20,000 per round. Secondly, the bank will insist on basic KYC details like PAN and Aadhar.


 

The other option is to just deposit the ₹2,000 currency notes into your bank account during this 4-month period. There are no limits here and  you can put any amount. However, there are two things you must be cautious about. Firstly, this is only possible in bank accounts that are fully KYC compliant. Secondly, in case of very large cash deposits, the banks are required to intimate the RBI under the Cash Transaction Reporting (CTR) and Suspicious Transaction Reporting (STR) compliance requirements. If the cash stash is too large,  you may attract the attention of the taxman.


 

Lastly, you can just do nothing. You can continue to use the ₹2,000 not for transactions. The only challenge is that people are unlikely to accept these any longer and that could just make it more difficult to spend the money. Remember, that the ₹2,000 currency note will continue to be legal tender even after September 30, 2023. That means; even after that you can get these notes exchanged at the designated offices of the RBI. However, it is advisable to use the bank exchange route or the bank deposit route, as that is simpler and more efficient too.
Real reason for ₹2,000 withdrawal was the surge in UPI transactions
Making payments has become so much simpler today. Whether you want to buy groceries, apparel, or just hail a cab; you can just whip out your smart phone and make a UPI payment using any of the popular apps like Google Pay, Phone Pe or Amazon Pay. Remember, India has shifted at amazing speed towards digital cash. You just need to look at some of the numbers to realize how mindboggling this growth has been.
For FY23 full fiscal year, out of the total retail credit transfer transactions worth ₹550.12 trillion, UPI transactions accounted for a whopping ₹139.15 trillion, or approximately 25.29% of total value. Only NEFT did better than that in value.


 

What about the volume of transactions in FY23? Out of the total retail credit transfer volumes of 9,837 crore transactions in FY23, UPI transactions stood at 8,371 crore transactions, or 85.10% of the total volume of transactions in financial year FY23. The dominance of UPI in volumes is almost absolute.


 

The above trend of FY23 has been carried forward into April 2023 also, and it has just become a lot more pronounced. That is where the UPI story has been the key to the RBI becoming willing to phase out the ₹2,000 notes in circulation.
So that is the real secret. It is UPI surge that has given confidence that the withdrawal of the ₹2,000 note from circulation should be smooth and uneventful. In this transition, UPI and mobile wallets have played a big role post 2016 and it is only logical that they replace the ₹2,000 nots in circulation. That is exactly what is likely to happen now.
Start Investing in 5 mins*
Rs. 20 Flat Per Order | 0% Brokerage
About the Author
Disclaimer
Investment/Trading in securities Market is subject to market risk, past performance is not a guarantee of future performance. The risk of loss in trading and investment in Securities markets including Equites and Derivatives can be substantial.
Open Free Demat Account
Account belongs to
By proceeding, you agree to the T&C.