NSE to shift Nifty Bank F&O expiry day from Thursday to Friday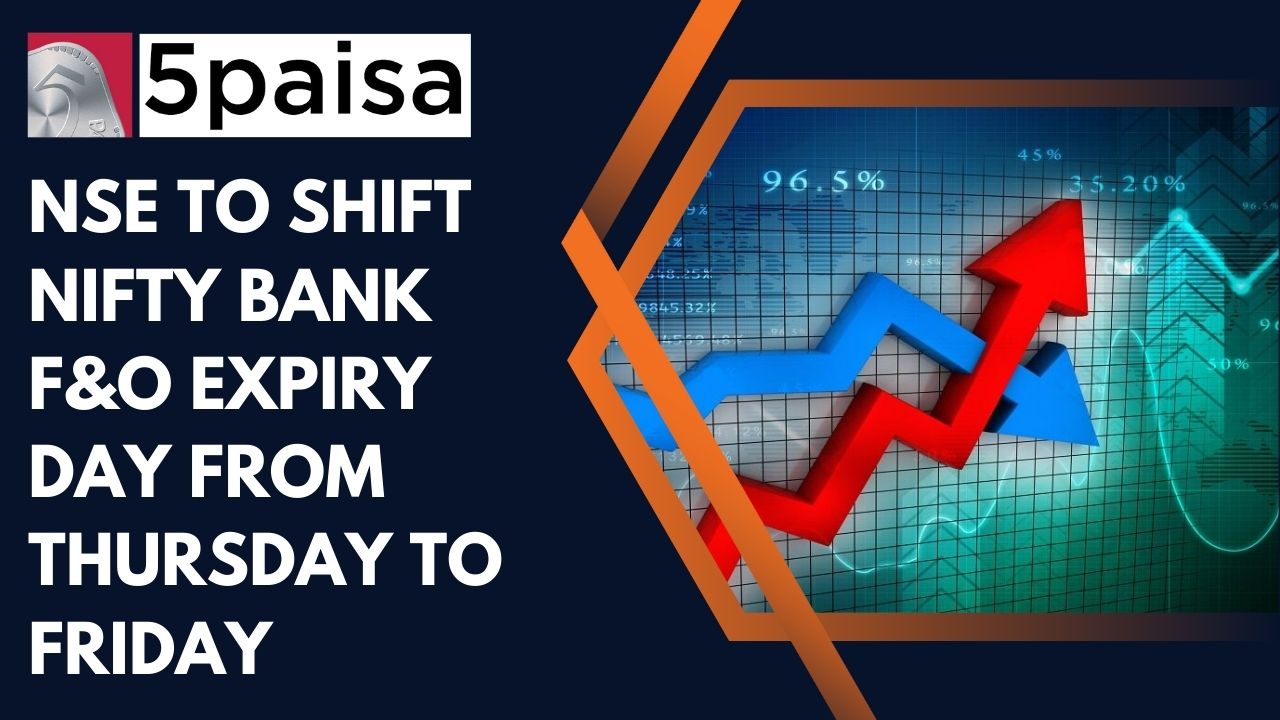 ---

In a circular dated 06th June 2023, the National Stock Exchange (NSE) announced a shift in the F&O contract expiry schedule for the Bank Nifty F&O contracts. This will result in a change in the futures expiry and the options contract cycle for the BANKNIFTY. The big change is that BANKNIFTY contract expiry is shifting from Thursday to Friday. These changes will be effective from July 2023, but we will come back to that later. Did you know what is the sanctity of having Thursday as the expiry date for F&O contracts. This is a practice that was adopted when F&O trading first started in 2000 and has continued ever since. Let us first look at why Thursday was selected as the F&O contract expiry day?
Bite of History: How Thursday became the F&O contract expiry day?
The basis for F&O trading in India was laid by the report of the SEBI-constituted JR Varma committee in 1998. The mandate of the JR Varma (now member of RBI MPC) committee was to suggest a methodology for risk containment measures for derivatives trading. Obviously, trading in derivatives was a leveraged trade and risk had to be contained on an auto pilot basis. It is only after agreeing upon the risk containment framework that the trading in derivatives was permitted on the Indian stock exchanges. Incidentally, derivatives trading in India began in June 2000 with futures on BSE Sensex, followed by options on stocks and indices a year later. Single stock futures were allowed only in November 2002.
NSE launched futures and options trading after the BSE, although NSE went on to capture the bulk of the F&O volumes in the market. But, we come back to the core question on why Thursday was selected as the date of F&O expiry. Actually, the reasons are not too convincing, but that is a part of stock market history. When F&O was introduced in year 2000, rolling settlements had not been introduced. Rolling settlements only started in 2001. In 2000, the BSE and the NSE followed a 5 day settlement cycle. Traders could square off their positions at any point in these 5 days and have no net obligation to the exchange. While BSE followed the Monday to Friday cycle, NSE followed the Wednesday to Tuesday cycle for settlement of cash market trades.
Now comes the interesting aspect of why Thursday was chosen as expiry day for F&O trading in 2000. Since BSE cycle expired on Friday, the exchange saw tremendous volatility on Friday and the coming Monday. On the other hand, since NSE had its settlement cycle ending on Tuesday, it saw a spike in volatility on Tuesday and Wednesday. In short, each week; Monday, Tuesday, Wednesday, and Friday would be volatile days. The exchanges could not risk having F&O settlement on any of these 4 volatile days as high volatility also meant that default risk could be high. That left Thursday as the only available day in the week when F&O settlement could be kept. That is the background of why Thursday was selected as the date for settlement of F&O contracts in the year 2000.
Shifting F&O settlement cycle from Thursday to Friday
Obviously, the above argument does not hold any longer. In 2001, the rolling settlement was launched with T+3 settlement cycle. This was compressed to T+2 in the year 2003 and subsequently to T+1 in February 2023. Through all these years, the Thursday settlement practice for F&O trades had continued. That was more because it was a model that the markets were used to and the exchange did not see any need to disrupt this model. Now, finally the exchange has decided to make the shift from Thursday to Friday; which is logical considering it is the last trading day of the week. To begin with, the shift is being done in one of the most liquid F&O contracts, the BANKNIFTY. Other contracts would obviously follow soon enough.
How will the change in expiry be effected on BANKNIFTY contracts
Here is how the implementation of the shift will take place.
The Change of BANKNIFTY Futures and Options expiry day will be from existing Thursday to Friday


 

The above change from Thursday to Friday expiry shall be effective from trade date July 7, 2023 Friday and accordingly, all existing contracts with Thursday expiry will be revised to Friday on July 6, 2023


 

The first Friday expiry will be on July 14, 2023. Thus, all weekly BANKNIFTY contracts will now expire on Friday instead of each Thursday. Similarly, all monthly and quarterly BANKNIFTY contracts will also shift expiry to last Friday of the month.
Apart from BANKNIFTY, other F&O contracts will continue in the current settlement cycle.
How will the shift schedule be executed for BANKNIFTY contracts?
Let us finally look at the modus operandi of this shift from Thursday expiry to Friday expiry of all BANKNIFTY F&O contracts.
At EOD of July 06, 2023, the expiry date and maturity date for all existing futures and options contracts will be revised / postponed to Friday.


 

For example, the expiry / maturity date of existing contract maturing on July 13, 2023 (Thursday) will be automatically postponed to July 14, 2023 (Friday).


 

Similarly, the expiry / maturity date of existing contract maturing on last Thursday, August 31, 2023 (Thursday) will be brought forward to August 25, 2023 (Friday).


 

It logically follows that any new contract created for trading on or after the EOD (end of day) of July 06, 2023 would only be created as per the revised expiry days with contract maturity on Friday instead of Thursday. All other specifications of BANKNIFTY stay.


 

In terms of implementation, the above circular shall come into effect from EOD of July 06, 2023 and revised contracts will be made available for trading from July 07, 2023.
What could be the implications of this shift? As of now not much, but one possibility is that this will allow the traders in F&O to read and evaluate the F&O expiry data more clearly over the weekend before designing their F&O trading strategy, post expiry.
Traders and investors wanting to read this circular in detail can download the circular from the website of the NSE at the hyperlink below.
https://archives.nseindia.com/content/circulars/FAOP56967.pdf
Start Investing in 5 mins*
Rs. 20 Flat Per Order | 0% Brokerage
About the Author
Disclaimer
Investment/Trading in securities Market is subject to market risk, past performance is not a guarantee of future performance. The risk of loss in trading and investment in Securities markets including Equites and Derivatives can be substantial.
Open Free Demat Account
Account belongs to
By proceeding, you agree to the T&C.