Best Beer Stocks in India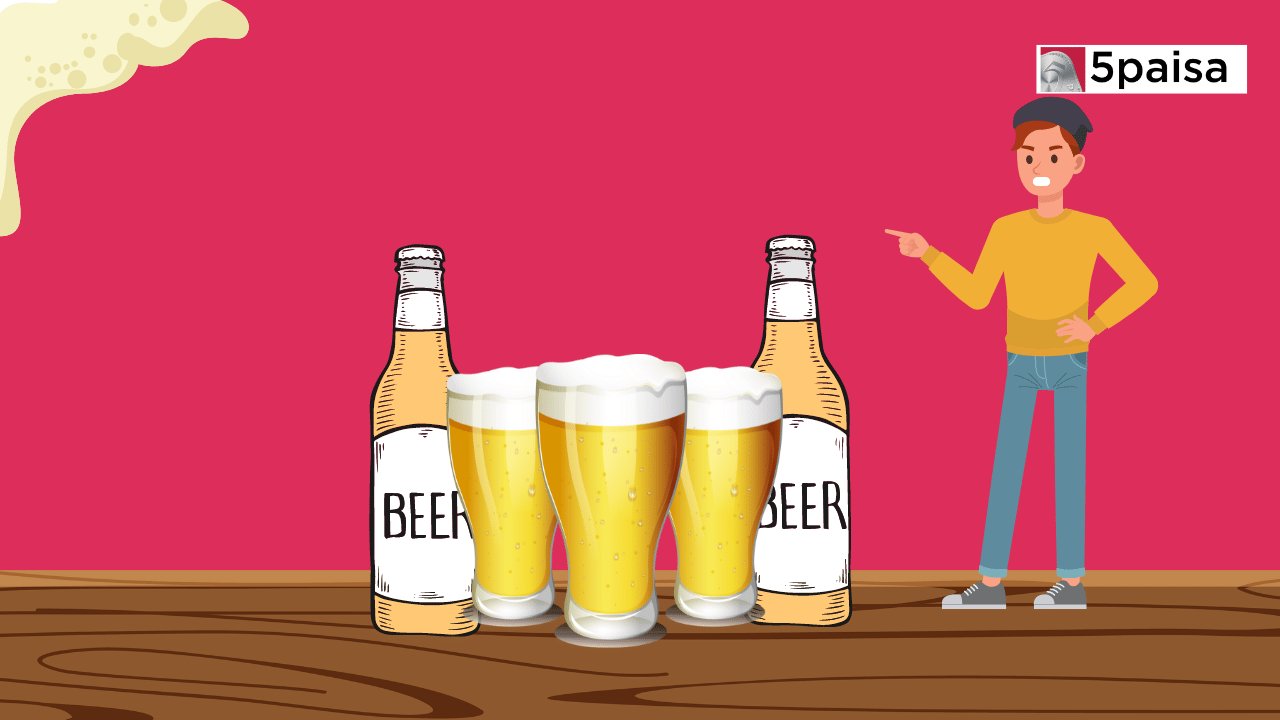 ---

The best beer stocks offer an opportunity to investors to look beyond the more conventional hard alcoholic beverages pack. Beer as a product is seen as an alcoholic beverage that is more youthful in terms of the target audience and, indeed, also in terms of consumption.
Notably, there have been some homegrown brands in the country but over the years the segment has been dominated by multinational labels. In fact, the biggest local brand Kingfisher is also now owned by an international major.
Multinational labels avoid listing in India unless they are bound to do so because of other reasons such as having acquired an already public company. But there are some companies that are still available for investors to pick including the parent of Kingfisher, despite being part of an MNC.
What are beer stocks?
The best beer stocks tend to represent companies with high brand recall or high growth performance by virtue of their product quality. They also provide a diversification to investors looking at fast moving consumer goods beyond the obvious.
As a result, such beer stocks are a play on domestic consumption in particular. They would need to be either fundamentally strong companies or if they are penny stocks, then they need to show promise and volumes to make them an interesting play for investors.
List of best beer stocks 
United Breweries
Som Distilleries & Breweries
Associated Alcohols & Breweries
Winsome Breweries
Chambal Breweries and Distilleries
Overview of Best Beer Stocks
United Breweries: The company was the crown jewel of industrialist Vijay Mallya and best known for its flagship brand Kingfisher, the most known beer brand in the country. The company is now controlled by Heineken, which also runs its eponymous label globally. United Breweries is the second most valued alcoholic beverage company in India behind what was previously its sister company United Spirits, now owned by Diageo.
With a market cap of over Rs 40,000 crore, or nearly $5 billion, the company has seen better days and its share price is down by a sixth from its peak last November. In 2022, its business saw a strong recovery post-Covid. The company last year also launched Heineken Silver, an easy-to-drink premium lager that fits well in social occasions and appeals to the new generation of beer drinkers in India.
Som Distilleries & Breweries: It is based in Bhopal and is one of the leading alcoholic beverages manufacturers in India. It offers a broad portfolio of products across beer, rum, brandy, vodka and whisky categories. The company's flagship brands include Hunter, Black Fort, Power Cool and Woodpecker in the beer segment.
With around 90% of the topline coming from beer, the company has three millionaire brands (with sales of more than 1 million cases per annum) – Hunter, Black Fort and Power Cool. Hunter and Woodpecker brands are supplied as draught beer to all major hotels in Madhya Pradesh. The company also recently launched 'Woodpecker' Wheat Beer, India's first filtered wheat beer and it sold over 1 lakh cases in its first year of launch.
Associated Alcohols & Breweries: Technically, this is not a beer company. However, it came close to becoming one and in the future it may well become so. The company is into spirits but its promoters have a separately privately held company that is into beer--Mount Everest Breweries. In 2009, the Kedia group set up a brewery unit under this company for contract manufacturing of beer for United Breweries, besides its own labels. Last year, the promoters had said they would merge their listed company with this beer manufacturer, thereby turning the company into a beer and spirits maker. However, the plan was recently scrapped. The stock had cracked thereafter but has seen some string buying over the last few weeks.
Winsome Breweries: The Delhi-based company has been into brewing and marketing beer. Promoted by RK Bagrodia, it was set up in 1992 in technical collaboration with Henninger Brau of Germany. Its brewery is located in Rajasthan, about 70 km from Delhi. It helps that Rajasthan is one of the largest markets for beer in India. Its plant has installed capacity to manufacture about 4 million cases of beer per annum and the capacity can be doubled with minor additions. The small cap company trades as a penny stock.
Chambal Breweries and Distilleries: This is a rank outsider among the lot. The company is supposed to be engaged in trading and retailing of IMFL and beer. But due to strong policies and unexpected decisions of the government, which were not in the favour of the company, it has not carried any business activity of retail selling of IMFL and beer for the last seven years. The stock has been in a narrow zone as a penny stock but had perked up last month, almost doubling within a short period. It has moderated and lost a fifth of its value since then but could be watched out if it makes any interesting moves as punters may still be tagging it as a beer company.
Who Should Invest in Best Beer Stocks?
Investors looking to bet on the domestic consumption story and especially one linked to the growing youth population in the country, should look at the best beer stocks. Notably, there are very few pure beer stocks but some are linked to beer as a business and should be tapped to get an exposure to the space.
Benefits of Investing in Best Beer Stocks
Picking the right beer stocks could help one to diversify the portfolio and capture a consumer segment that is directly linked to the fast-growing younger population in the country. It could be a good growth story over the long term and provide gains.
Things to Consider Before Investing in Best Beer Stocks
The most important thing one needs to keep in mind is that just because a company has a brewery in its name does not mean it is engaged in beer as a business. Many such firms are into hard liquor that may not be directly associated with consumption by the youth. One needs to also look at what is happening to raw material supply and prices for beer companies to generate profit and attract more investors with promise of capital gains. Moreover, the regulatory policies need to be carefully tracked as it affects margins, supply chain and thereby earnings.
How to invest in Best Beer Stocks?
The best way to invest in beer stocks is to shortlist a group of companies whose core business revolves around beer and then track it taking a bottoms-up approach.
Conclusion
There are just a handful of pure beer stocks in the country as the space is dominated by MNCs most of whom are privately held in India. Be it names like Budweiser, Heineken, Haywards and many others, those are labels that one cannot invest in India. But as the parent of Kingfisher, United Breweries is a direct play on beer and then there are some other stocks that investors can choose.
Frequently Asked Questions
Is it safe to invest in best beer stocks?
Is it worth investing in beer stocks in 2023?
How much should I invest in beer stocks?
Who is the market leader in beer sector?
Start Investing in 5 mins*
Rs. 20 Flat Per Order | 0% Brokerage
Open Free Demat Account
Account belongs to
By proceeding, you agree to the T&C.