Best Hotel Stocks In India 2023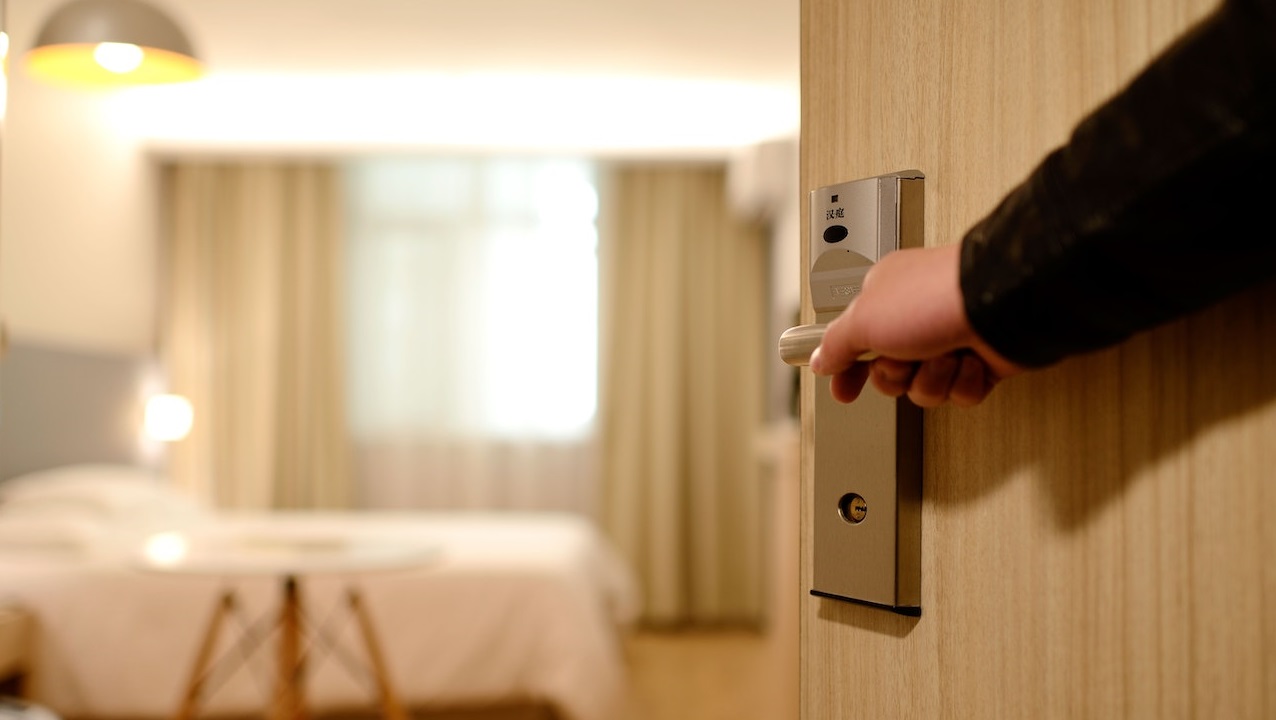 ---

Three years ago in March 2020, when India, just like the rest of the world, imposed a nationwide lockdown to curb the spread of COVID-19 infections, the tourism industry was among the worst hit.  But as the restrictions lifted and the economy opened up, hotel stocks started trending higher because demand rebounded. This is expected to go further with growth in both domestic tourists as well as foreign national arrivals.
Harnessing the momentum, the government has launched "Visit India 2023". Hotel stocks are expected to be key beneficiaries of such initiatives.
Hotel stocks had taken a beating during the pandemic as lockdowns and travel restrictions led to a fall in demand. But the industry bounced back as the ban on travel was lifted and people started travelling for work going to their favourite destinations for vacation. Experts are of the view that rising discretionary spending on travel and improving economic scenario is expected to fuel demand further, providing upside to hotel stocks.
In addition, the margins of hotel companies are improving as demand is outpacing supply. Occupancies are expected to remain strong while average room rates are seen higher, leading to a rise in revenue per available room (RevPAR). The industry's occupancy has reached pre-Covid level of around 65%.
According to the Ministry of Tourism, the sector's contribution to the GDP is expected to grow to $250 billion by FY30. With ample growth opportunities, investors can scan and pick top hotel stocks for a long term. India's G20 presidency is among the catalyst for growth of best hotel stocks 2023.  
Best Hotel Stocks in India
Indian Hotels Company Ltd
Part of India's leading business house Tata Group, this company owns iconic brands of hotels, including the Taj. Being the market leader in the hotel industry, investors often come across this name while selecting the best hotel stocks. The company is working on Ahvaan 2025, a three-pronged strategy to grow profitably in the coming years.
EIH Ltd 
This company could be your best hotel stock 2023. It is the flagship company of the Oberoi Group, among the largest luxury hotels chain in India. It operates a chain of 33 hotels and resorts across 15 plus locations with a total fleet of over 4,900 rooms.
Chalet Hotels
This company is an owner, developer, asset manager and operator of high-end hotels and a hotel led mixed-use developer in key metro cities of India. It runs seven fully operational hotels, including JW Marriott Mumbai Sahar. It is also adding capacity, and hence could be a long-term bet among those looking at hotel stocks to buy.
Lemon Tree Hotels
This company could be part of your top hotel stocks list as it is among India's largest hotel chains. It operates 87 hotels in 53 destinations. Once its current pipeline of projects gets operationalised by 2024-25, the company's portfolio will expand to include 124 hotels across 79 destinations. Investors looking at best hotel stocks 2023 must take a look at the expansion plans.
In addition to the above-mentioned list, companies like Byke Hospitality, Oriental Hotels, Mahindra Holidays and Resorts India are also among the key hotel stocks. 
Impact of Covid-19 on Hotel Stocks
Being a contact-intensive sector, the hotel industry was among the most severely hit because of the pandemic. With travel restrictions in place, demand fell sharply and hotel stocks took a beating at the peak of the pandemic. Shares of some of the leading names fell by 50% in the days after the announcement of the nationwide lockdown.
With uncertainty and no clear indication of the resumption of normal days, investors of hotel stocks were also worried as to how the business will bounce back. By the end of 2020, the average hotel occupancy rate fell to 33- 36%. After easing some restrictions, hotels reduced tariffs to attract business, which led to revenue per available room falling to 1,500-1,8000 rupees, down nearly 60%.
Weak demand continued to hamper the sector during 2021 and early 2022. The travel demand picked up from March 2022 and since then key indicators such as occupancy rate, RevPAR, foreign tourist arrivals, etc are showing positive signs. This is also reflected in the share prices of hotel stocks, which surged. In the past one year, some of the leading hotel stocks have given 15-40% returns to their investors.
Risks of Investing in Hotel Stocks
While the hotel industry is expected to grow in the coming years, investors should understand a few risk factors before drawing the list of best hotel stocks to buy 2023 India.
Cyclical:  Hotel stocks are vulnerable to the cyclical nature of the hotel industry. Seasonality, macro-economic cycles, and other external factors influence the demand to a greater extent. Hence, investors should factor current economic scenarios, especially the growth-inflation dynamics, before investing in best hotel stocks.
High capex: Companies related to hotel stocks tend to invest large sums of borrowed money as capital expenditure to open new properties or expand existing ones. While they are tempted to do so in order to increase revenues, in case the demand does not pick up, it could lead to a problem of over leverage. It is also important to remember that the cost of borrowing goes up in a rising interest rate cycle.
Changing consumer preference: The location of hotels is one of the key factors that influences its popularity. India being a vast country with a large number of tourist spots, companies of top hotel stocks have their presence in these locations. However, many individuals are listing their properties on online aggregation platforms. Though such online aggregation platforms are seeing an increase in number of users, the overall base remains low.
Factors to Consider Before Investing in Hotel Industry
Growth prospects
A combination of factors such as rising discretionary spending, G20 presidency, and government's focus on tourism is expected to keep demand buoyant for the hotel industry. Domestic tourists' arrivals at both popular and new destinations have remained strong since the opening of the economy post the pandemic. Arrival of foreign travellers has also picked up in FY23. With strong visibility on demand, the hotel industry is looking at higher growth prospects.
Diversification
Investors looking to buy top hotel stocks must understand the portfolio of the company in terms of number of hotels and their geographical spreads as it helps in reducing concentration risks. Investors must also consider if the capex is undertaken at locations which have growth potential and there are risk mitigants in place to avoid overleverage.
High-risk, high-return
The industry is known for its high-risk, high-return nature. A well-managed hotel known for its top-quality service is able to generate higher yields and this is good for the equity investors. Choose hotels of brands that have this superior advantage of being located at top location while focusing on quality of service.
Government policies
The hotel industry is a direct beneficiary of the government's push to promote tourism as the sector contributes to the nation's foreign exchange reserves. Other incentives such as tax holidays to open hotels at new locations could benefit the industry in terms of demand.
Conclusion
The Indian hotel industry has emerged strong from the three waves of COVID-19 pandemic. With the rise in demand and strong support of the government, the industry is looking to grow in leaps and bounds. Demand is diversified as it comes from both indoor and foreign tourists. Given the length and breadth of the country, India is open 12 months for tourists, who have a large number of options to choose from, from beaches of Goa, to historical city Delhi to the hilly states of north India.
Investors of hotel stocks are likely to benefit from buying top hotel stocks of companies that are consistently focused on creating value for shareholders. However, before doing so, it is necessary to understand risk factors.
Frequently Asked Questions
What are the best hotel stocks to buy now?
Post-pandemic, many hotel companies have seen their business bouncing back. Investors, therefore, have many options but they should focus on quality names with low debt burden and high growth potential.
How are hotel stocks doing?
Hotel stocks performed well after the pandemic. In the past one year, some of the leading hotel stocks have given 15-40% returns to their investors.
Will hotel stocks go up further?
Hotel stocks are closely linked to economic activity of the country as well as several external factors. While there is visibility on demand, it is subject to changes due to economic cycles.
Are hotels a risky investment?
Like most equity investments, investing in hotel companies is also risky. 
Start Investing in 5 mins*
Rs. 20 Flat Per Order | 0% Brokerage
Open Free Demat Account
Mobile No. belongs to
By proceeding, you agree to the T&C.