Covid 19: A pain for Summer Stocks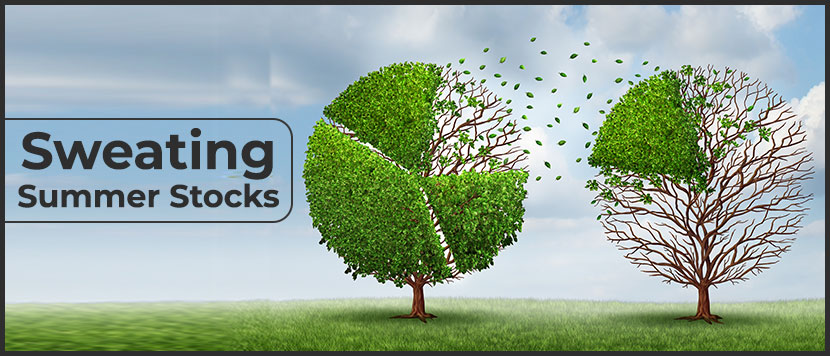 ---

As the temperature begins to rise, the experts generally recommend investors to buy stocks of companies associated with air conditioners, cooling systems, consumer durables and tours & travel that normally see an uptrend between March and June. Some of the other categories that benefit from a harsh summer include makers of talcum powders, ice creams, juices, fruit and aerated beverages, deodorants etc.
However, this year the scenario seems to be opposite. The demand for consumer durable goods, ice creams and beverages are shattered. The spread of coronavirus (Covid19) disease all over the world and in India has resulted in shutting down the manufacturing activities in the country.  Also, the consumers of beverages and ice creams are recommended not to consume these products to curb the spread of Covid19. Similarly, the aviation and hotel industry are not allowed to carry on their operations. Thus, the market performance of stocks associated with manufacturing and services like consumer durables, beverages and tours and travels will be adversely affected.
| | | | |
| --- | --- | --- | --- |
| Company Name | 2-Mar-20 | 8-May-20 | Gain/ Loss |
| Indian Hotel | 133.6 | 67.5 | -49.5% |
| Mahindra Holidays | 214.1 | 125.8 | -41.3% |
| Bluestar | 809.4 | 478.2 | -40.9% |
| Vadilal Industries | 774.3 | 494.3 | -36.2% |
| Varun Beverages | 804.9 | 619.6 | -23.0% |
| Voltas | 663.2 | 456.6 | -31.2% |
| Symphony | 1,291.6 | 829.6 | -35.8% |
| Emami | 258.4 | 182.3 | -29.4% |
| Pidilite | 1,529.0 | 1,367.4 | -10.6% |
Source: BSE
Indian Hotel
Covid-19 outbreak and the control measures introduced by the Centre have resulted in a severe drop in foreign and domestic travel, across both the tourism and business traveller segments. As per the Media reports, the hotels' sector witnessed a decline of more than 65% in occupancy levels in the third week of March 2020 as compared to the same period of the previous year. Indian Hotel is the major brand in hotel sector in India. The stock price have declined 49.5% from March 02, 2020 to May 08, 2020.
Mahindra Holidays
Mahindra Holidays has over 55 resorts in India and 52 internationally, with over 2.51 lakh members. Due to complete lockdown in the country, the business of the company will be highly impacted. The company had suspended the operations in most of the resorts for the time being till 31st March, 2020. The stock price has tumbled 41.3% from March 02, 2020 to May 08, 2020.
Bluestar
Blue Star stock slips 40.9% on halting operations due to the COVID-19 outbreak. Blue Star is an air-conditioning and commercial refrigeration company. The company conducts various activities, such as electrical, plumbing and fire-fighting services. Its segments include electro-mechanical projects and packaged air conditioning systems, and unitary products.
Vadilal industries (VIL)
A harsh summer bodes well for ice-cream makers like Vadilal. However, this year the spread of Covid 19 has affected the consumption and production activity of the company. VIL operates in two major segments – ice cream, under the brand name Vadilal and processed food, under brand name Quick Treat. Ice-cream brand Vadilal has a legacy of 100+ years. It has a strong presence in north, west and east India.
Varun Beverages
PepsiCo India's bottling partner stock was down 23% as the production and distribution facilities have been temporarily shut down and will be operated as per the local guidelines. Varun Beverages is one of the largest franchisees in the world (outside the USA) for PepsiCo. The company has operations across 17 states and two union territories in India. The manufacturing footprint is well spread out and includes 17 units in India and four production facilities in international markets. Products manufactured by Varun Beverages include carbonated soft drinks - Pepsi, Mountain Dew, Seven Up, Mirinda; non-carbonated beverages - Tropicana Slice, Tropicana Frutz; and bottled water - Aquafina.
Voltas
Voltas, a Tata Group company founded in 1954, has successfully evolved from a refrigeration and air-conditioning company into a fully-fledged mechanical, electrical and plumbing (MEP) contractor. The company's key offerings include heating, ventilation, air-conditioning and refrigeration (HVAC&R) solutions, turnkey electromechanical projects (EMP), and room AC products. The stock plummeted 31.2% from March 02, 2020 to May 08, 2020 due to covid19 impact.
Symphony
The heatwave is likely to be more towards the central and northern parts of India as per the IMD, and Symphony could be a major gainer as it is more into the cooler segment than the air conditioner. It also has a very good brand recall. However, this summers will get impacted by lockdown in the country. The Symphony management has said consumer footfalls dropped sharply in March, as malls, modern retail formats and small dealers in small towns started shutting operations. Transport and inland logistics services are disrupted. Even the e-commerce platform has stopped delivering non-essentials. Symphony is the leading manufacturer of evaporative air coolers in India, with a value market share of ~50% in the organized market.
Emami
Emami's April- June quarterly volume growth likely to get impacted this summer due to the spread of Covid19.  Summer portfolio sales for products like Navratna Cool Oil, Talc and HE deodorant which contribute about 25% to the total portfolio on annualised basis may be impacted. The Emami Group is one of India's leading consumer-goods companies, with a presence in niche categories such as 'cooling oils, pain balms and antiseptic creams, with no competition from MNCs so far. The company also markets men's fairness creams and ayurvedic OTC medicines.
Pidilite
Pidilite has a product that needs to be applied to roof and walls so that the walls absorb heat.  The halt on construction, repairs and maintenance activity in the country will impact the financial numbers of the company. The company's product range includes adhesives and sealants, construction and paint chemicals, automotive chemicals, art materials, industrial adhesives, industrial & textile resins, and organic pigments and preparations. Consumer products form nearly 80% of Pidilite's sales consisting of adhesives, construction and plant chemicals and art materials. Pidilite shares are down 10.6% from March 02, 2020 to May 08, 2020.
Start Investing in 5 mins*
Rs. 20 Flat Per Order | 0% Brokerage
Open Free Demat Account
Mobile No. belongs to
By proceeding, you agree to the T&C.