Earn Pataka Profits With These 5 Trading Tips This Diwali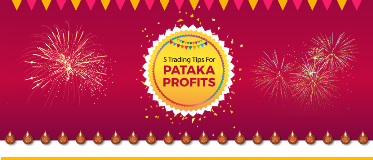 ---

As we celebrate Diwali with the sound of crackers (slightly muffled though), it is time to reflect on how to also create a cracker of a portfolio. OK, forget about a portfolio and let us make out start with buying equities.
Here is a wonderful analogy on Diwali. Back in 1980, the average amount a family would spend on Diwali crackers was about Rs100, a princely sum in those days. If, instead of spending that Rs100 on the crackers, you had bought 1 share of Wipro, do you know what it would be worth today? You would have been holding about 1.92 lakhs of shares of Wipro (with bonuses and splits) today, worth about Rs6.11cr (yes, you heard that right). On top of that, you would have been earning Rs2 lakh in dividends each year.
Wipro is not the only pataka (colloquial for a cracker of a stock). Stocks like Havells, Hero Moto, Infosys, Eicher, TVS Motors, among many more, have been examples of pataka stocks at some point in the last 25 years.
This Diwali, we have come up with five such trading themes that will help you find these pataka stocks. Here we go!


Does the Company Show Consistent Profits and Growth?
Typically, pataka stocks are companies that sustain high-growth levels for a long time. However, growing profitably is just as important as growth. Take companies like Infosys and Eicher for example. These companies, in the past, sustained top-line and bottom-line growth for more than 20-25 quarters in succession. Today, they are positioned at a price point which makes them market leaders in their respective segments.
This is a basic requirement of a pataka stock and you cannot have one without 'profitable' 'growth'. In most of these cases, consistent profit was recorded after a tipping point, but once it came, the companies worked on maintaining it.
Does the Company Have a Unique Positioning in its Industry?
What do we understand by unique positioning? Well, it encapsulates various factors like a unique brand (Hindustan Unilever), ability to cater to unique markets (Eicher, Britannia), or even entry barriers (M&M). It is this kind of a unique positioning that enables a company to sustain above-normal profits for a long time. Normally, pure price positioning is not very sustainable as we have seen in the case of some FMCG, airline, and telecom stocks. Price wars can, at best, be a temporary advantage.
Is the Company Working on a Disruptive Idea?
This need not always be a disruptive product but can also be a disruptive way of looking at a problem or addressing a demand. Infosys and TCS did not offer a disruptive product but the way they packaged their existing products was unique and hard to replicate.
Not every product offering has to be an Apple in order to be called unique. The moral of the story is that if you want to think of pataka profits in the next few years, then you need to actually look out for companies with such disruptive ideas.
Here are some pointers. Is a particular company looking to use artificial intelligence and machine learning in a big way? Is it focusing on providing robotic solutions to other companies with a first-mover advantage? Is it looking to help consumer companies to rethink their logistics networks in such a way so as to become more value-accretive? These are all examples of disruptive idea that you can look at. Your next multi-bagger [sic] pataka would most likely come from these disruptive ideas.
Does the Company Have Low Capital Utilization?
Most conditions of looking and finding a multi-bagger stock stop at this point; how much capital does the company consume? If you look at the history of multi-bagger stocks, they are typically companies that are low on debt and also low on equity.
Debt adds financial risk to your stock and equity dilutes the earnings. Some of the big pataka stocks in India over the last 20 years have been companies that were extremely frugal in employing capital. A company with a small base of capital employed is a lot more likely to become a pataka stock even if the other advantages are not already there.
'Not Too Rich Please'
Finally, the stock you select cannot be too richly valued. If the P/E or the P/BV is too high, then there is not much left on the table for you.
This Diwali, when you look for your next big pataka stock, don't get obsessed by those WhatsApp forwards floating around. They really mean nothing. Apply the above 5-point test and you could be much closer to your pataka stock than ever before.
Start Investing in 5 mins*
Rs. 20 Flat Per Order | 0% Brokerage
Open Free Demat Account
Account belongs to
By proceeding, you agree to the T&C.