Indian Economy and Outlook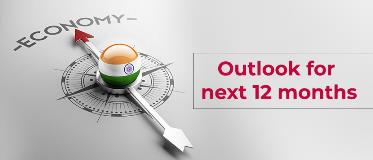 ---

Current Economy Status
For India, despite a slower curve of infection, the impact has been brutal in many ways. The world's biggest lockdown that shut a majority of the factories and businesses, suspended flights, stopped trains and restricted movement of vehicles and people has resulted in a hefty loss. As per the media reports, the initial 21 days lockdown have cost Rs 7-8 lakh crore to the Indian economy. The extended lockdown till May 3, 2020 and any further extension will continue to negatively impact the Indian economy.
Complete lockdown that brought as much as 70% of economic activity, investment, exports and discretionary consumption to a standstill. Only essential goods and services such as agriculture, mining, utility services, some financial and IT services and public services were allowed to operate. These will have a major impact on GDP numbers in the fourth quarter. In the third quarter (October-December) growth is slowed down to 4.7% and the impact of COVID-19 will further slowdown the growth in the coming quarters.           
Outlook for next 12 months
Stock Market Performance
The equity asset class, despite several monetary steroids, is likely to remain under pressure due to the adverse effect of nationwide lockdown on economic activities. Markets are at attractive levels now but may not have hit the final bottom. The recent rally will not last long as worries over the economic impact of the pandemic would continue to weigh on investor sentiments. Therefore, we recommend investors to choose equity investments based on their risk profile. Investors with significant risk appetite can continue to invest in large cap companies in a staggered manner. Select high quality stocks from Retail, Consumption and Chemical space might be resilient during uncertain economic environment. Investors with low risk appetite can continue to invest in equities through mutual funds via. SIP route
Economic Performance
As per the CRISIL research, casual labourers account for a fourth of the overall labours in India and will be the first ones to be hit through layoffs in sectors like construction, mining, transport and manufacturing. Secondly, the agency says 38% of people in the salaried category do not have a valid job contract, it is a warning sign that there can also be a permanent loss of job in some cases if the lockdown continues.
Domestic rating agency CRISIL has recently halved its GDP forecast for India to 1.8% for FY21 due to "disastrous" lockdowns to control COVID-19 pandemic.
As per Fitch rating, India's sovereign rating could be under pressure if there is further deterioration in fiscal outlook on account of lower growth or fiscal easing. In December 2019 reaffirmed India's 'BBB-' rating with a stable outlook.
As per the RBI, the Government will miss the fiscal deficit target of 3.5% for FY21 owing to Covid 19 pandemic. The government and the Reserve bank of India may continue to announce fiscal and monetary measures that can give some support to the economy. India Ratings agency expects that the fiscal deficit of the government is likely to escalate to 4.4% of GDP in FY21.
Silver Lining
However, above all the concerns there is a silver lining, India has so far managed to keep relatively a flatter curve of covid19 spread when compared to other nations like the US, China, Germany. Thus, it is expected that the course of economic recovery in India will be smoother and faster than that of many other advanced countries".  Thus, the silver lining post the pandemic would be diversification of some global supply chains to countries outside China. India could be a preferred partner in certain sectors like chemicals, automotive & engineering products, electronics and consumer durables. A supportive government policy framework and incentives can help attract FDI in the manufacturing sector in India. It can also be major outsourcing as economies like the US will be looking out for low-cost outsourcing solutions. Whether it is IT, finance, India can rise up to the challenge.
Start Investing in 5 mins*
Rs. 20 Flat Per Order | 0% Brokerage
Open Free Demat Account
Account belongs to
By proceeding, you agree to the T&C.