Indian EV Market: Good Start, Better Future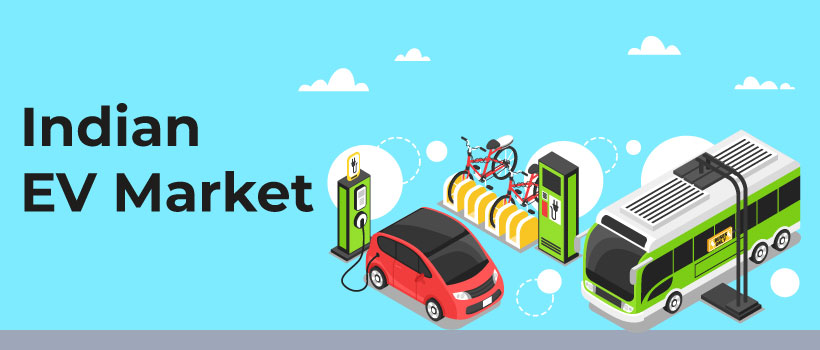 ---

The shift to electrical vehicles is inexorable. Despite India being the fifth largest auto market in the world by volumes, the share of electrical vehicles is still too small. Other countries have already made rapid strides in electrical vehicles. For instance, electrical vehicle penetration is about 26% in Germany, 18% in France and the UK and 14% in Mainland China. In comparison, the Indian EV market is relatively much smaller.

Profiling the Indian Automobile Sector

For FY21, the total number of automobiles produced in India was 226.52 lakhs. Out of that two-wheelers accounted for 183.50 lakhs (81.0%), passenger vehicles 30.62 lakhs (13.5%), Commercial Vehicles 6.25 lakhs (2.8%) and Three Wheelers 6.11 lakhs (2.7%). These are in terms of volumes, but shows an Indian auto industry gravitating towards two wheelers.

In 2021, the total number of electrical two wheelers stood at 2.34 lakh units which is about 1.3% of the total two wheeler sales. In the case of four wheelers, the share is negligible. What cannot be denied is that electric cars are catching on rapidly.

Best Selling Electrical Passenger Vehicles (PV) in India
 
| | |
| --- | --- |
| EV Model (Cars) | Description |
| Tata Nexon NV | Best-selling electric SUV in India. Annual sales growth at 440% YoY for Dec-21. Has 30.2 KWH battery with 312 KM range and top speed of 120 KPH |
| MG ZS EV | Among the lowest priced EVs in India and the second most popular in terms of sales. Has 44.5 KWH battery with 419 KM range |
| Tata Tigor EV | Third most popular EV in India with 13% market share. Has 21.5 KWH battery with 213 KM range |
| Hyundai Kona Electric | Less popular in India due to being pricier. Has 39.2 KWH battery with 452 KM range |
| Mahindra E Verito | Among the lowest priced EV cars in India but not preferred due to its low range. Has 18.55 KWH battery with 140 KM range |
How the Government is Incentivizing the EV Segment?

Prima facie, an EV may appear more expensive compared to the traditional internal combustion engine, and that is true. However, the government has offered a slew of incentives at a producer level and consumer level to boost the usage of EVs in India. While the upfront cost may still be relatively higher, the effective cost over the life of the vehicle is drastically lowered by these incentives. Here are some key incentives for EVs in India. 

a) The government subsidizes direct discount provided to the buyer of EVs on the cost of the electric vehicle. This is an upfront benefit. In addition, there are also fiscal incentives like lower GST at 5%, compared to 28% for cars with internal combustion engines.
b) An interest subvention scheme funded by the government allows EV buyers to acquire such vehicles on loan by paying a concessional rate of interest. This reduces the EMI and the effective cost of the EV over its life time.
c) State governments are also providing special waiver on Road Tax at the time of purchase of an EV. In addition, the one-time registration fee for new vehicles is also waived off. In fact, buyers surrendering old IC engine cars also get a better return price as scrapping incentive for de-registering old petrol and diesel vehicles.
d) Income tax benefit under Section 80EEB is a one-time benefit to individuals. It provides an exemption of up to Rs.1.50 lakhs for interest paid on EV loan. This will apply to four-wheeler and two-wheeler EVs. However, this is a one-time exemption only for first-time purchase by individuals and is not available to corporates.

Faster Adoption and Manufacturing of (Hybrid and) Electric vehicles (FAME) is India's flagship scheme for promoting electric mobility. Currently the second phase (FAME II) is being implemented and is valid till April 2022 with a total budget of Rs.10,000 crore. Here are the incentives offered to the manufacturers of such EVs across categories.
 
| | |
| --- | --- |
| Approximate size of Incentives | Approximate Battery Size |
| Two Wheelers: Rs.15,000 per KWH up to 40% of cost of vehicles | Two wheelers: 2 KWH |
| Three Wheelers: Rs.10,000 per KWH | Three wheelers: 5 KWH |
| Four Wheelers: Rs.10,000 per KWH | Four wheelers: 15 KWH |
| E-buses: Rs.20,000 per KWH | E-buses: 250 KWH |
| E-trucks: Rs.20,000 per KWH |   |
Outlook for EV Market in India

EVs are currently an attractive proposition in India due to combination of subsidies, PLI benefits and tax exemptions. However, the benefits are largely back-ended and therefore the entry level price remains a challenge for the PV segment. EVs in India not only compete with IC engine cars but also with greener options like CNG cars. For instance, in the case of CNG cars, the higher cost is recovered in 25,000 KM, against 75,000 KM for hybrids and over 100,000 KM for EVs. 

However, this is just the macro picture and at a micro level, state level incentives make a big difference. For example, Maharashtra provides subsidies of Rs.550,000 for EVs, which brings down the breakeven from 100,000 KM to just about 30,000 KM. That looks a lot more palatable and will predicate on how states adopt an EV policy. But the trend has been towards greater accommodation of EVs.

Ironically, the shift to EVs may happen faster in the premium segment of above Rs.10 lakhs pricing as customers may be more indifferent to timing of recovery. It is time for an out-of-the box approach to pushing India's EV penetration sharply higher.
Start Investing in 5 mins*
Rs. 20 Flat Per Order | 0% Brokerage
Open Free Demat Account
Mobile No. belongs to
By proceeding, you agree to the T&C.