Popular Technical Analysis Charts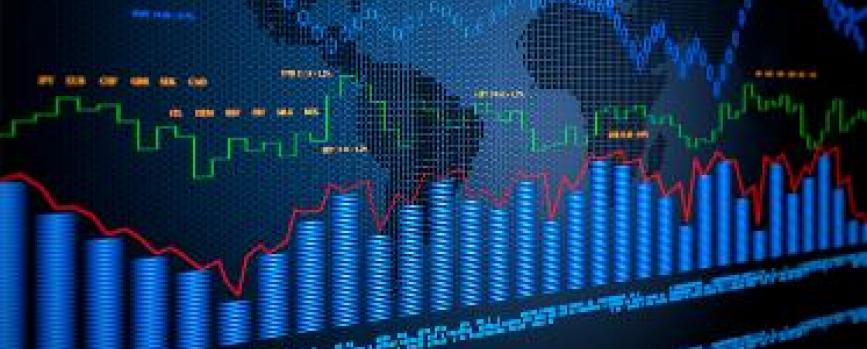 1. Line Chart
A single line that connects closing price of stock is called Line chart. It is the simplest type of chart. The line chart can be plotted for different time frames; hourly, daily, weekly and monthly. The advantage of line chart is that it presents a generic trend of a specific security.
Technical Analysis Charts- Line chart
2. OHLC Bar Charts:
Technical Analysis Charts- OHLC Bar Charts
As the name implies, bar chart consists of bars. These bars are vertical lines with the bottom representing the low price (L) and top representing the high price (H). The bars also have a horizontal dash on both the sides of the vertical line. The open price (O) is shown on the left side, while the close price (C) is on the right side. OHLC is more accurate than line charts because they show the price movement for the day. This helps traders to predict the day's trend.
For example - if open = 47, high = 51, low = 46 and close = 50, it will be a Bullish candle represented in green as follows:
Likewise, if open = 50, high = 51, low = 46 and close = 47, it will be a Bearish candle represented in red as follows:
3. Candlestick Chart
In a candlestick chart, candles can be easily identified as bullish or bearish candle usually represented by green and red or black and white colors. The colors can be easily changed as per your convenience.
Technical Analysis Charts- Candlestick Chart
Bullish Candle:
For example- If open = 47, high = 51, low = 46 and close = 50, it will be a Bullish Candle represented in green as follows
Bearish Candle:
Likewise, if open = 50, high = 51, low = 46 and close = 47, it will be a Bearish candle represented in red as follows:
Open Demat Account

Enter First Name & Last Name
Start investing in just
5 minsFree Demat account,
No conditions apply
0%* Brokerage
Flat ₹20 per order
Open FREE Demat Account in 5 minutes

Mobile Number
There is some issue, try later