Russia Ukraine crisis and impact on global markets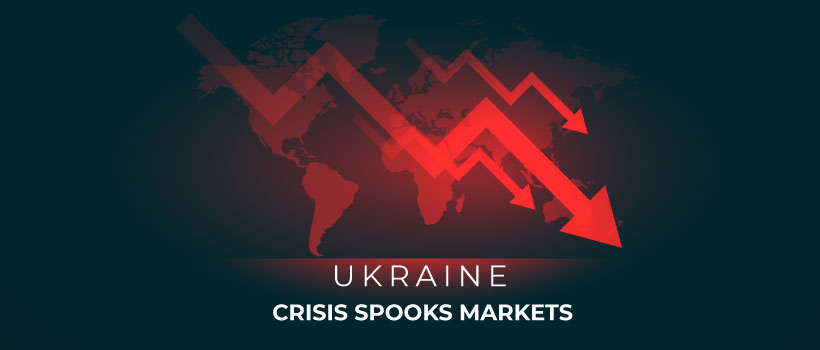 ---

In the last few weeks, the worsening geopolitical situation on the Ukraine border has been creating tensions around the world. Russia has already sent troops to the  border of Ukraine and the US and Western Europe have been trying their best to dissuade Russia from embarking on any hasty action. However, Russia has a bigger agenda in curbing the spread of the NATO influence in its neighbouring Ukraine. But, first a bit of history.

Ukraine was for long a part of the erstwhile USSR. When the USSR got dismantled in 1991, most of the CIS countries became independent with the active support and encouragement of the US. However, under the Putin regime, Russia has continued to expand its influence in the region. For long, the US has been trying to thwart these idea of Russia but offering NATO membership to Ukraine. That is what is creating all the tensions.
Check - Oil prices fall as tensions ease on the russia ukraine border
We had a similar standoff between Russia and Crimea just about five years ago and while nothing came out of it, it underlined the fact that NATO interference in the CIS region would not be taken lightly by Russia. The million dollar question is what is the big deal about Russia and Ukraine and why is the entire world jittery about it. Of course, the one thing is that the NATO and Russia coming face to face is almost like a World War, but there is more to it.

Ukraine is not just the bread basket of East Asia but also the conduit through which Russian oil and gas reaches the whole of Europe. A war in Ukraine would mean disruption of oil and gas supply lines and a surge in price of these commodities. At a time when the price of oil and gas have already shot up sharply, and inflation is already at 40 year highs in many parts of the world, the last thing that is needed is an all-out war over Ukraine.

Here is why the Ukraine-Russia war has global implications

Any potential conflict between Ukraine and Russia would mean more powers from the West would get involved. It certainly promises a prolonged war across multiple channels and mediums and certainly promises to be a long-drawn internecine war. There are not two opinions that the impact of the war will be felt much beyond the borders of the CIS states and will eventually encompass large swathes of the world economy. Here is why.

1) If there is an all out war between Russia and Ukraine, the first thing that investors will do is to look for safe havens. So you could see investors rushing back to bonds, generally seen as the safest assets. You could also see a lot of safe haven money going towards gold, although that is less likely with interest rates already so high. Above all, most of the emerging market currencies could go into a free fall as flows gravitate to the dollar.
2) Ukraine is the granary to many parts of the world and these supplies could get badly disrupted. The Russian Black Sea is one of the biggest ports for the export of wheat from countries like Ukraine, Russia, Kazakhstan and Romania. These are likely to be hit, either by war related restrictions or by outright sanctions imposed by the West on all products going out of Russian ports.
3) Of course, the biggest impact will be on the price of oil and natural gas. Russia is the second largest producer of oil in the world after the US. Interestingly, Europe relies on Russia for around 35% of its natural gas needs and most of these run via pipelines that run across Belarus and Poland.

If Germany halts imports of gas via Nord Stream 2 pipeline, the price of gas is likely to shoot up sharply. The crux of the matter is that Europe is still deeply dependent on Russia for its energy needs. Ukraine is one of the biggest transit points for Russian oil and that would be disrupted.
4) One thing the sanctions would impose is the restrictions on global companies doing business in Russia. It could impact a lot of large global companies. Consider a few instances. British Petroleum owns 19.75% in Rosneft and accounts for nearly one-third of its production. Shell holds 27.5% in Sakhalin 2, Russia's first LNG plant. Not to forget, India's own ONGC Videsh and Essar. All these relationships with Rosneft and Gazprom of Russia would be impacted. 
5) Major sanctions could lead a crash in the Rouble and that would likely pull down most emerging market currencies along with it. With China also looking to weaken its currency, the rupee may get into a free fall as an outcome. In short, the implications would certainly be far-reaching.
Start Investing in 5 mins*
Rs. 20 Flat Per Order | 0% Brokerage
Open Free Demat Account
Account belongs to
By proceeding, you agree to the T&C.