Top dividend paying stocks to watch out for in 2023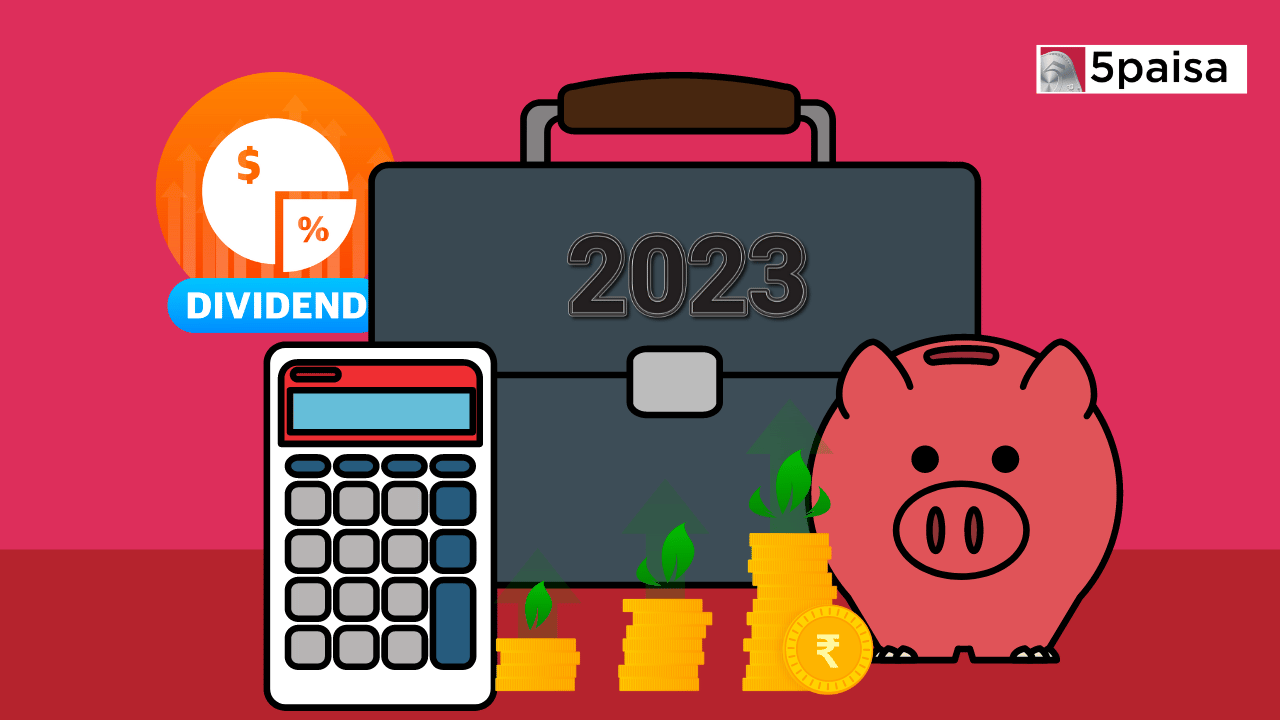 ---

Ace investor Warren Buffet's portfolio has a large chunk of high-dividend paying stocks. His earnings from dividends alone are estimated in billions. You, too, may rake in a few thousand rupees, if not lakhs or crores, as dividends from your equity investment, knowingly or unknowingly. After all, who doesn't love to earn extra money, howsoever little it may be!
Investing in stocks is mainly done for the purpose of capital gains. But there are a certain set of investors, who are looking for a regular income and are often on the lookout for high-dividend-paying stocks. Dividends are essentially regular payouts made by companies to their shareholders from their profits. While the amount may be meagre, such a payout can add to a sizeable sum when investors hold a large number of shares.
Usually, dividends are paid annually but there are companies that announce semi-annual or interim dividends to attract investors. An advantage of this is that it could potentially lead to a rise in the share price. In addition, companies paying dividends consistently are also an indication that they are making enough profits and their financial position is strong.
However, not all dividend-paying companies are worth investing in. There are certain factors that investors need to keep in mind before investing. One of the key factors is to look at the consistency of the dividend payout ratio—amount paid to the shareholders from a company's profit. Another is the growth in dividend payments. A growing company would tend to make higher profits, and hence it benefits the investors—share price rise and earnings from dividends. There is no point in investing in a company that announces a higher dividend in a year and a lower amount in the next year. Similarly, companies making large dividend payout at the cost of reinvestment and growth is also a red flag.
Investors should also look at the dividend yield, a measure showing how much a company pays cash in the form of a dividend relative to its stock price.
To be sure, while dividend adds to total shareholder returns, investors should be aware that they may end up losing if they get into capital loss if the share price declines despite having a good dividend yield. So, they should look at it as a long-term bet with a conservative play and interim payouts.
They should also make sure they do not end up investing for the short term only to get a dividend yield and need to understand the record date and its impact on the share price while dividend is being paid as the share price declines after the ex-dividend date.
Here is a list of top dividend-paying stocks to look out for in 2023:
1) NMDC Ltd – This Hyderabad-based central public sector enterprise has a good track record of rewarding its shareholders with dividends and has declared the same in each year since 2002. For FY22, it declared Rs 14.74 per share of dividend, resulting in a dividend yield of around 12.80% based on current prices. For the current financial year, NMDC has declared an interim dividend of Rs 3.75 per share.
Considered to be one of the lowest-cost producers of iron ore in the world, NMDC operates mechanised mines in Chhattisgarh and Karnataka. In addition, it is the only company in India to operate a mechanised diamond mine.
2) REC Ltd – This Maharatna company under the Ministry of Power has paid dividends each year since fiscal 1998 while maintaining profit margins. Currently, the company has one of the highest dividend yields of around 10.5%.  In the past 12 months, REC has declared a dividend of Rs 13.05 per share.
Shares of REC, which provides financial assistance to the power sector across segments such as generation, transmission, and distribution, are up nearly 29% in one year.
3) Coal India Ltd – As the name suggests, the government-owned company is involved in the business of mining coal. It is the single largest coal producer in the world. Coal India contributes to 85% of total domestic coal production and 55% of coal used in power generation, thus playing a key role in the government's "Make in India" programme.
The company has been a regular dividend payer and has announced a dividend to the tune of Rs 23.25 per share in the past 12 months. In the same period, shares of the company have risen nearly 43.5%.
4) Housing & Urban Development Corporation - Popularly known as HUDCO, this government-owned financier has been consistent with dividend payments and has declared 10 dividends since it was listed in 2017. It paid Rs 3.5 per share as a dividend in 2022, which has been the highest in any fiscal year.
HUDCO finances housing and urban infrastructure development projects of various state governments and their agencies. Since the loans are paid by the state government through budgetary allocation, it lowers the credit risks. This is one of HUDCO's key strengths from the point of view of financials.  
5) Oil India - India's second-largest national oil and gas company is regular on the dividend-paying chart. The company has declared a dividend of Rs 19.50 per share in the past 12 months. Based on the current prices, the dividend yield works out to be around 7.95%.
On the back of higher crude price realisation and domestic gas price realisation, analysts are positive on the shares of Oil India. In a recent note, foreign brokerage Morgan Stanley said that it sees positive movement in earnings quality and returns metrics of companies like Oil India.  
6) Oracle Financial Services Software Ltd - With a dividend yield of around 6%, this Information Technology company has a good track record when it comes to rewarding its equity holders. It had last declared an interim dividend of Rs 190 per share in May 2022, which was within the Rs 100-200 per share band seen in the last few years.
The company has a strong parentage as it is the subsidiary of US-based Oracle Corporation, the world's largest database management company.
7) ITC Ltd - Known as India's meme stock for its unbothered price movement vis-à-vis market trends, ITC gave a reason to smile to its investors in 2022 as its share prices finally saw an upward momentum after years. Now investors are expecting further upside as most of its businesses, from FMCG to hotels to cigarettes, are seen benefiting from demand improvement, aiding profitability.
ITC also has a track record of consistent dividend payments and has paid Rs 12.25 per share as dividends in one year. Its dividend yield currently stands at 3.16%.
8) Castrol (India) Ltd - India's leading lubricant manufacturer is a known name to many motorcyclists. But its investors identify the company for regularly rewarding them with dividend payouts. It had last announced Rs 3 per share dividend in July. The company has consistently announced interim as well as final dividends, though the amount has been in the low single digits for the past couple of years.
Castrol India is an ideal stock for investors looking for value play along with dividend earnings.
9) Sanofi India - This pharmaceutical company has consistently announced dividends. Since 2020, it has also regularly announced special dividends, which are one-time in nature and usually more than regular dividends.
Dividends amounting to Rs 683 per share were announced in the past 12 months.  
10) ICICI Securities - Part of the ICICI Group, this company offers financial services, including investment banking and broking services. Since its listing in 2018, the company has regularly paid interim as well as final dividends.
In the previous financial year, it had paid a total dividend of Rs 24 per share. So far for this fiscal, it has announced Rs 9.75 per share as the dividend.
Conclusion
Dividends are a good way of earning that extra income on your stock portfolio. Beginners can start by identifying such regular dividend-paying stocks and limiting them to a portion of their investments.
However, don't get allured only by more income and ensure that the selected stocks have a good track record, and have sound fundamentals as well as corporate governance. More importantly, investors should understand the tax implications on dividend earnings.
Start Investing in 5 mins*
Rs. 20 Flat Per Order | 0% Brokerage
Open Free Demat Account
Mobile No. belongs to
By proceeding, you agree to the T&C.