US imposes ban on oil imports from Russia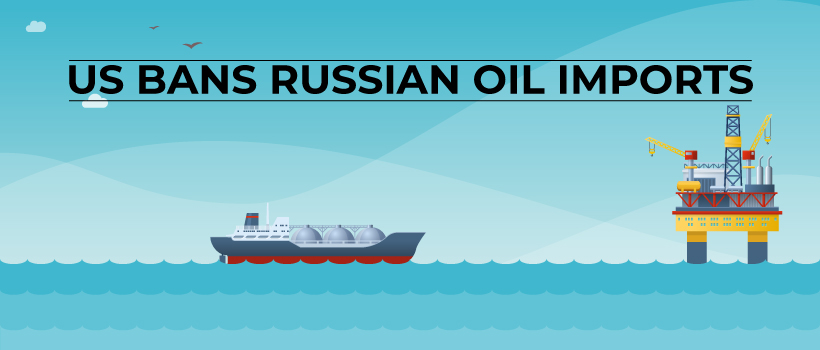 ---

In a move that was long expected to happen, the US President, Joe Biden, imposed an immediate ban on Russian oil and other energy imports effective from the night of 08th March itself. This is in retaliation to Russia's invasion of Ukraine. Meanwhile Canada and Japan have joined in the ban right away while UK has agreed to phase out Russian oil by the end of 2022. The big factor is Europe, which relies on Russia for 27% of its oil needs.

In terms of market share of Russian exports, these countries are still small. While Canada is very minimal, the US is 2.3% and Japan is 2.8%. Put together it is just about 5.1% of Russian exports. Nearly 54% of Russian exports go to Europe and 27% goes to China. Together, they account for 81% of Russian exports. EU is unlikely to budget in the absence of alternatives. Also, nearly 82% of Russia's gas exports to Europe, so these pipelines are the lifeline.

How did the prices react? It was not as bad as markets anticipated. In the morning, the price of Brent Crude had crossed above $131/bbl but by late afternoon the prices of Brent Crude had tapered down to $125/bbl as it became increasingly clear that EU was unwilling to join in and the 5.1% Russian export market share of the US and Japan would not be significant enough to make a difference. That has pulled down the prices of crude.


What exactly does the US ban mean? The US ban on Russian oil, is part of a much broader prohibition that includes natural gas and coal. In short any source of energy from Russia is blacked out. For now, that ban has not been ratified by US allies. Russian oil will not be accepted in American ports. Also, American citizens will also be barred from buying Russian oil even in the secondary market as well as via the futures market.

Russia is a very big player as it is the world's largest exporter of crude and oil products. Russia exports 7 million barrels per day (bpd) of oil and accounts for about 8% of global oil supply. That is big enough. The US imports about 209,000 bpd of crude oil and 500,000 bpd of other petroleum products from Russia. That is material but not significant. It is about 2.3% of Russian oil exports and 1% of US refining. Clearly, not important for either.

The situation could become interesting if EU chips in by joining the ban, at least partially. In fact, it will get even more interesting if China and India chip in and buy up the surplus oil from Russia. However, most analysts are worried about the price effect if EU joins. That could a big trigger and could spike crude oil to $160/bbl. On its part, Russia has warned that if EU imposes a ban then crude could spike to $300/bbl, making it virtually unaffordable.

US gasoline prices are already close to record highs of $4.17/gallon and the fear is that it could soon cross $5 a gallon. The US would be conscious that with inflation already at about 7.5% in the US, there is little room for such adventures.
Already, the US inflation for February (which will be announced on 10-March), is expected to come in at 7.9%. that may still be too much of a risk for the US economy and its consumers.
One outcome that the world economy must be cautious about is demand destruction. If that happens, the impact could be serious and prolonged. That is best avoided.
Start Investing in 5 mins*
Rs. 20 Flat Per Order | 0% Brokerage
Open Free Demat Account
Mobile No. belongs to
By proceeding, you agree to the T&C.