What are Pros and Cons of Investing in NBFC NCDs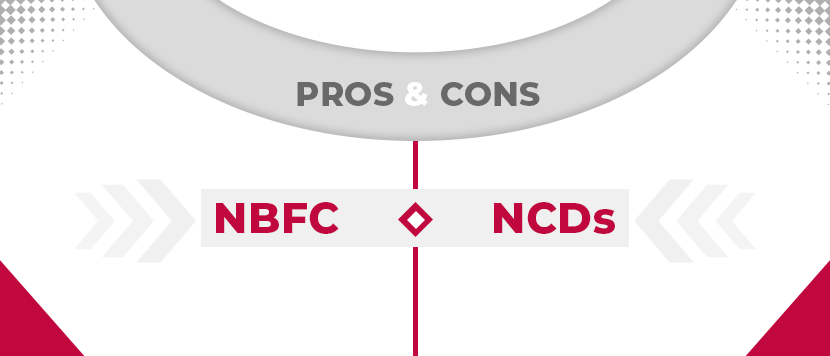 ---

What are the Pros & Cons of Investing in NBFC NCDs?
Over the years, the RBI (Reserve Bank of India) has significantly tightened the guidelines for NBFCs (Non-Banking Financial Companies) on how they can raise money through NCDs (Non-convertible Debentures). When the interest rates start going down, many savvy investors prefer locking in their funds in NCDs issued by non-banking financial companies as they offer lucrative interest rates for a more extended period. 
What are NBFC NCDs?
Non-convertible debentures are a popular way of raising funds for the NBFCs. If you review the NCD market, you will find that most of the borrowers are from the NBFC segment over the years. It is a debt instrument and popularly used by the NBFCs and other companies to raise long-term capital through the public issue of shares. The NCDs have a fixed tenure, and the investors receive regular interest at a specific rate on their investment. 
There are two types of non-convertible debentures, which are discussed below. 
As the name suggests, the secured non-convertible debentures are a much safer investment option among the two kinds of NCDs. Such NCDs are backed by the company's assets. This means if for any reason the company fails to pay interest to the investors, they can recover their dues by liquidating the company's assets. However, the interest rate for secured NCDs is low. 
Unsecured NCDs are a riskier investment option than secured NCDs as the company's assets do not back them. Therefore, if the company fails to pay, the investors have no choice but to wait until they receive the payments. However, the interest rate offered by unsecured non-convertible debentures is higher than secured NCDs. 
Pros and Cons of NBFC NCDs
Pros
Every NBFC that aims to raise money through NCD is rated by agencies like Fitch Ratings, CRISIL, ICRA and CARE. Therefore, you can be sure that the information provided is verified and the chances of fraud are zero. 
Since the non-convertible debentures issued by the NBFCs are closely monitored and regulated by the Reserve Bank of India, it is beneficial for the investors. The interest rate keeps fluctuating on other investments, and therefore, in such conditions, the NCDs offer attractive returns for a more extended period. 
Generally, the NBFCs NCD rate of interest is higher by up to 150-175 basis points than the interest you may receive from investments in bank fixed deposits. And, since most NBFCs that issue NCD are reputed and well capitalised, you can be sure that there is minimal risk in investing in them as an investor. 
Another significant advantage of investing in NBFC NCD is that when the market starts falling, the investors tend to enjoy capital appreciation. 
The NCDs typically have a first or second charge on the issuer's assets. Thus, they are a relatively secure and safer investment option compared to other forms of unsecured investments. 
Cons
While there are many advantages of the NCD investment, as an investor, you must be cautious about the risks involved in NCD before investing. The common risks include-
Non-banking financial companies are a heterogeneous class of assets; there are high-class and low-quality NBFCs. As an investor, you must be careful about investing in NCDs issued by the NBFCs and decide only after reviewing the credit rating of the NCD. Credit rating is essentially an expert opinion on the repayment capacity of the issuer, and it is advised to invest only in high-rated NBFCs to minimise the risk. 
NBFC as an industry is quite vulnerable to various rules and regulations. The NBFCs in India learnt this lesson the hard way in 1998 when the Reserve Bank of India imposed strict regulations on NFBCs in terms of asset classification. And, the sector continues to remain vulnerable to macro regulatory risks. 
Final Word
Thus, NBFC NCDs investment has many pros and cons. So, if you are looking to invest in NCD, do your due diligence in understanding its various aspects before deciding. But generally, experts suggest that NBFC NCDs are an ideal investment option only for those investors who have a high-risk appetite and are willing to lock their funds at a higher returns rate. 
 
DISCLAIMER: IIFL Home Finance Limited (Formerly known as India Infoline Housing Finance Limited), subject to market conditions and other considerations is proposing a public issue of secured and/or unsecured, redeemable non-convertible debentures and has filed the Shelf Prospectus and Tranche I Prospectus both dated June 29, 2021 with the Registrar of Companies, Maharashtra at Mumbai, National Stock Exchange of India Limited, BSE Limited and SEBI. The Shelf Prospectus and Tranche I Prospectus both dated June, 2021 are available on our website www.iifl.com/home-loans, on the website of the stock exchanges at www.nseindia.com and www.bseindia.com, on the website of SEBI at www.sebi.gov.in and the respective websites of the lead managers at www.edelweissfin.com, www.iiflcap.com, www.icicisecurities.com, www.trustgroup.in and www.equirus.com. Investors proposing to participate in the Issue, should invest only on the basis of the information contained in the Shelf Prospectus and Tranche I Prospectus both dated June 29, 2021. The unsecured, redeemable, non-convertible debentures will be in the nature of subordinated debt and shall be eligible for Tier II capital. Investors should note that investment in NCDs involves a high degree of risks and for details relating to the same, please refer to Shelf Prospectus dated June 29, 2021, including the section on "Risk Factors" beginning on page 19 of the Shelf Prospectus dated June 29, 2021. 
Source: This content is created and hosted originally on www.indiainfoline.com and provided here for our customers' information. 
Start Investing in 5 mins*
Rs. 20 Flat Per Order | 0% Brokerage
Open Free Demat Account
Account belongs to
By proceeding, you agree to the T&C.