20 Jun 2023
MBA vs Influencers: Who makes more money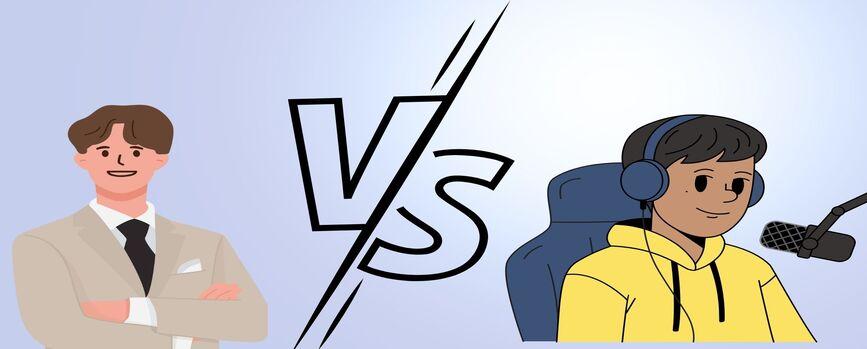 Gourab Nandi, 28, hails from the small town of Nabadwip in West Bengal is a finance influencer. He has more than four lakh followers on his Youtube channel Qdigita, where he talks about IPOs, trading, and investing.
With no background in Finance, Nandi left his corporate job in engineering to pursue his passion for Youtube and currently makes more than 7 lakhs - 10 lakhs a month through his youtube channel.
Being an influencer was a side gig till a few years ago. People only pursued it for their passion and the dopamine kick that comes with being famous but now things have changed entirely. Brands are setting aside a huge part of their marketing budgets just for influencer promotions. It isn't just a side gig now. Not just people are pursuing it full time, they are making much more money than the traditional careers.
Should you too leave your master's and start creating content? Is it a career like no other?
You'll have to read on to find it!
The Gig-antic Influencer economy!
It's truly the era of influencers! Remember when the Cannes Film Festival was all about celebrities? Well, things have changed. From Fifa to Cannes, influencers have taken the spotlight there and are shining everywhere. They seem to be everywhere, and for good reason. Influencers have a remarkable ability to sway people's decisions in real-time, thanks to the personal brand they've built, which can eventually be monetized.
If you're a brand selling a product like moisturizer, for example, you're likely to gain better traction if a popular beauty influencer casually mentions it online, rather than running a traditional TV advertisement.
Influencers excel at creating a sense of connection with their audience over time. Brands have recognized the importance of associating with such influencers who are constantly engaging and building their audience.
The industry's rapid growth comes as no surprise. The Indian market alone is currently valued at INR 1275 crores and is projected to grow at a compound annual growth rate of 25% over the next five years. By 2026, it is expected to reach INR 2800 crores.
Brands are shifting their focus from old-fashioned TV advertisements to influencer promotions, allocating significant portions of their marketing budgets to influencers. Take Mamaearth, for instance. In its DRHP, it revealed plans to spend over Rs. 150 crores on influencer marketing in the next three years.
Not only that, but it also acquired Momspresso, a women-focused content platform, to enhance its influencer management capabilities.
Nykaa, on the other hand, has built its core business around influencers. The success of their influencer-led content around beauty products has been instrumental in driving their growth. As of March 2022, they had a network of over 5000 influencers who work on commission based on the sales they generate for Nykaa.
According to the latest Kantar-INCA report titled "Like, Share, Subscribe: The Marketing of Influencing," a staggering 54.9 million people in urban India directly engage with influencers across various spectrums. This number is set to increase as internet penetration in India is still relatively low.
In 2021, India had as many television-owning households as it did Instagram users—210 million. The country had over 800 million internet users in March 2021, and that number is expected to grow even further.
Clearly, the industry is booming, and influencers wield significant power.
Who makes more money?
Many of us have wondered or even searched online to find out how much money influencers make.
Influencers have various ways of monetizing their influence, such as through paid sponsorships, creating e-products, starting their own podcasts, becoming brand ambassadors, participating in affiliate marketing programs, attending events, launching their own brands or merchandise, and monetizing their content on YouTube for additional revenue.
Generally, people have a negative connotation about influencers. They feel influencers are jobless and cringe-worthy, but that doesn't matter. An influencer can earn 5 lakh for a reel, and it takes about six months of work to make that money. Think about that. I have a lot of respect for influencers because it's not easy to gain followers.
Ashneer Grover, Founder -  Bharatpe.
Zalak, the founder of Boomlet, an influencer management agency, shares insights on influencer earnings. An influencer with a follower base between 100k and 500k can charge between 30k and 5L for a reel/post/shorts. For an influencer with a follower base of 500k to 1mn, the charges range from 2.5L to 12L for a reel/post/shorts. However, these costs are subjective and depend on the campaign's requirements, the influencer's popularity, and the region they reside in. Some influencers also consider the number of views and engagement they receive when sharing commercials.
That's a whole lot of money considering that nearly 90% of people in India earn less than 25000 a month.
For comparison, an MBA pass-out in India typically earns between Rs. 4 lakhs to Rs. 30 lakhs, depending on the college they graduated from. As per NIRF report 2023, The highest-ranked MBA colleges in India can lead to an annual income of around Rs. 30 lakhs, while the lowest-ranked ones may result in around Rs. 3.5 lakhs per annum.
But does that mean you should drop out of college and become an influencer? Absolutely not!
Becoming an influencer is a legitimate career path that offers the potential to earn a significant amount of money. However, it also comes with its own set of challenges. Follower counts are crucial for influencers, as everything from money and discounts to prestige and brand deals is tied to the number of followers they have. Maintaining a high follower count requires constant effort—creating and sharing videos, keeping up with trends, and staying relevant.
However, follower counts are just one aspect of the equation. Brands also consider factors such as subject matter, audience demographics, actual engagement rates, content quality, and consistency when working with influencers.
Just like actors, influencers need to stay on top of their game and provide good content to remain relevant. Some days, one influencer may shine, while on other days, it might be someone else.
The uncertainty of income is part of an influencer's career that may not exist in a regular MBA job. It's essential not to rely solely on income from social media platforms.
Diversifying income sources is crucial. For example, Gourab, an influencer, relies on fixed income from affiliate partnerships with brokers, reducing his dependency on brand partnerships.
So, if you're interested in becoming an influencer, you can pursue that path while also pursuing an MBA. There is no definitive "best" career. While being an influencer holds the potential for substantial earnings, it doesn't replace the value of a good education.
You have the potential to make a lot of money as an influencer, but it's always important to have multiple income streams and a solid education.
Start Investing in 5 mins*
Rs. 20 Flat Per Order | 0% Brokerage