IPO Synopsis
IPO Synopsis
Five Star Business Finance has filed its preliminary papers with SEBI in order to raise Rs.2,752 crore through an initial public offer. According to the DRHP, the whole issue is going to be an offer for sale. For the OFS, SCI Investments is to offload shares worth Rs.257.10 crore, shares worth Rs.568.92 crore by Matrix Partners India Investments II Extension LLC, Norwest Venture Partners X- Mauritius are to offload Rs.385.65 crore, TPG Asia VII SF Pte Ltd is to offload Rs.1,349.78 crore. Currently TPG Asia holds a stake of 20.99%, Matrix partners holds a 14% stake and Norwest holds 10.22% stake. The book running lead managers to this issue are ICICI Securities, Kotak Mahindra Capital Company, Edelweiss Financial Services and Nomura Financial Advisory and Securities Pvt ltd. 
 
Objectives of the issue
The main objective of the issue is to gain from the company being listed on the stock exchanges.
 
About Five-Star Business Finance Ltd
About the company
Five Star Business Finance, founded in 1984, is a Chennai based company that provides small loans and small mortgages to self-employed individuals and small entrepreneurs, who are excluded by the large financial institutions. All of the loans given by the company are secured by the borrower's property. As of September 30, 2021, the company has an extensive network of 268 branches spread across 8 states and 1 union territory. 92% of the branches are located in cities and towns with a population of more than 1 million. Their live accounts increased from 15,803 in FY17 to 1,92,000 in September 2021. Tamil Nadu, Andhra Pradesh, Telangana and Karnataka account for 95% of the total portfolio of the company. The company has the largest Asset Under Management worth Rs.3,000 crore, as compared to its peers.
Since the customers usually do not have income proof, the whole underwriting process requires a long and detailed personal discussion with the person taking the loan, his/her family and relatives and neighbours to gain some perspective regarding the cash inflows and outflows, income pattern and behavorial aspects of the person. 
 
Financials:
Particulars

(In Rs cr)

Q2 ended September 30, 2021

FY21

FY20

FY19

Revenue from operations

610.69

1,049.74

786.71

408.90

PAT

217.54

358.99

261.95

156.41

EPS (In Rs)

7.85

13.61

10.07

6.73
Particulars

(In Rs cr)

Q2 ended September 30, 2021

FY21

FY20

FY19

Total Assets

6,374.5

5,793.6

4,353.1

2,361.1

Equity Share Capital

29.01

25.64

25.58

23.90

Total Borrowings

1,639.6

2,121.4

1,284.82

526.5
Key Points
Strengths

1. Five Star Business Finance has witnessed the fastest AUM growth among its peers, with more than Rs.3,000 crore in AUM and has also witnessed strong growth and returns
2. One of the few institutions in the country that has developed an underwriting model where the cash flows of small business owners and self employed individuals are analyzed in order to provide them with loans
3. The company has the ability to expand to un- penetrated geographical areas through its calculated approach
4. They have experienced and qualified promoters and a very professional management team with the backing of marquee investors


Risks

1. A substantial amount of capital is needed to run the business and the company derives it from various external sources and thus the whole business wholly depends on the timely availability of these funds
2. The main, inherent risk is of the borrowers not paying back the loans and the risk is higher in this case as the customer group is primarily the middle and lower income group and there is a high possibility of default among these small business owners and self employed people
3. Adding to the point above, a large part of the borrowers are first time borrowers which further increases the risk of default
4. The volatility in interest rates could adversely affect the Net interest income

How to apply for an IPO?
Login to your 5paisa account and select the issue in the
current IPO section

Enter the number of lots and price at which you wish to
apply for

Enter your UPI ID and click on submit. With this, your
bid will be placed with the exchange

You will receive a mandate notification to block funds in
your UPI app

Approve the mandate request on your UPI and funds
will be blocked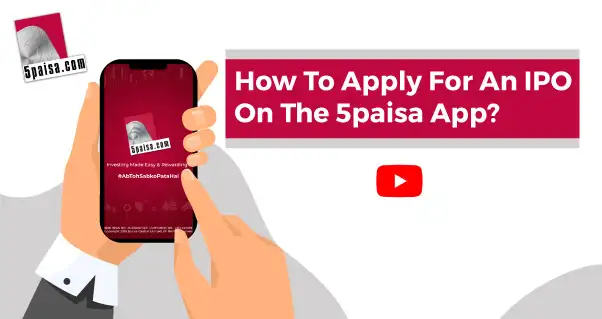 Open account in 5 minutes
Be a part of the 5paisa community now with 10 million mobile app users
There is some issue, try later
Please keep below documents handy:
 PAN Card
 Aadhar Card
 Bank Account Number