IPO Synopsis
Fusion Mirco Finance filed its DRHP with SEBI in mid August,2021, worth over Rs.1,900 crore. The company got a nod of approval from SEBI on 22nd November, 2021. The IPO consists of a fresh issue worth Rs.600 crore and an offer for sale of up tp 2.197 crore equity shares by the promoter other existing shareholders. Out of these equity shares put up for the offer for sale, Devesh Sachdev and Mini Sachdev are offloading 13 lakh and 2 lakh shares respectively. The early investors like Honey Rose Investment plan on offloading 63.21 lakh shares whereas Creation Investments plans on offloading around 40 lakh equity shares.

Other shareholders who are participating in the OFS include Oikocredit, Ecumenical Development and Global Financial Inclusion Fund. The promoters have a joint stake of 85.5% in the company, pre IPO whereas the other selling shareholders have a 12.03% stake in the company. There is a possibility that Fusion Mirco Finance may opt for a Rs.120 crore pre-IPO placement and anchor investments will also take place near the subscription date. The book running lead managers to the issue are IIFL Securities Ltd, ICICI Securities Ltd, CLSA India Pvt Ltd and JM Financial Ltd. The main objective of the issue is to augment the capital base of the company and the amount set aside for this Rs.600 crore. 35% is the retail allocation of this IPO whereas 50% is reserved for QIB.
About Fusion Micro Finance Ltd
New Delhi based Fusion Micro Finance, launched in 2010, is a micro- lending firm that enables women in rural and semi-urban areas to access funds so that they can access greater economic opportunities. Fusion uses a joint liability group model which was developed by Grameen Bank of Bangladesh and provides loans up to Rs.50,000. Between FY18 and FY21, Fusion Micro Finance had the third fastest gross loan portfolio growth of 44%. As of 31 March, 2021, they were also among the one of the youngest companies among the top 10 NBFC-MFIs in the country, in terms of Assets Under Management. 
The company has 2.12 million active borrowers who are being served by 725 branches and 6,351 employees, spread across 18 states and union territories. The cashless disbursements formed 89.86% of the total disbursements in FY21, amounting to Rs.3,303.4 crores. The gross NPAs for the years FY21, FY20, FY19 are 5.51%, 1.12% and 1.55% respectively.
| | | | |
| --- | --- | --- | --- |
| Particulars | FY 21 | FY 20 | FY 19 |
| Revenue from operations (In Rs. cr) | 855.8 | 720.2 | 494.3 |
| PAT (In Rs. cr) | 44 | 69.6 | 50.66 |
| EPS (In Rs/share) | 5.56 | 10.47 | 10.49 |
Particulars

(In Rs cr)

As on March 31, 2021

As on March 31, 2020

As on March 31, 2019

Total borrowings

79.03

78.95

61.57

Share Capital

3,325.07

2,457.15

2,313.03

Total assets

5837.93

4240

3610.5
The fall in profit from Rs.69.6 crore to Rs.44 crore may be due to the asset quality stress caused by the pandemic which in turn impacted the loan servicing ability for many customers. Fusion Mirco Finance has the second best capital adequacy ratio among its peers, standing at 2.48. The Return on Equity for FY20 stood at 7.63% and the Return on asset for FY20 at1.77%. The company's cost to income saw a decline of 24% from FY18 to FY21. 
 
Peer comparison:
 
Company

Total Income

(Rs. Cr)

EPS Diluted

(Rs/share)

RoNW%

P/E

Fusion Mirco Finance Ltd

873.08

5.49

3.53%

-

CreditAcess Grameen Ltd

2466.07

8.90

3.56%

78.53

Spandana Sphoorty Financial Ltd

1505.6

22.47

5.29%

29.94

Bandhan Bank Ltd

14633.2

13.69

12.67%

22.27

Ujjivan Small Finance Bank Ltd

3116.8

0.05

0.26%

582

Suryoday Small Finance Bank Ltd

875.6

1.31

0.74%

159.73
Key Points of Fusion Micro Finance Ltd IPO -
Key Points
Strengths

1. The company is well diversified and has a pan-Indian presence with 6,351 employees in 326 districts across 18 states of India.

2. They have a strong rural focus and 92.51% of the total customers as well as 69.24% of the total branches are present in rural areas.

3. They have a very technologically advanced operating model which regularly reviewed and revised in order to maintain a fast paced and evolving business model.

4. The company has a strong, skillful and experienced management team with the founder, Mr. Devesh Sachdev holding more than 25 years of practical experience.

Risks

1. Every Microfinance company faces inherent risks due to the category of customers it lends to. There is no other form of lending taking place.

2. If there is volatility in the interest rates, it could adversely affect the company's net interest margin and net interest income.

3. An unforeseen increase in the NPAs could lead to negative effects on the cash flow, operations and overall financials of the company.

4. There are certain risks that come hand in hand with the large number of branches and employees that are being handles by the bank.
How to apply for an IPO?
Login to your 5paisa account and select the issue in the
current IPO section

Enter the number of lots and price at which you wish to
apply for

Enter your UPI ID and click on submit. With this, your
bid will be placed with the exchange

You will receive a mandate notification to block funds in
your UPI app

Approve the mandate request on your UPI and funds
will be blocked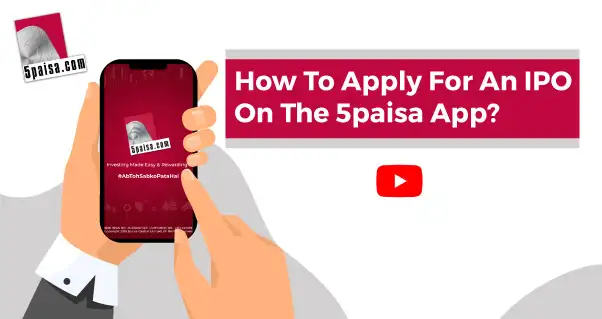 Open account in 5 minutes
Be a part of the 5paisa community now with 10 million mobile app users
There is some issue, try later
Please keep below documents handy:
 PAN Card
 Aadhar Card
 Bank Account Number