Listing Details
Listing Exchange

BSE, NSE

Listing Date

29-Nov-23

IPO Price Range

₹ 30

Listing Price

₹ 50

Listing Change

56.3 %

Last Traded Price

₹ 64.2

Current Change

100.6 %
IREDA IPO Details
Open Date

21-Nov-23

Close Date

23-Nov-23

Lot Size

460

IPO Size

₹ 2150.21 Cr

IPO Price Range

₹ 30 to ₹ 32

Min Investment

₹ 13800

Listing Exchange

BSE, NSE

Basis of Allotment

28-Nov-23

Refunds

28-Nov-23

Credit to Demat Account

28-Nov-23

Listing Date

29-Nov-23
IREDA IPO Subscription Status
| Date | QIB | NII | Retail | TOTAL |
| --- | --- | --- | --- | --- |
| 21-Nov-23 | 1.34 | 2.74 | 2.02 | 1.98 |
| 22-Nov-23 | 2.69 | 7.76 | 4.32 | 4.59 |
| 23-Nov-23 | 104.57 | 24.16 | 7.73 | 38.80 |
IREDA IPO Synopsis
Indian Renewable Energy Development Agency (IREDA) Limited IPO is all set to open from 21st November to 23rd November 2023. The company is a Mini-Ratna under the Ministry of New and Renewable Energy (MNRE). The IPO includes a fresh issue of 403,164,706 shares worth ₹1,290.13 cr and an Offer for Sale (OFS) of 268,776,471 equity shares worth around ₹860.08 cr. The total IPO size is ₹2,150.21 cr. The share allotment date is 29th November, and the IPO will be listed on 4th December on the stock exchanges. The price band is ₹30 to ₹32 per share and the lot size is 460 shares.    
IDBI Capital Markets & Securities Limited, BoB Capital Markets Limited, and SBI Capital Markets Limited are the book-running lead managers for this IPO, while Link Intime India Private Limited is the registrar. 
Objectives of IREDA IPO:
●    The company will utilise the funds raised from fresh issues for capital requirements and onward lending.
 
IREDA IPO Video:
About IREDA
Established in 1987, the Indian Renewable Energy Development Agency is a Government of India enterprise and falls under the Ministry of New and Renewable Energy (MNRE). IREDA works as a Public Financial Institution and is registered with the Reserve Bank of India as a Systemically Important Non-Deposit-taking Non-Banking Finance Company (a "NBFCND-SI"), with Infrastructure Finance Company ("IFC") status. IREDA was also conferred with the Mini Ratna (Category I) status in June 2015. 
IREDA Ltd. promotes, develops, and provides financial aid for new and renewable energy ("RE") projects, and energy efficiency and conservation ("EEC") projects. Since FY2021, the company has consistently been rated 'Excellent' by the MNRE in the course of evaluation of our performance in achieving key targets. 
As of FY 2023, IREDA has sanctioned loans worth ₹325,86.60 cr and its total loan disbursal stood at ₹216,39.21 cr. 
Peer Comparison
●    REC Limited
●    Power Finance Corporation
 
For More Information:
IREDA IPO GMP
Webstory on IREDA IPO
Profit and Loss
Balance Sheet
| Particulars (in Rs. Crores) | FY23 | FY22 | FY21 |
| --- | --- | --- | --- |
| Revenue | 3481.97 | 2859.89 | 2654.81 |
| EBITDA | 3150.79 | 2329.77 | 2031.39 |
| PAT | 864.62 | 633.52 | 346.38 |
| Particulars (in Rs. Crores) | FY23 | FY22 | FY21 |
| --- | --- | --- | --- |
| Total Assets | 50446.98 | 36708.40 | 30293.39 |
| Share Capital | 2284.60 | 2284.60 | 784.60 |
| Total Borrowings | 44511.81 | 31440.29 | 27297.79 |
| Particulars (in Rs. Crores) | FY23 | FY22 | FY21 |
| --- | --- | --- | --- |
| Net cash generated from / (used in) operating activities | -12343.07 | 5254.11 | -3259.14 |
| Net cash from / (used in) investing activities | -17.20 | -107.12 | -2.098 |
| Net cash flow from / (used in) financing activities | 12367.64 | 5271.39 | 2441.17 |
| Net increase (decrease) in cash and cash equivalents | 7.36 | -89.84 | -820.06 |
IREDA IPO Key Points
Strengths

1. The company has a track record of growth, geared towards high-quality assets and diversified asset book and stable profitability.
2. It plays a strategic role in the Government of India's initiatives in the Renewable Energy sector.
3. It is an established and trusted brand name operating in a rapidly expanding sector.
4. The company also works on the basis of a robust IT infrastructure with an Enterprise Resource Planning System ("ERP System").
5. It follows a comprehensive data-based credit appraisal process and risk-based pricing, with efficient post-disbursement project monitoring and recovery processes.
6. Access to diversified and cost-effective long-term sources of borrowing with a judicious approach towards asset-liability management.
7. The management team and board are quite experienced.


Risks

1. Volatility in interest rates could adversely affect the business.
2. The business is subject to periodic inspections by the RBI.
3. Any downgrade in the credit ratings could adversely affect the business.
4. Negative cash flow in the past.
5. A significant portion of the NPAs are concentrated in loans to sectors such as biomass power and cogeneration, hydropower and wind power.
6. High working capital requirements.
7. The company and its borrowers are required to comply with GoI policies.
8. It has a concentration of loans in certain states.
9. The company operates in a highly competitive environment and increased competition in lending to the RE sector can impact the business.

IREDA
How to apply for IPO?
Login to your 5paisa account and select the issue in the
current IPO section

Enter the number of lots and price at which you wish to
apply for

Enter your UPI ID and click on submit. With this, your
bid will be placed with the exchange

You will receive a mandate notification to block funds in
your UPI app

Approve the mandate request on your UPI and funds
will be blocked
Open Demat Account in 5 minutes
Be a part of the 5paisa community - the first listed discount broker of India
There is some issue, try later
Contact Details of IREDA IPO
Contact Information
Indian Renewable Energy Development Agency Limited
India Habitat Centre
East Court, Core 4A,
1stFloor, Lodhi Road, New Delhi–110003
Phone: +91 11 24682206
Email: equityinvestor2023@ireda.in
Website: https://www.ireda.in/
IREDA IPO Register
Link Intime India Private Ltd
Phone: +91-22-4918 6270
Email: indianrenergy@linkintime.co.in
Website: https://linkintime.co.in/mipo/ipoallotment.html
IREDA IPO Lead Manager
IDBI Capital Market Services Limited
BOB Capital Markets Limited 
SBI Capital Markets Limited
IPO News
Top Stories for you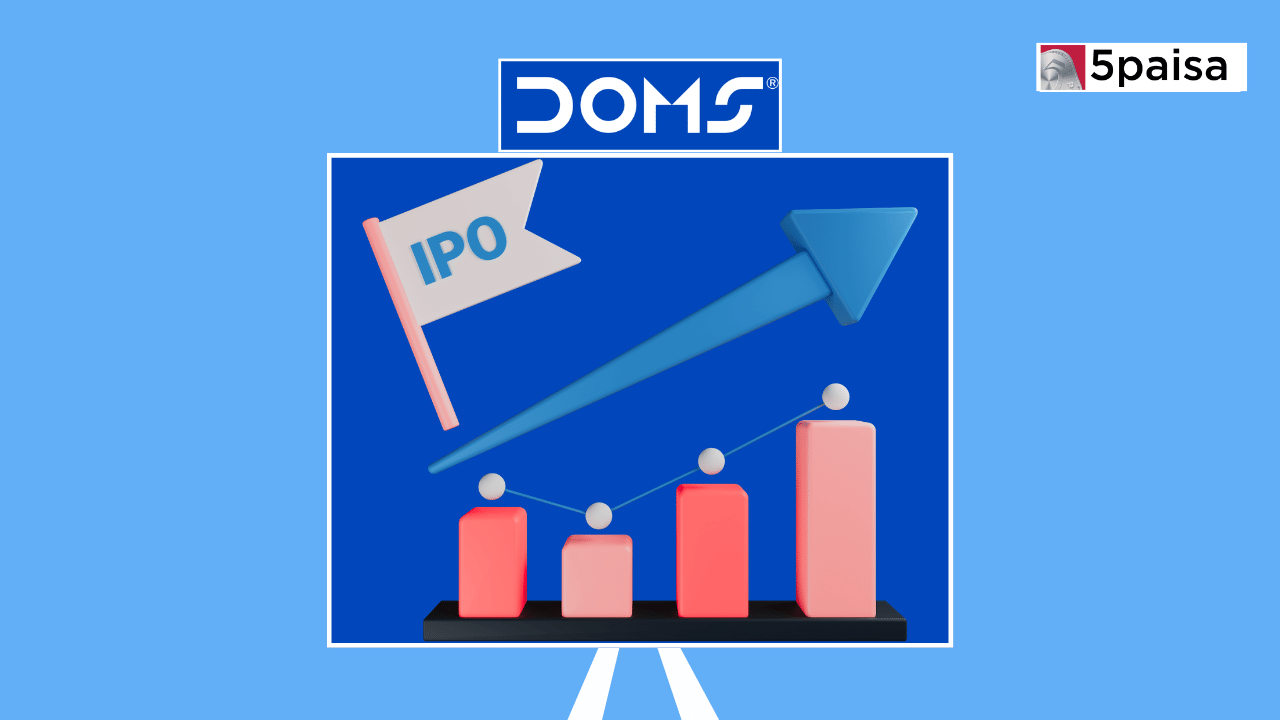 DOMS Industries Ltd was incorporated in the year 2006 as a stationery and art product company. The company is primarily engaged in designing, developing, manufacturing, and selling a wide range of stationery products under the flagship brand, DOMS. DOMS Industries Ltd is the second largest stationery player in India by volumes and ...
IPO Blog
Top Stories for you
Quick take on the IPO of Sheetal Universal Ltd The IPO of Sheetal Universal Ltd opened for subscription on 04th December 2023 and closed for subscription on 06th December 2023. The stock of Sheetal Universal Ltd has a face value of ₹10 per share and it is a fixed price issue with the issuer price already fixed at ₹70 per share. The Sheetal Universal IPO has only a fresh ...
IPO Guide
Top Stories for you
The IPO cycle, also referred to as Initial Public Offering Cycle, allows private companies to go public and offer the company's shares to the general public for the first time. It ...