IPO Synopsis
IPO Synopsis
Lava International Ltd filed its DRHP with SEBI on 27 September, 2021. The IPO consists of a fresh issue of Rs.500 crore and an offer for sale of up to 43,727,603 equity shares. The company is also considering a private placement worth Rs.100 crore, which will be deducted from the amount of fresh issue. Shares are being offloaded by a few companies including Unic Memory Technology and Tapperware Kitchenware.
The book running lead managers for this issue are Axis Capital Ltd, BOB Capital Markets Ltd, DAM Capital Advisors Ltd and SBI Capital Markets Ltd. 
Objectives of the offer
1.    Rs.100 crore is to be used for marketing and brand building activities
2.    Rs.150 crore will be used to fund acquisitions and other strategic investments
3.    Rs.150 crore is to be invested in material subsidiaries in order to fund their working capital requirements
 
About Lava International Ltd
Lava International is an end to end focused mobile handset and mobile handset solutions company. They design, manufacture and distribute tablets, handsets and other electronics accessories under their own brands- "LAVA" and "XOLO". 
It is the third largest feature phone company in the country and has a market share of 13.4% in terms of volume of sales in FY21. According to F&S, Lava International is the fifth largest feature phone globally and has a market share of 5% in the entire world, in terms of sales volume, in FY20. 
They have a presence in many emerging markets like Mexico, Thailand, Sri Lanka, The Middle East, Bangladesh, Indonesia and Nepal. 
The domestic network of Lava International, as of 31 July 2021, consists of 893 active distributors and 1,16,339 active retailers. Their high market penetration in the Tier 2 and Tier 3 cities of India enables them to roll out new products very frequently. They have 705 service centres and 60 service on wheels in the country. Their call centers operate 7 days a week and have an outsourced repair facility with 95 technicians. They own 98 trademark registrations in India and 12 trademarks, overseas. Their research and development team consists of 83 personnel based in India, and 73 of them are trained engineers. They have also developed a smartphone which has a medical ultrasound application for GE Healthcare. 
 
Financials:
Particulars

(In Rs cr)

FY21

FY20

FY19

Revenue from operations

5,523.68

5,282.45

5,128.75

PAT

172.61

107.76

73.18

EBITDA

183.12

-

251.21

EPS (In Rs)

3.15

1.97

1.34
Particulars

(In Rs cr)

FY21

FY20

FY19

Total Assets

2,437.55

2,384.3

2,380.80

Total Borrowings

103.12

176.77

158.86

Equity Share Capital

124.87

124.87

124.87
Peer comparison:
Particulars

(In Rs cr)

Lava International

HFCL Ltd

Vindhya Telelink

Revenue

5,523.68

4,459.09

1,557.37

Net Profit Margin (%)

3.13%

5.56%

5.50%

Total Asset Turnover

2.29

0.85

0.3

Inventory Turnover Ratio

16.21

10.16

3.09

ROE (%)

11.52%

12.47%

9.37%

ROCE (%)

13.60%

23.19%

6.42%

Debt to Equity

0.1

0.45

0.2
Key Points
Strengths

1. Lava International is a leading end to end mobile handset and mobile handset solutions which has a market share of 3.4% in India and 5% globally, in terms of sales volume
2. They have a strong track record of new innovations and a high amount of research and development. They have a wide range of products with enhanced functions and features
3. They have a large state of the art manufacturing and quality service capabilities. They have 12 assembly lines with 3,105 workers and a production capacity of 42.52 million feature phone equivalent handsets, as of 31 August, 2021
4. Lava International has an extensive distribution network with 893 active distributors


Risks

1. The industry that Lava International operates in, is open to new entrants and this makes the competition higher and if the company is unable to keep up with the competition, it will adversely affect the financials of the company
2. If the company fails to keep up with the changing preferences of the customers, the business will be affected
3. Inability to successfully launch and advertise new products will lead to an adverse effect on the cash flow and financials of the company

How to apply for an IPO?
Login to your 5paisa account and select the issue in the
current IPO section

Enter the number of lots and price at which you wish to
apply for

Enter your UPI ID and click on submit. With this, your
bid will be placed with the exchange

You will receive a mandate notification to block funds in
your UPI app

Approve the mandate request on your UPI and funds
will be blocked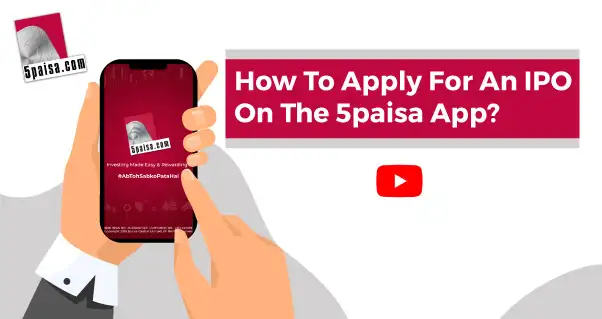 Open account in 5 minutes
Be a part of the 5paisa community now with 10 million mobile app users
There is some issue, try later
Please keep below documents handy:
 PAN Card
 Aadhar Card
 Bank Account Number