IPO Synopsis
Snapdeal Ltd has filed for an IPO worth around Rs.1,250 crore. The issue comprises of a fresh issue worth Rs.1,250 crore and an offer for sale of up to 30,769,600 equity shares. Soft bank plans to offload up to 30.77 million equity shares in the offer for sale. Snapdeal is considering a pre-IPO placement worth Rs.250 crore, which will be deducted from the fresh issue. 
The book running lead managers to the issue are Axis Capital Ltd, BofA Securities India Ltd, CLSA India Pvt Ltd and JM Financial Ltd. 
Objective of the issue:
Rs.900 crore of the net proceeds is to be used to fund organic growth initiatives. The rest of the proceeds are to be used for general corporate purposes.
 
About Snapdeal Ltd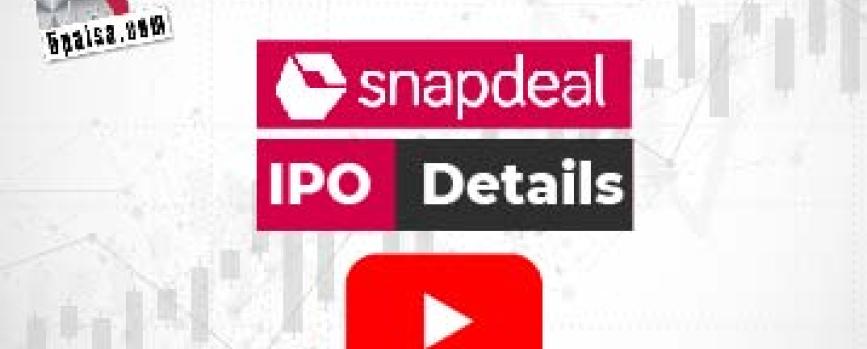 Founded in 2007, Snapdeal was once the rival of companies like Amazon and Walmart owned Flipkart. They were the country's largest pure play value e-commerce platforms in revenue terms in FY20. They have also been one of the top four online lifestyle shopping destinations in India, in FY21, in terms of total app installations. In 2007 the company was initially founded as a coupon booklet business, which in 2010, transformed into an online deals marketplace. And finally in 2012, Snapdeal transformed into an online e-commerce marketplace. They offer a wide variety of products, namely; fashion, home and general merchandise, beauty and personal care and others.  
As on 31 August, 2021, they have 40.15 million monthly active users with 50.37 million customers who have shopped with them since 2019. 77.01% of their business have been from repeat customers, in the same time period and they have a 4.5 rating on Google Play Store. As of 30 September, 2021, Snapdeal has 635 employees. The company has been focusing on supplying the demand arising in Tier 2 cities of India, which will help in the market penetration in that segment. 
The company mainly derives its revenues from marketing fees and freight and collection fees that it collects from its sellers. In 2021, they also introduced the cash on delivery feature. Snapdeal's subsidiary- Unicommerce eSolutions Pvt Ltd provides Software as Service solutions that help in the operation of e-commerce for traditional brands, D2C brands, retailers etc. 
Snapdeal recently launched an initiative called "Power Brands"  which will help create a network of suppliers that offer good quality products at affordable prices and 13 "Power Brands" have been created since the launch. 
Particulars

(In Rs cr)

Q2 ended 30 September, 2021

FY21

FY20

FY19

Total Income

252.84

510.27

916.66

925.32

PAT

-177

-125.44

-273.54

-187

EPS (In Rs)

-4.49

-3.18

-6.94

-7.23
Particulars

(In Rs cr)

Q2 ended 30 September, 2021

FY21

FY20

FY19

Total Assets

683.63

795.35

925.30

1,359.7

Total Borrowings

-

-

-

13.6

Equity Share Capital

39.44

39.44

39.44

39.44
Particulars

(In Rs cr)

Q2 ended 30 September, 2021

FY21

FY20

FY19

Net cash flow from operating activities

-110.14

-91.5

-371.84

-34.75

Net cash flow from/used in investing activities

159

140.75

362.9

-0.12

Net cash used in financing activities

-1.98

-4.12

-2.92

-33
Key performance indicators:
Particulars

(In Rs cr)

Q2 ended 30 September, 2021

FY21

FY20

FY19

NMV

668.12

912.64

1,760.99

2,127.44

Delivered units (cr)

1.5

1.9

3.5

3.4

Revenue

238.6

471.7

846.4

839.43

Contribution margin

105.6

276.2

473.84

479.85

EBITDA

-170.45

-99.87

-320

-244.4
Key Points for Snapdeal IPO are :
IPO Key Points
Strengths:

1. Snapdeal has been hailed as the country's largest pure play value e-commerce platform in FY20, in terms of revenue. They are also among the top 4 most installed applications in the online lifestyle shopping sector in the country as of 31 August, 2021. 50.37 million customers have transacted on their platform since 2019
2. They have a wide array of products which are offered at very reasonable prices. Snapdeal's sellers constantly keep up with the market trends and keep updating the products available on the platform
3. Through the use of artificial intelligence and machine learning, Snapdeal has been able to establish a very discovery led and personalized buying experience for every customer
4. They have a very asset-light and technology backed logistics and they use contracted third party logistics for a pan-India delivery
5. They have multi-lingual support for the ease of new internet users

Risks:

1. The company may not be able to get new users or retain the existing users in a cost efficient manner which will materially affect the growth of Snapdeal and also hinder their revenue increase
2. Failure to increase the number of delivered units and NMV, will lead to further losses in the future which will lead to the company being unable to generate any profits or grow
3. The business is entirely dependent on the growth of e-commerce in India and they also have to keep up with the rapidly changing customer preferences
4. The company relies on Google Play Store and Apple App Store to promote their app and if Snapdeal violates any conditions of their contract, then the business will suffer as a result
How to apply for IPO?
Login to your 5paisa account and select the issue in the
current IPO section

Enter the number of lots and price at which you wish to
apply for

Enter your UPI ID and click on submit. With this, your
bid will be placed with the exchange

You will receive a mandate notification to block funds in
your UPI app

Approve the mandate request on your UPI and funds
will be blocked
Open account in 5 minutes
Be a part of the 5paisa community now with 10 million mobile app users
There is some issue, try later
Please keep below documents handy:
 PAN Card
 Aadhar Card
 Bank Account Number