Renaissance

Alpha Core & Satellite
High Volatility
A selection of competitive stocks that aim to give you superior risk adjusted returns.
Advisor Name:
Alpha Portfolios
Fees:
2.5% per annum charged monthly
based on the daily average AUM
in the month.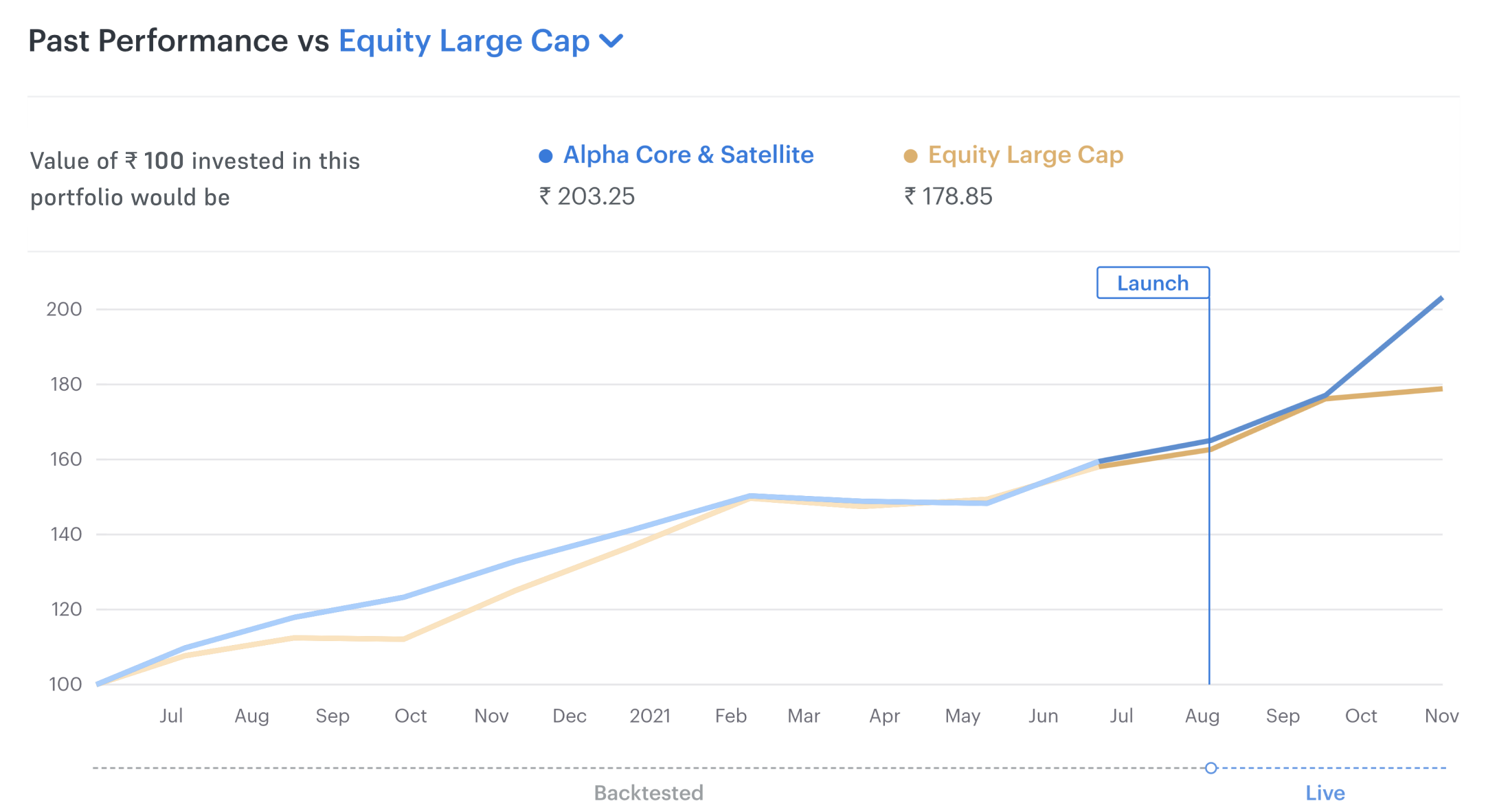 Note: Past performance graph includes changes due to rebalance, events like stock splits & mergers. Also, past performance doesn't guarantee future returns.
Fund Philosophy
Alpha Core and Satellite fund is a classic blend of Core Long Term Investment Portfolio and Satellite Tactical Portfolio. The portfolio shall invest into high quality growth business that can deliver superior risk adjusted returns over medium term to long term.
The Core portfolio shall invest in long term secular growth business and intends to own those business for long term. The fund shall invest in companies which are amongst leaders in their industry, have strong competitive edge and can generate superior ROCE. At the same time, the satellite portfolio shall focus on cyclical business or sectoral rotation, to focus on companies that are likely to benefit from the current economic cycle. 
In an economy, different sectors tend to perform differently at any given point in time. While some of sector may witness high growth, the others may be ailing. Satellite fund aims to invest in companies which are set to benefit the most in current economic cycle. The objective is to invest in companies to benefit from conducive growth environment in medium term. The portfolio aims to stick with the winners of upcoming business cycles.
 
Our Expert
Pankaj Murarka
25+ years experience
Pankaj is the founder and drives the investment process at Renaissance Investment Managers. He has over 25 years of experience in Equity Research & Fund Management with credible track record of performance over his professional career.
In his Last role, Pankaj was associated with Axis Mutual Fund as the Chief Investment Officer (CIO) managing over $2bn in Indian Equities. He was part of the team that set up Axis Mutual Fund in 2009 ad over the years built it into one of the leading AMC in India on back of excellent investment performance. He was responsible for the performance of all the equity funds of Axis AMC and during his stint as Chief Investment Officer, Axis AMC was recognized as the best Equity Fund house of the year by Outlook Money for 2014.
Our Fund Manager
Pawan Parakh
Pawan Parakh has over 15 years of experience in investment research. He started his capital markets career with Edelweiss Securities as an equity analyst. Over the years, he has worked with several marquee organizations like Deloitte, HSBC and HDFC amongst others. He actively interacts with company managements and industry experts to gauge the upcoming trends/ disruptions across various sectors. He likes to travels across the country to gain better understanding of ground realities. He has depicted ability to understand different business models across multiple sectors.