Best Beverage Stocks in India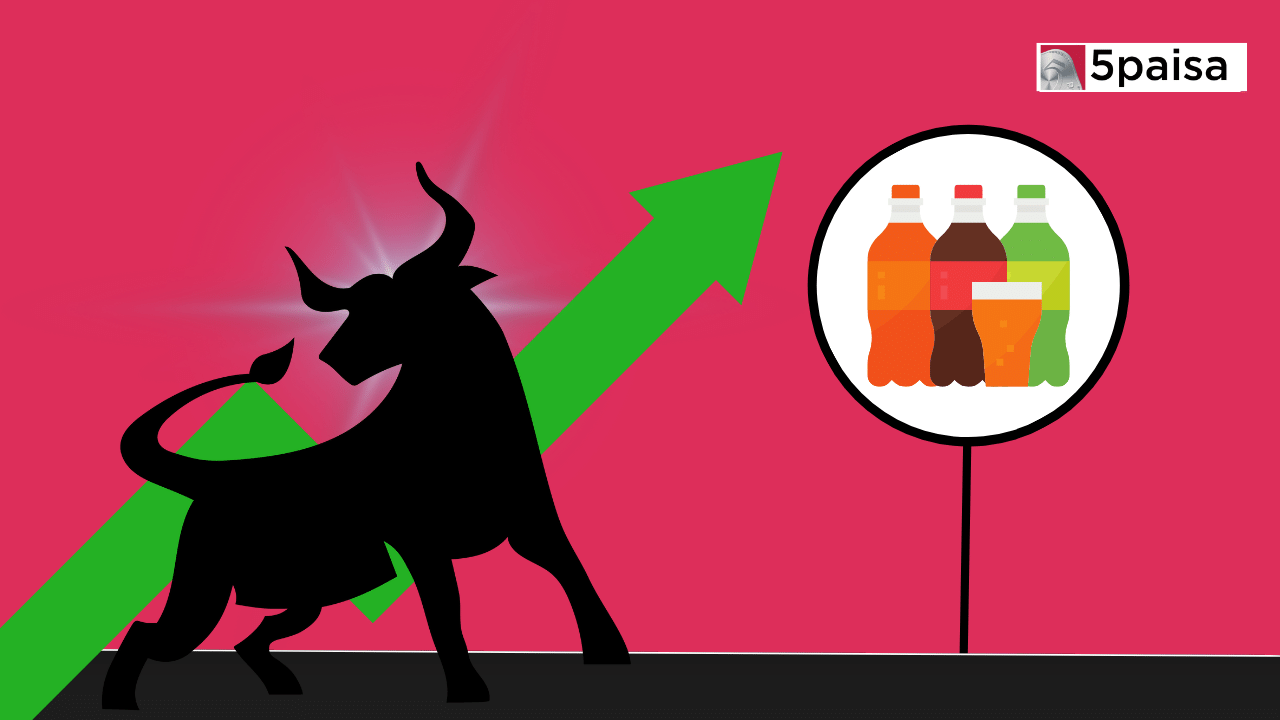 ---

The best beverage stocks in India have always attracted investors, who profit from the country's constant need for refreshments. Recognizing the possibilities in the beverage sector is crucial as you examine the financial environment and navigate the dynamic investing world. 
The beverage industry in India is diverse, including alcoholic drinks, soft drinks, teas, and more. These stocks represent businesses ready to exploit their corporate strategies' strengths and their customers' endless thirst. We want to arm you with the information necessary to make wise investment decisions, so we have delved into the profiles of these best beverage stocks to invest in. So, let's start this adventure by identifying the key players, assessing their performance, and investigating the potential benefits of investing in India's top beverage stocks.
What are the Best Beverage Stocks in India?
The best beverage stocks in India encompass the shares of companies that operate within the beverage sector and exhibit promising growth potential and profitability. These stocks belong to enterprises producing, distributing, and marketing a wide range of beverages, from carbonated drinks and fruit juices to tea and coffee. With a focus on stability and consistent demand, investors often seek out these stocks to diversify their portfolios. 
Let us explore the best beverage stocks to buy in India, offering insights into their performance, financial indicators, and suitability for investment, aiding you in making informed decisions within this dynamic sector.
A Deeper Dive into the Best Beverage Stocks in India
1. Varun Beverages
Varun Beverages, a PepsiCo franchisee, plays a pivotal role in the carbonated beverage sector. The company's strong distribution network ensures that popular PepsiCo products reach consumers across India. The stock's performance highlights its strategic partnership and contribution to PepsiCo's success in the Indian market.
2. United Spirits Ltd.
United Spirits Ltd., a subsidiary of global giant Diageo, is India's largest spirits company. United Spirits' stock performance showcases its market dominance, with steady growth and a strong market capitalization. It demonstrates robust financials backed by consistent demand for its products. Its impressive portfolio spans premium to mass-market brands, including iconic names like McDowell's No.1 and Royal Challenge. The company's extensive distribution network reaches every nook and cranny of the nation.
3. Globus Spirits Ltd.
Globus Spirits is a multifaceted player that produces alcoholic and non-alcoholic beverages. Its diverse product range shows the company's forward-looking approach and commitment to innovation. The stock reflects its adaptability to changing market dynamics. Its dual focus on various beverage segments contributes to its stability.
4. United Breweries Ltd.
United Breweries symbolizes India's love for beer, epitomized by its flagship Kingfisher brand. Beyond India, its international presence is notable; it exports its brews to over 75 countries. The stock's value reflects its established market position. Its consistent performance and brand recognition contribute to its growth trajectory. The company's brand loyalty and innovative offerings have kept it at the forefront of the Indian brewing industry.
5. Orient Beverage
Orient Beverage strives to quench India's thirst with its diverse range of refreshing beverages. The company's focus on catering to evolving consumer preferences positions it for growth. The stock value mirrors its dedication to innovation and consumer-centric offerings, contributing to its market presence.
6. SOM Distilleries and Breweries Ltd.
SOM Distilleries specializes in alcoholic beverages, boasting a product line that includes whisky, brandy, and vodka. The company's focus on quality and innovation has fueled its consistent growth. Its commitment to quality and expansion contributes to its promising trajectory.
7. Radico Khaitan Ltd.
Radico Khaitan boasts a rich legacy of over 75 years in the alcoholic beverage sector. With a diverse portfolio, including popular whisky brands like 8 PM and Rampur Indian Single Malt, the company has catered to evolving consumer tastes and preferences. The stock's performance underscores its strategic approach to growth. Its innovative products and expanding market presence contribute to its promising outlook.
8. Sula Vineyards Ltd.
Sula Vineyards holds the distinction of pioneering the wine industry in India. Founded in 1999, it has successfully transformed the perception of Indian wines, achieving global acclaim for its quality vintages.
9. Tilaknagar Industries Ltd.
Tilaknagar Industries is a noteworthy participant in the spirits and malted beverages sector. The company's offerings cater to a wide consumer base, capturing both traditional and modern preferences. The company can balance its portfolio and capture diverse market segments, contributing to its competitive position.
10. GM Breweries Ltd.
GM Breweries has established itself as a reliable name in brewing, focusing on producing quality beer. Its diverse product offerings cater to a range of consumer preferences. Its consistent product quality and market presence contribute to its performance.\
Performance List of Top 10 Best Beverage Stocks to Invest
Who Should Invest in the Best Beverage Stocks?
Investing in beverage stocks can appeal to a diverse range of investors. Investing in the best beverage stocks is suitable for:
Conservative Investors: Seeking stability and consistent returns.
Income-Oriented Investors: Looking for stocks with potential dividends.
Growth-Oriented Investors: Interested in sectors with steady consumer demand.
Portfolio Diversification: Those aiming to balance their investment mix.
Long-Term Investors: Patience can capitalize on the sector's consistent growth.
Passive Investors: Wanting exposure to a resilient industry without active management.
Those Eyeing Steady Returns: Beverage stocks often provide predictable revenue streams.
Benefits of Investing in the Best Beverage Stocks 
Investing in the best beverage stocks in 2023 offers a range of advantages that can enhance your investment portfolio, such as:
Stable Demand: Beverages enjoy unwavering consumer demand, providing a consistent revenue stream for companies in this sector.
Resilience in Downturns: Beverage stocks tend to be less affected by economic downturns, offering a defensive hedge against market volatility.
Dividend Potential: Many established beverage companies distribute regular dividends to shareholders, adding to your investment income.
Brand Loyalty: Well-established brands often command customer loyalty, contributing to sustained sales and growth.
Market Presence: Beverage companies frequently enjoy a strong market presence, translating into reliable long-term growth prospects.
Global Reach: Some beverage companies operate internationally, providing exposure to diverse markets and potential currency advantages.
Portfolio Diversification: Adding beverage stocks can diversify your investment portfolio, reducing overall risk.
Things to Consider Before Investing in the Best Beverage Stocks in India
Before investing in the best beverage stocks, it's crucial to take the following factors into account:
Analyze the current and projected trends in the beverage industry to understand its growth potential.
Assess the financial health of the company, including revenue, profits, and debt levels.
Understand the company's position within the market and how it compares to competitors.
Look for companies that innovate and offer a diverse range of beverages to cater to changing consumer preferences.
Be aware of any regulations impacting the company's operations and growth.
Consider how consumer preferences for healthier or more sustainable options might influence the company's performance.
Evaluate the company's exposure to both domestic and international markets.
Assess the company's strategies for long-term growth and sustainability.
How to Invest in the Best Beverage Stocks in 2023?
Investing in the best beverage stocks can be simplified through these steps:
Step 1: Research: Study the beverage companies on your radar, understanding their financials, market position, and growth potential.
Step 2: Open a Brokerage Account: Choose a reliable brokerage platform to facilitate stock transactions.
Step 3: Fund Your Account: Deposit funds into your brokerage account to prepare for purchasing stocks.
Step 4: Select Stocks: Pick the beverage stocks that align with your investment goals and risk tolerance.
Step 5: Place Orders: Use your brokerage account to place buy orders for the selected stocks.
Step 6: Monitor and Review: Keep track of your investments, staying updated on company news and stock performance.
Step 7: Diversification: Consider spreading investments across multiple beverage stocks for risk management.
Conclusion
Investing in the best beverage stocks presents an enticing opportunity for investors seeking stability, growth, and potential income. With the steady demand for beverages and the enduring presence of established brands, these stocks can be a valuable addition to a diversified investment portfolio, offering both short-term gains and long-term potential.
Frequently Asked Questions
Is it safe to invest in the best beverage stocks?
Investing always carries risks, but beverage stocks tend to offer stability due to consistent consumer demand. Conduct thorough research, diversify your portfolio, and consider your risk tolerance before investing.
Is it worth investing in the best beverage stocks in 2023?
Always remember that investing involves risks, and it is important to consider your own financial situation and objectives before making any investment choices.
How much should I invest in the best beverage stocks?
The amount to invest depends on your financial goals, risk tolerance, and overall portfolio diversification. Consider consulting with a financial advisor to determine an investment strategy that aligns with your circumstances.
Who is the market leader in the Beverage Sector?
The market leader can change over time, but historically, companies like United Spirits Ltd. and United Breweries Ltd. have held prominent positions in the Indian beverage sector. Keep an eye on industry news for updates on market leaders.
Start Investing in 5 mins*
Rs. 20 Flat Per Order | 0% Brokerage
Disclaimer
Investment/Trading in securities Market is subject to market risk, past performance is not a guarantee of future performance. The risk of loss in trading and investment in Securities markets including Equites and Derivatives can be substantial.
Open Free Demat Account
Mobile No. belongs to
By proceeding, you agree to the T&C.