Government plans to allow FDI in LIC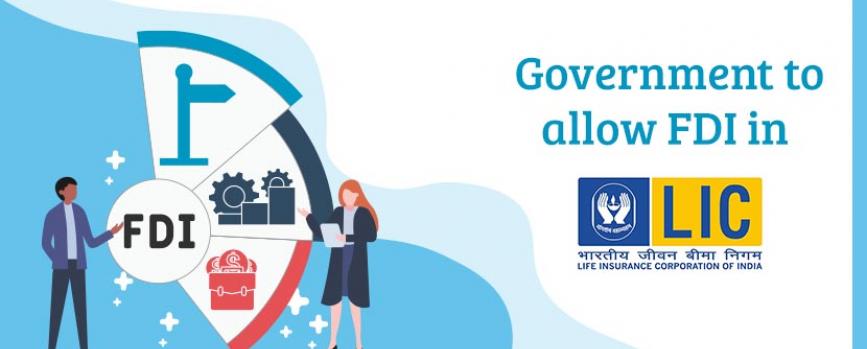 Foreign direct investment or FDI in the proposed LIC IPO may be permitted as a special case. To begin with, Indian government permits FDI in insurance up to 74% under the automatic route. Only if the FDI is above 74%, the matter is referred to the Cabinet Committee of Economic Affairs or CCEA for final approval. Then why does LIC need special approval?
The anomaly has to do with the regulatory ambit of LIC. Unlike other insurers that are entirely regulated by the Insurance Regulatory & Development Authority of India (IRDAI), LIC is governed by a statute of parliament under a separate Life Insurance Corporation Act. Hence the regular approval of 74% FDI will not apply to LIC and special approval has to be sought under the LIC Act, or an appropriate amendment made to the same.
The LIC IPO is expected to happen during the current fiscal year 2021-22 and the actuarial valuation report is still awaited. As per informal estimates, the government may sell around 5% stake in LIC as against the originally indicated 10%. The IPO will be a combination of a fresh issue and a sale of stake by the government of India. The indicative valuations of LIC based on its AUM and policyholder equity is pegged at over $250 billion, making it India's most valuable company.
The government is clear that an IPO with a size of Rs.1 trillion cannot be absorbed by retail and HNIs, so aggressive institutional participation is inevitable. The government may also look at 75% allocation to QIBs to make absorption of the issue much easier. The government is firing on all cylinders as it needs to make a grand success of the LIC IPO if it has to even get close to its disinvestment target of Rs.175,000 crore for fiscal year 2021-22.
                         - - - - - - - - - - - - - - - - - - - - - - - - - - - - - - - - - - - - - - - - - - - - - - - - - - - - - - - - - - - - - - - - - - - - 
Read all stories on life insurance corporation (LIC) IPO:
1.   LIC - IPO Update
2.   LIC IPO gets the Government Stamp of Approval
3.   LIC IPO once step closer to becoming reality
Open Demat Account

Enter First Name & Last Name
Start investing in just
5 minsFree Demat account,
No conditions apply
0%* Brokerage
Flat ₹20 per order
Open FREE Demat Account in 5 minutes

Mobile Number
There is some issue, try later