IPO: Initial Public Offering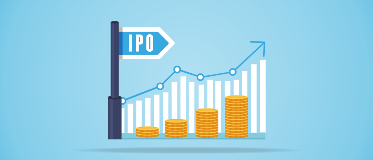 ---

IPO definition
IPO means Initial Public Offering. Initial Public Offering (IPO) is the way an organisation goes public, lists itself on the exchanges and sells share to raise capital. In other words, it is a process by which a privately held company becomes a publicly traded company by offering its shares to the public for the first time. A private company, that has a handful of shareholders, shares the ownership by going public by trading its shares. Through the IPO, the company gets its name listed on the stock exchange.
 
How does a company offer IPO?
A company before it becomes public hires an investment bank to handle the IPO. The investment bank and the company work out the financial details of the IPO in the underwriting agreement. Later, along with the underwriting agreement, they file the registration statement with SEBI. 
SEBI scrutinizes the disclosed information and if found right, it allots a date to announce the IPO.

Why does a company offer an IPO?
1) Offering an IPO is a money-making exercise. Every company needs money, it maybe to expand, to improve their business, to better the infrastructure, to repay loans etc.
Trading stocks in the open market mean increased liquidity. It opens door to employee stock ownership plans like stock options and other compensation plans, which attracts the talents in the cream layer.
2) A company going public means that the brand has gained enough success to get its name flashed in the stock exchanges. It is a matter of credibility and pride to any company.
3) In a demanding market, a public company can always issue more stocks. This will pave the way to acquisitions and mergers as the stocks can be issued as a part of the deal.

Should you invest in an IPO?
Deciding whether to put your money into an IPO of a relatively new company is indeed tricky. Many people say having a cautious approach is a positive attitude to have in the stock market. By participating in an IPO, an investor can buy shares before they are available to the general public in the stock market. However, in case of an IPO, an investor will have to buy shares directly from the companies. 
For any company, IPO launch is one of the biggest events in its history. The company puts in maximum efforts to ensure that the IPO launch is a success. They spend heavily on advertisements in maximum possible available media platforms. A sizeable number of investors get informed about an IPO launch from advertisements or other media formats. Most of the activities are to purely promote the upcoming IPO and do not offer the complete picture. So as an investor before you opt for any IPO, it is imperative that you acquaint yourself with important information regarding company, financials, expansion plans and more. Few things to be considered before investing in an IPO are as follows:

1) Background checks
The Company obviously does not have enough historical data to back your decision, because it is just going public now. The red herring is the data on the IPO details which is provided in the prospectus, you need to scrutinize it. Know about the fund management team and their plans of IPO generated fund utilization. Look at the valuation of the company, is the price offered in the IPO, match with its fair value? This may be the hardest to determine for retail investors, but possibly the most important. Valuation refers to the relative price at which an IPO is offered. So, if the offer price of an IPO is Rs.500 per share, the price is arrived at after valuing the company's revenues, profits and taking into account cash generation and debt in the balance sheet.
The process can be highly technical but can come with a shot of bias as investment bankers judge the "quality" of management and earnings before arriving at the final offer price.
For investors, these details are too complicated and their best bet is to compare the valuation of an IPO stock with a listed peer in the secondary market. In case, the IPO is that of a new business and there are no comparable listed peers, you have to judge using simple valuation techniques like price to earnings ratio, price to book ratio and return on equity.

2) Who is underwriting
The process of underwriting is raising investments by issuing new securities. Be careful of the underwriting of small investment banks. They may be willing to underwrite any company. Usually, an IPO with a success potential is backed by big brokerages that have the ability to endorse a new issue well. This does not mean that, the big investment banks never bring duds public, but in general, quality brokerages bring quality companies public. Exercise more caution when selecting smaller brokerages, because they may be willing to underwrite any company.

3) Lockup periods
Often IPO takes a deep downtrend after the IPO goes public. The reason behind this fall of the share price is the lockup period. A lockup period is a contractual caveat which refers to a period of time the company's executives and investors are not supposed to sell their shares. After the lock-up period ends, the share price experiences a drop in its price.     

Once you have decided to participate in a particular IPO, then the question arises how does one go about it?

1) Apply using Application Form
Aspiring investors need to fill up the application form that is available with brokers or agents who sell mutual funds. These application forms are free of cost. When you fill up the form ensure that the details are legible and accurate. Also, attach a cheque for the amount of shares you wish to buy. There is always a minimum number of shares you have to buy, which is as defined by the company. Following the mentioned activities, submit the form with the mentioned time-frame.

2) Apply Online 
You can also apply for an IPO online through ASBA (Applications Supported by Blocked Amount). SEBI developed this process to leverage online option. Through ASBA, investors money doesn't get debited till shares are allotted. In addition, investor can login to their respective netbanking account and apply for IPOs directly.
 
Do remember, a lot of companies launch its IPO; however, it is not necessary that it will perform well. It is therefore imperative to thoroughly check and evaluate a company, its financials, its future plans before investing in its IPO. If you blindly invest, there is probability that you will end up with losses. 
Start Investing in 5 mins*
Rs. 20 Flat Per Order | 0% Brokerage
Open Free Demat Account
Mobile No. belongs to
By proceeding, you agree to the T&C.