Top 5 Luxury Brands in India in 2023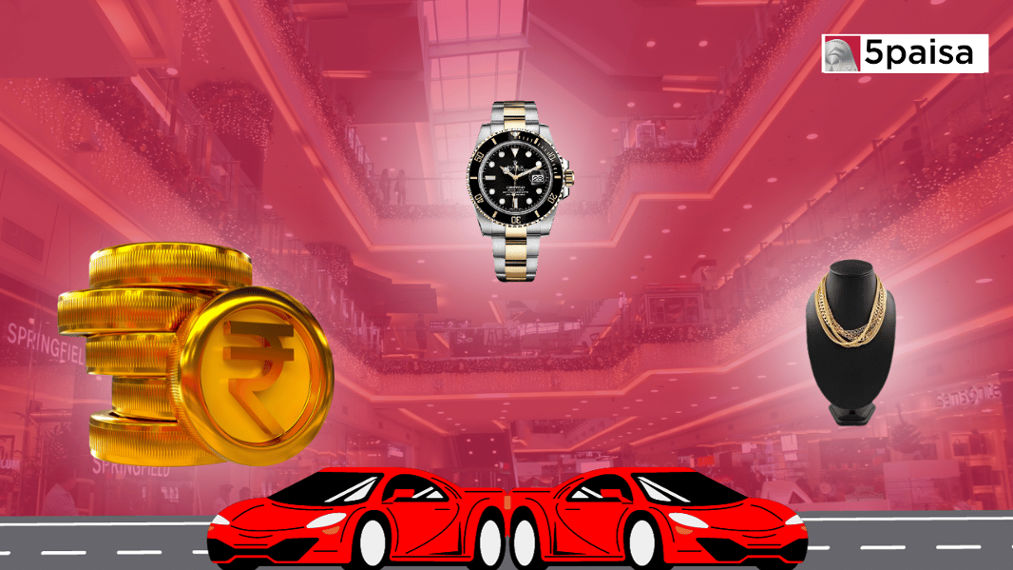 ---

In a world grappling with economic downturns, India stands tall as a beacon of economic growth and potential. With an estimated 7% growth rate in 2023, India is poised to become the fifth-largest economy globally. The Indian luxury market is not far behind in this remarkable growth story. 
Recent reports suggest that India's luxury market is set to soar to unprecedented heights, offering a lucrative playground for both domestic and international brands.
Top 5 Luxury Brands in India in 2023
A Thriving Economy:
Despite global recessionary trends, India's economy is flourishing, thanks to its robust domestic demand, substantial investments in physical and digital infrastructure, and enhanced global competitiveness.
According to a report by EY, India's GDP is projected to reach a staggering $26 trillion, with per capita income touching $15,000 by 2047, placing it among the ranks of developed economies.
Luxury Market's Meteoric Rise:
One of the most promising sectors within India's burgeoning economy is the luxury market. According to Euro monitor International, India's luxury market is expected to be one of the world's fastest-growing, reaching a remarkable $8.5 billion in 2023, a substantial increase of $2.5 billion from 2021. 
Even more astonishing is a report by Bain & Co, which suggests that by 2030, India's luxury market could potentially reach a jaw-dropping $200 billion.
The Pinnacle of Luxury: Mumbai:
Mumbai, often dubbed the financial capital of India, also leads the nation's luxury scene. The city boasts a staggering 59,400 high-net-worth individuals (HNWIs), ranking it 21st globally, not far behind cities like Dubai. Delhi follows closely at 36th place with 30,200 HNWIs. 
However, experts believe that international brands should shift their focus to the next three cities on the list: Bengaluru, Kolkata, and Hyderabad, with substantial HNWI populations of 12,600, 12,100, and 11,100, respectively.
A Growing Millionaire Club:
The number of millionaires in India is set to skyrocket by 105% by 2026, according to a report by Credit Suisse. The Bain & Company report further highlights the potential for India's luxury market to expand to three and a half times its current size, reaching the coveted $200 billion mark by 2030. 
This growth will be driven by a rising number of ultra-high-net-worth individuals (UHNWIs), growing entrepreneurship, a robust middle class, increased e-commerce penetration, and rising demand from tier 2 and 3 cities. India's billionaire population has also seen remarkable growth, making it the third-largest globally after the United States and China.
Luxury Hub: Delhi and Mumbai:
While the luxury market in India is poised for tremendous growth across the nation, Delhi and Mumbai remain the undisputed fashion capitals. Both cities offer the ideal environment for luxury brands, with dedicated luxury malls such as DLF's Emporio and Chanakya Malls in Delhi and Palladium Mall and Jio World Plaza in Mumbai. 
Additionally, Mumbai boasts attractive real estate in the southern part of the city, attracting renowned brands like Hermès and Christian Louboutin. French department store retailer Galeries Lafayette is set to open a massive 90,000-square-foot store housing 200 brands in Mumbai, further solidifying its status as a luxury destination.
Key luxury sectors growing in India
Following the epidemic, India has seen an increase in luxury expenditure. The list goes on and on, from buying luxury real estate to buying luxury vehicles; from spending lavishly on destination weddings to taking exotic vacations, gourmet meals, and fine dining experiences.
Overview of the Best Luxury Stocks in India 2023
1) Landmark Cars
Business Segment: Luxury Lifestyle
Driving Revenue:
Diverse Luxury Portfolio: Landmark Cars Limited has positioned itself as a dominant player in India's luxury lifestyle segment. Their portfolio spans an array of prestigious automotive brands, including Mercedes-Benz, Honda, Jeep, Volkswagen, and Renault. These high-end vehicles contribute significantly to the company's revenue.
Integrated Business Model: Landmark Cars has strategically structured its business model to capture the entire customer value chain. This encompasses not only selling new luxury vehicles but also providing comprehensive services, selling spare parts, lubricants, accessories, and pre-owned luxury cars. This holistic approach ensures multiple revenue streams within the luxury lifestyle segment.
Geographical Expansion: The company's geographical presence across 31 cities in eight states and union territories allows them to tap into affluent markets, serving the needs of luxury-seeking customers.
Future Outlook and Plans:
Diversification in Luxury: Landmark Cars is well-poised to expand its luxury offerings further. Their partnership with automaker BYD in the electric vehicle (EV) segment is a strategic move to tap into the evolving preferences of eco-conscious luxury consumers. The company's intent to be BYD's dealer for electric passenger vehicles in key regions like the National Capital Region (Delhi) and Mumbai reflects their commitment to staying at the forefront of luxury EVs.
Digital Transformation: The company has already embraced the digital era by establishing a strong online presence, allowing customers to explore luxury offerings and book vehicles through their website. Additionally, their investment in Sheerdrive, an auto technology start-up, highlights their commitment to innovation in the pre-owned luxury car segment.
Expansion and Partnership: Landmark Cars is actively exploring partnerships with new luxury carmakers, indicating their determination to diversify their luxury portfolio further. This expansion includes opening new outlets in Tier 3-4 locations, demonstrating their commitment to making luxury accessible across various market segments.
2) Titan
Business Segment: Luxury Lifestyle
Driving Revenue:
Jewellery Shines Bright: The Jewellery segment, including international jewellery, remains a revenue powerhouse with a 37% growth, driven by increasing market share and product innovation.
Watches & Wearables Milestone: Watches and smart wearables achieved significant milestones, crossing ₹5,000 crores in UCP sales. Brand Titan led with outstanding product launches, capitalizing on premiumization and brand innovations.
EyeCare's Vision: Titan Eye+ experienced remarkable growth, becoming the largest retail chain within the Tata group. It expanded internationally with its Dubai venture, emphasizing customer-centricity, product innovation, and network expansion.
Future Outlook and Plans:
Jewellery Market Growth: Despite challenges like price wars in gold jewellery, the Jewellery Division aims for aggressive growth. Investment in retail expansion, new collections, and marketing campaigns are on the agenda.
Titan Eye+ Expansion: Titan Eye+ seeks rapid profitable growth, focusing on customer-centricity, sustainability, and an extensive retail network. It plans to capitalize on the potential in the sunglasses category and digitization opportunities.
Luxury Innovation: All segments are committed to innovation, superior customer experience, and resilient supply chains. The international business is exceeding profitability expectations, encouraging expansion plans.
In a post-pandemic era, Titan Company's luxury lifestyle segments are thriving. With robust revenue drivers and ambitious expansion plans, they are set to continue their impressive growth trajectory in the luxury market.
3) Indian hotel
Segment: Luxury Lifestyle
Revenue Driver: 
The luxury lifestyle segment derives its revenue from a select clientele seeking prestige and opulence. These consumers are willing to pay a premium for products and experiences that symbolize exclusivity.
Future Outlook: 
In light of evolving consumer values, the luxury lifestyle industry is pivoting towards sustainability and digital innovation. Brands must integrate eco-friendly practices to meet eco-conscious demands and leverage technology for enhanced customer experiences.
Business Plan: 
To ensure success in the luxury sector, businesses should prioritize sustainability initiatives, invest in cutting-edge online platforms for personalized customer engagement, and strategically collaborate with influencers to maintain relevance in an ever-changing market.
4) Ethos
Segment: Luxury Lifestyle - Ethos Limited
Revenue Driver:
Ethos Limited, operating in the luxury lifestyle segment, saw robust revenue growth driven by a 33% increase in Q1 FY24 operations, a 32% EBITDA growth, and a 42% YoY rise in profit after tax. The company thrives on offering premium and luxury watches that resonate with India's affluent consumers.
Future Outlook: 
Ethos Limited is optimistic about the sustainable growth of the luxury watch market in India. It foresees stabilization in prices of pre-owned watches, opening up a new growth avenue. The company is strategically expanding its product portfolio, investing in showrooms, and acquiring intellectual property assets to re-establish iconic Swiss watch brands.
Business Plan: 
Ethos Limited's strategy focuses on premium and luxury watches, aiming for a steady increase in the average selling price. The company is committed to delivering an unparalleled luxury retail experience in India, solidifying its position in the luxury lifestyle market.
5) Reliance Retail
Segment: Luxury Lifestyle - Reliance Retail
Revenue Driver: 
Reliance Retail, India's largest retailer, thrives in the luxury lifestyle segment. Its robust growth is fuelled by a deep understanding of consumer preferences, a vast supplier network, and strategic acquisitions/partnerships.
Future Outlook: 
Reliance Retail aims to redefine Indian retail, offering unparalleled choice, quality, and experiences. It plans to serve all segments of society, expand nationwide, and generate employment at scale. The company is committed to leading the Indian luxury retail landscape.
Business Plan: 
Reliance Retail employs tech for efficiency, AI/ML for decision-making, and fosters a nurturing work environment. Expanding its portfolio, enhancing the shopping experience, and tapping into the booming beauty sector are top priorities. It pioneers social commerce through platforms like WhatsApp, ensuring accessibility and convenience.
Market Insights:
India's robust economic recovery, driven by consumption and infrastructure investments, positions it as a global growth engine. The Indian retail sector, valued at $800 billion, is set to reach $2 trillion by 2030, offering substantial growth opportunities for Reliance Retail in luxury lifestyle.
Conclusion:
India's luxury market is on an unstoppable ascent, defying global economic challenges. With a thriving economy, a burgeoning millionaire and billionaire population, and an insatiable appetite for luxury goods, India's luxury sector is poised for remarkable growth. For international brands, India offers not just a vast market but a compelling growth story that is reshaping the global luxury landscape. As Delhi and Mumbai lead the way, the future of luxury in India is indeed sparkling with promise.
Start Investing in 5 mins*
Rs. 20 Flat Per Order | 0% Brokerage
Disclaimer
Investment/Trading in securities Market is subject to market risk, past performance is not a guarantee of future performance. The risk of loss in trading and investment in Securities markets including Equites and Derivatives can be substantial.
Open Free Demat Account
Mobile No. belongs to
By proceeding, you agree to the T&C.