11 Feb 2022
Oyo May Cut IPO Size, Valuations as Tide Turns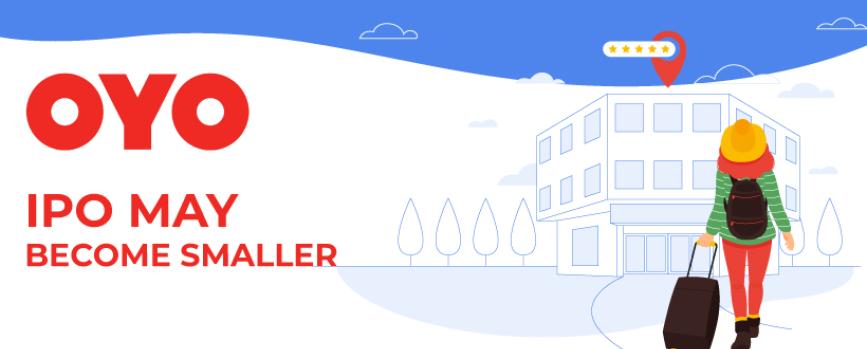 One of India's iconic new age start-ups, OYO, is likely to cut its IPO size and also the valuation that it was seeking from the markets. OYO has already filed the draft red herring prospectus with SEBI and the final approval is awaited. However, these reports are not yet confirmed by the company management who are still waiting for the final observations to come from SEBI before taking a final call on the size of the IPO and valuations.

When the draft red herring prospectus (DRHP) was filed with SEBI in late September 2021, the intent was to raise $1.2 billion. This was to include a fresh issue component of $950 million and an offer for sale of $250 million. However, the market conditions have changed since then.

Paytm had a weak listing post its IPO while most of the other digital plays including Nykaa, Policybazaar and Zomato have corrected sharply from their high prices.

In the light of the changed market conditions, OYO is evaluating the possibility of reducing the size of the OYO IPO and also the valuation. For instance, the overall size of the IPO may be reduced from $1.20 billion to well below $1 billion as per unconfirmed reports.

At the same time, the valuations are likely to be downsized from $9 billion to $7 billion. The last round of funding by Microsoft was done at a valuation of $9.6 billion about 2 years back.

OYO syndicates hotels and rooms for its customers based on an agnostic algorithm. With most of the contact intensive businesses getting badly hit by the pandemic, OYO has taken a sharp hit on that count. That has perhaps forced OYO to recalibrate valuations lower.

They may be looking at lower size of the IPO to ensure that the excess float in the market does not become an overhang on the stock price, as was the case with many other digital IPOs.

As per SEBI regulations, OYO may have to refile its DRHP with SEBI under 2 conditions. The first condition is if the size of the fresh issue component is reduced by more than 20% from the original filing size.

The other condition to refile is if the offer for sale (OFS) portion is cut down by more than 50% of the original filing size. OYO is open to the idea of refiling for the IPO if required, as it does not want to get stuck with a bad listing.

Currently, Softbank owns 46% of OYO while the founder-promoter Ritesh Agarwal holds another 33%. Both have been classified as promoters of the company. Softbank will account for 90% of the OFS with other participants being Grab, China Lodging and Global IVY Ventures.

However, investors like Lightspeed Ventures, Sequoia Capital and Airbnb will not participate in the offer for sale. This could set the tone for future digital IPOs in India.
Also Read:-
Upcoming IPOs in February 2022