What is a Poison Pill Strategy? Did Elon Musk swallow a poison pill to acquire Twitter?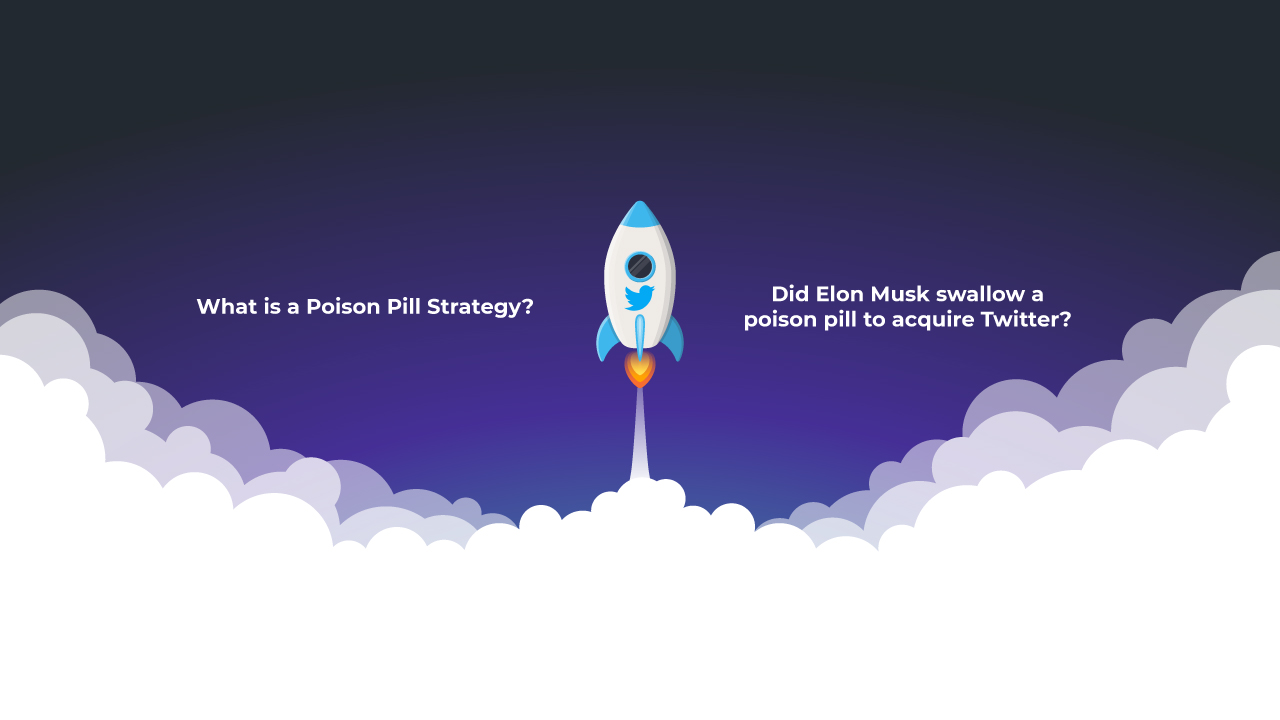 ---

Have you ever seen those dramas or movies, where the antagonist takes over the business, property, everything from the protagonist, while the protagonist spares no effort to keep it but still ends up losing it. 
Well, I have grown up watching these kinds of stories, and I believed that such drama's were limited to Bollywood, but apparently it seems like they exist in the corporate boardrooms as well, the recent hostile takeover of twitter by Elon Musk is just a testament to that.
Are you also curious, how this boardroom drama unfolded? If yes, then grab your popcorn because this is an interesting story.
Well, the story started on April 4th, when Musk, the antagonist in our story bought a 9.1% stake in Twitter and became the largest shareholder in the social media giant. Though he had been accumulating shares of the company since Jan 22 a lot before when he disclosed his stake.
In fact, he even did not disclose his stake to SEC after breaching the 5% threshold limit fearing the prices would rise, if he discloses his investment in twitter. Seems like the plan of takeover was there much before April 4th.
Here the question is, why does Elon want twitter so much? Mmm, While he is claiming that he wants a platform with free speech, it is quite hard to believe that someone would shell out billions of dollars for that. 
One reason for his new found love for Twitter is the brand presence that Tesla and Musk get through the platform. Elon has around 85 million followers on twitter, and to say the least his tweets have got a lot of attention and made him the talk of town.
Moving forward, on April 5th he became an active investor of twitter and thereafter was offered to join the board, on a condition that he would limit his stake in the company to 14.9% after which he declined to be the board member and proposed to take over the company.
He offered to buy 100 per cent of Twitter for $54.20 per share in cash. Now, our protagonist here the board wasn't going to sit silently and witness this hostile takeover take place, so they came up with what is called the "Poison pill strategy"
Poison Pill Strategy
Poison Pill is a strategy, which management of companies adopt to keep it from hostile takeovers, under this strategy, when the holding of the acquirer reaches a certain limit, the company floats more shares of the company and allows existing shareholders (except for the acquirer ) to buy those shares at deep discounts.
The board in its statement mentioned that if any shareholder breaches a limit of 15% holding in the company, it would trigger the shareholder's right under which they can buy the shares of the company at 50% discount.
Why is it a poison pill for Musk?
It would dilute his ownership in the company, let's understand it with an example, Say Musk buys more than 15% stake in the company and the total outstanding shares of the company are 100, this means he currently holds around 15 shares in the company and rest 85 are with other shareholders, If musk tries to buy more shares in the company, then twitter would issue 85 new shares and existing shareholders would be given an option to buy shares at deep discounts, so if everyone exercises their right Musk would hold 15 out of 185 shares, and his stake would be 8% much less than his previous stake.
Smart move, right? Well, it couldn't budge the plans of Musk, who is adamant on buying the social media conglomerate, as he took over the company on April 25th.
His offer was lucrative for shareholders as the company's share price has been languishing for years between $30 to $40.
He bought Twitter for $44 billion, now that is quite a huge number, any guesses how he managed to fund the deal? He did it by financing a loan backed by Twitter assets and the remainder came through a loan backed by his stake in Tesla.
The economics of the deal doesn't seem in the favor of Musk, but as he said he doesn't care about the economics, all he wants is a platform with free speech.
Well,  it's only for time to tell, that with this takeover Twitter would be a free bird, or one in the cages. 
 
Start Investing in 5 mins*
Rs. 20 Flat Per Order | 0% Brokerage
About the Author
Open Free Demat Account
Mobile No. belongs to
By proceeding, you agree to the T&C.