Best Penny Stocks in India Below 5 Rupees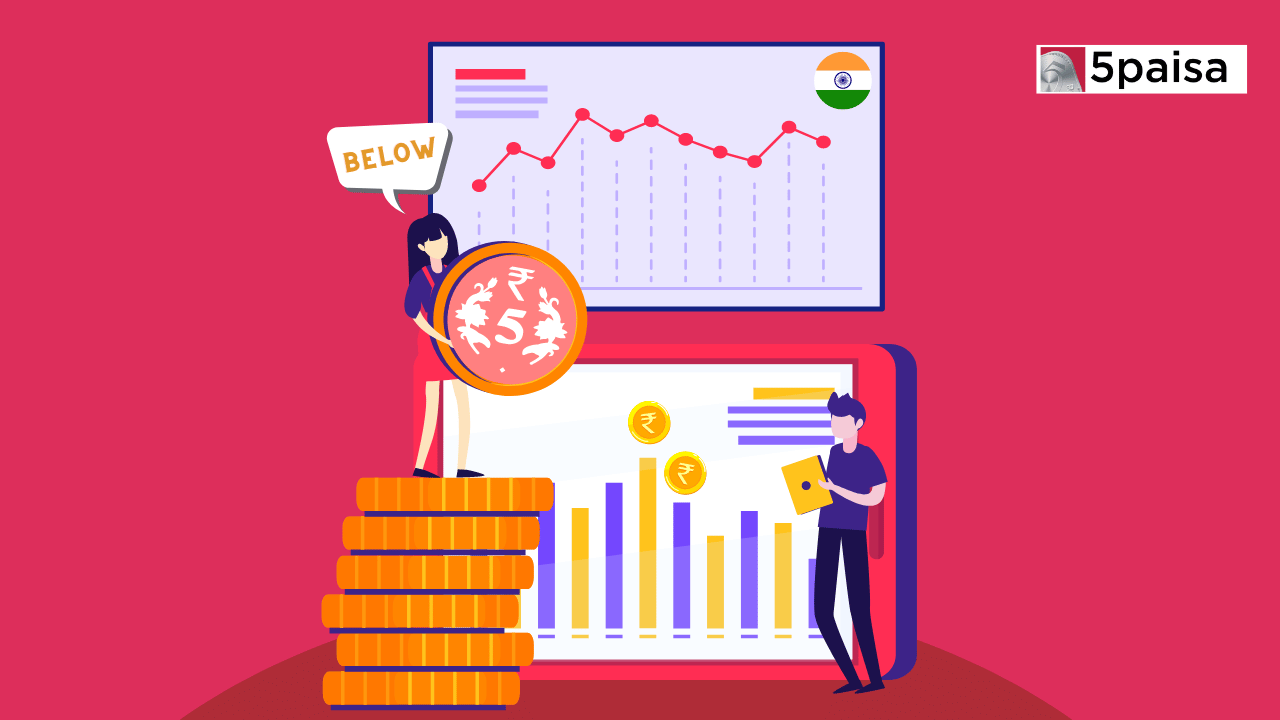 ---

Penny stocks in India below Rs 5 form an important part of trading strategy for investors looking for short-term gains from the stock market. These are essentially stocks with a very low price and high volatility but also carry a high risk-reward ratio.
Given the low price, traders usually play on high volumes and expect to generate gains from marginal movements in the scrip. This is very different from investing for long-term wealth creation but can be useful for those who look at speculative short-term gains, without the need for deep fundamental analysis.
What are Penny Stocks in India Below 5 Rupees?
There are thousands of companies listed on the bourses and, among those, hundreds are trading at a low price level. In fact, there are 456 companies whose last traded price was at or below Rs 5.
All of these are small or micro-cap companies with market capitalisation of less than Rs 500 crore. But there are a couple of exceptions namely RattanIndia Power and GTL Infra, which are a tad bigger relative to others, though they too are in the small cap basket.
Some of the penny stocks represents firms that were large at one point but sank due to factors such as a debt overhang, corporate misgovernance and other issues.
Overview of Best Penny Stocks in India Below 5 Rupees
Here is a list of top penny stocks in the country below Rs 5 with a snapshot of their operations. To make this list, we chose certain parameters. So, this list includes only those penny stocks whose share price is at or below Rs 5, which are profit-making, have price-to-book value below 1.2 and price-to-earnings ratio below 55.
Hindusthan Udyog: The company is engaged in the manufacturing of alloy and stainless steel castings required in turbines, metal shredding, earth moving and mining equipment, power plants, pumps, valves, compressors and other heavy engineering industries. Its manufacturing unit is located in Nagpur. It is a profit-making firm with ultra-cheap valuation ratios and positive ROCE (return on capital employed).
CES: The firm is in the Business Process Management (BPM) and IT services space in India, specialising in providing customer-oriented solutions in financial services, healthcare and e-commerce domains. The company is headquartered in Hyderabad, with presence across the globe through its delivery centers and offices. Within India, the delivery centres are located in the IT hubs of Hyderabad, Chennai and Visakhapatnam. It also has near-shore presence through facilities in Europe, North America and the Middle East.
Magnanimous Trade & Finance: Magnanimous Trade & Finance Limited is engaged in real estate business and is led by the Parasrampuria family. It is headquartered in Jaipur. While it is not as actively traded as its peers, it enjoys a very reasonable valuation to make it a target stock.
Advik Capital: Headquartered in Delhi, it is a non-deposit-taking non-banking finance company (NBFC) and engaged primarily in the business of providing loans and ancillary services. The company offers loans/advances to industrial concerns and undertaking the business of leasing and to finance lease operations of all kinds, purchasing, selling, hiring or letting on hire or all kinds of plants and machinery, bridge loan to corporates, investment in emerging businesses, their securities, interests and other rights. It is also exploring and evaluating various other business avenues in personal and consumer finance space.
Sadbhav Infra: Incorporated in 2007 as a build, operate and transfer (BOT) company, it is an infrastructure developer specialising in the development, operation and maintenance of highways, roads and related projects. It is growing its presence beyond its stronghold states of Maharashtra, Haryana and Gujarat. Over the years, it has established a strong foothold in six more states, including Uttarakhand, Rajasthan, Uttar Pradesh, Karnataka and Telangana.
Nyssa Corp: The company is into real estate development and has a high free float. The firm has an attractive valuation with the book value being higher than its price and even the price-to-earnings multiple is fairly low at just around 15 and double-digit return on capital employed.
Inventure Growth & Securities: Incorporated in June 1995, lnventure is into brokerage and wealth management. As on 31st March 2022, Inventure had grown its data base of demat account holders to approximately 54,000, of which active client database was around 14,000. The Mumbai-based firm is operating in different segments such as cash and derivatives trading, currency futures and is a registered depository participant with Central Depository Service (India) Limited (CDSL).
Prismx Global: The company operates in three segments—commodity trading business, finance business activities and information technology. Two years ago, it started a new business in the digital media space with the launch of "GudGudi", an OTT channel dedicated to humour.
Sulabh Engineers: The four-decade-old company is an NBFC with its present product range including loans for business or capacity expansion, working capital loans, loans for purchase of equipment and machinery, term loans against property and loans for purchase of commercial property. It has partnered with various banks and financial institutions for asset collateral management and securitization.
Garment Mantra: It has three business verticals: flagship Garment Mantra for manufacturing and selling knitted fabrics and garments; Price Mantra as the retail chain of Garment Mantra; and Poorti, the wholesale hub of Garment Mantra.
Performance of Penny Stocks in India Below 5 Rupees
Here's a snapshot of the performance of these penny stocks below Rs 5 based on various parameters such as book value, earnings per share, P/E ratio and price-to-book value ratio, among others.
Factors to Consider Before Investing in Penny Stocks in India Below 5 Rupees
Putting money in stocks that are priced under Rs 5 is not for everyone and while some long-term investors can diversify their bets by dabbling in some penny stock, those with a conservative risk profile should stay away as trading in such scrips is riskier. There are multiple factors one needs to keep in mind while trying luck in this space but the foremost is higher risk tolerance given the high volatility and risk of losing money.
Another critical factor is one should look at stocks with high trading volume as a low volume counter can make an exit difficult in the future. One should do basic research on the management, company and business profile and keep track of any news developments about the company as small triggers can swing fortunes fairly quickly.
Benefits of investing in Penny Stocks in India Below 5 Rupees
The real benefit of investing in penny stocks below Rs 5 comes from short term gains with tiny but substantial changes in the price in percentage terms along with the market. If one is playing in high volume traded stocks with low price, there is a higher probability of making gains.
The gains can come from intra day trading as well as investments that are done with a few days as a time horizon. One can make quick gains in percentage terms by betting on penny stocks under Rs 5.
How to invest in Penny Stocks in India Below 5 Rupees
The best way to invest in penny stocks in India below Rs 5 is as follows:
Step 1: Look for credible brokers such as 5Paisa
Step 2: Research and look for companies with strong management but having a low market price
Step 3: Place a buy request with the broker or on its platform
Start Investing in 5 mins*
Rs. 20 Flat Per Order | 0% Brokerage
Open Free Demat Account
Account belongs to
By proceeding, you agree to the T&C.