Best Streaming Service Stocks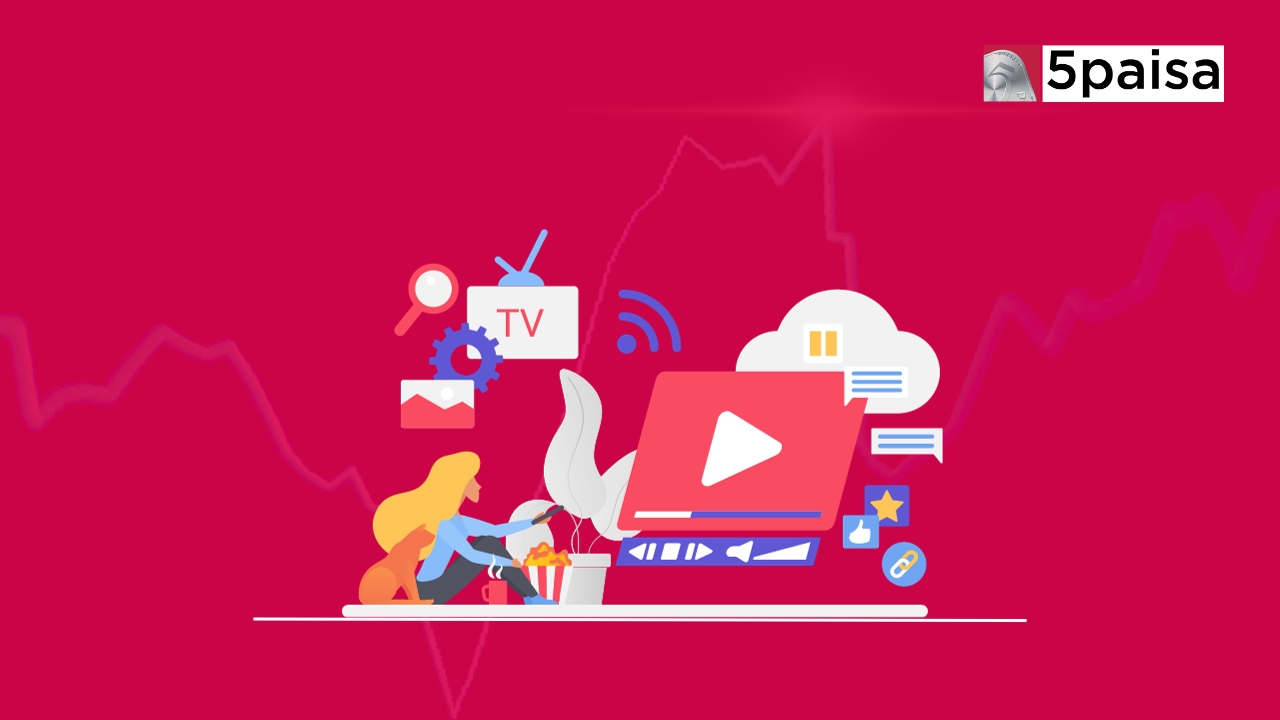 ---

The COVID-19 pandemic has disrupted the Indian economy in many ways. Though the pandemic hurt most industries, there are some sectors like streaming services that greatly benefitted from the once-in-a-lifetime tragedy. With Indians locked down at homes without many avenues for social interaction, streaming services got a major boost.
The streaming services sector, which is mostly dominated by global players, is still at a nascent stage in India. According to a study by Boston Consulting Group and the Confederation of Indian Industry, the revenue of India's over-the-top streaming services providers is projected to reach $13-15 billion by 2030.
What are streaming service stocks?
Streaming services companies are those that provide online entertainment content, including movies, sports and music, via the internet to televisions or mobile phones. Growth in internet services and the spread of smartphones and online payment systems have given a major boost to streaming services in India. 
The streaming services industry in India is dominated by global giants like Netflix, Amazon Prime, Disney+ Hotstar and YouTube. But with the entry of Mukesh Ambani-led Reliance Industries in the sector in a big way, the industry is set for a significant shake-up. There has already been some consolidation with content of HBO and Voot coming under the JioCinema umbrella. There are reports also that Reliance is all set to sign a multi-billion-dollar deal with Walt Disney Co. to buy its Indian operations, which will push JioCinema to the top of the lot.
Overview of streaming service industry
The size of the Indian video and audio over-the-top market was $2.1 billion in 2021, dominated by global majors like Netflix, Amazon Prime and Disney+ Hotstar, according to a report by RBSA Advisors. Japanese giant Sony is another prominent player in the industry.
A number of Indian media and entertainment companies have also forayed into the market. These include Reliance-owned TV18 Broadcast Ltd, Zee Entertainment Enterprises Ltd, Sun TV Network Ltd, Bharti Airtel Ltd, Balaji Telefilms Ltd and Eros International Media Ltd.
Why invest in streaming service stocks?
The streaming services sector is projected to grow at a blistering pace with internet penetration increasing and the cost of high-speed mobile internet becoming more affordable. According to Boston Consulting Group, the revenue of Indian over-the-top streaming services is projected to grow at a compounded annual growth rate of 22-25% till 2030.
Overview of best streaming service stocks
TV18 Broadcast: Reliance-owned TV18 Broadcast, which is primarily a television broadcast company, owns a majority stake in Viacom 18 Media Pvt. Ltd, which in turn, owns JioCinema.  
JioCinema is one of India's fastest-growing streaming services and recently added HBO and Voot content. It is also looking to sign a multi-billion-dollar deal with Disney to buy its Indian operations. As per Data.ai, JioCinema was the number one broadcaster-OTT app in the country during July-September with about 210 million monthly active users. JioSaavn, a leading audio streaming service in India with over 100 million monthly active users, is also part of the Mukesh Ambani-led group.
TV18 Broadcast has a market cap of around Rs 7,300 crore. Foreign investors have been increasing their stake in TV18 Broadcast, which has zero pledges by promoters. The stock is trading at 0.42 times its book value. 
The company, which reported a net loss in the quarter ended September, generates poor cash flow from its core business. The net cash flow from operating activity has been declining for the last two years.
Zee Entertainment: One of the earliest entrants in television broadcast in India, Zee Entertainment owns Zee 5, a subscription video-on-demand and over-the-top streaming service. With a market capitalisation of about Rs 26,400 crore, Zee Entertainment is among the most valued streaming companies in the country. Zee Entertainment stock is above the short, medium and long-term moving averages. Brokerages have upgraded the stock with a majority of the brokerages recommending a buy on the stock. The company reported losses in the last two quarters with the EBITDA margin almost halving to 7.8% in the June quarter. The company is being acquired by Sony.
Sun TV Network: Chennai-based Sun TV Network owns Sun NXT, a regional over-the-top streaming service. Sun TV Network, with a market capitalisation of about Rs 25,700 crore has a healthy dividend pay-out record and is almost debt-free. The return on capital employed has been declining over the years.
Bharti Airtel: Though strictly not a streaming company, Bharti Airtel has both video and music streaming as part of its digital offerings. Airtel Xstream Play offers content from multiple partners, while Wynk is a music streaming service.
Bharti Airtel, which has a market cap of Rs 5.6 trillion, is effectively using its capital to generate profit with the return on capital employed improving in the last two years. Brokerages have either upgraded their recommendation or target price in the last few months.
Balaji Telefilms: Balaji Telefilms owns ALTT, an Indian subscription-based video-on-demand platform. Its stock has shown strong momentum with the price above the short, medium and long-term moving averages.
The company has returned to profitability after reporting losses for many quarters. In the June quarter, the company reported a net profit of Rs 10.55 crore compared with a net loss of Rs 24.26 crore a year ago. There has been a positive momentum in the stock after it hit a 52-week low in March. However, the book value per share of Balaji Telefilms has been deteriorating for the last two years.
Eros International: Eros Now, a part of Eros International Media, is an Indian subscription-based over-the-top, video-on-demand entertainment and media platform. The company has low debt and no pledge of shares by promoters. However, the company has been reporting losses for the last few quarters.
Performance of streaming service stocks
Things to consider before investing in best streaming service stocks
Streaming services still account for only a very small portion of the parent companies. Though the streaming services can grow very fast, one must carefully study the other services like broadcasting and film production where these companies predominantly operate.
Investors betting on the possibility of growth in mobile and internet sectors in India should look at streaming services sector stocks. Though none of the streaming apps are directly listed in India, many of their parent companies are listed. Investors can also take exposure to global streaming companies such as Netflix and Amazon.
Conclusion
Though none of the streaming companies are directly listed in India, though some of their parents are listed. The sector seems to be heating up with entry of giants like Reliance Industries and Bharti Airtel. With internet penetration growing, the sector is likely to witness robust growth in the next few years.
Frequently Asked Questions
Which Indian companies are investing in the streaming services sector?
Most television, entertainment and telecom companies are investing in streaming sector in India. These include Reliance Industries-owned TV18 Broadcast, Balaji Telefilms, Zee, and the local units of Sony and Disney.

What is the future of streaming services?
The streaming services market will only grow, both in India and globally, as it offers consumers an easy option to watch a variety of content at their own time and convenience.
Is investing in streaming service stocks good idea?
Yes, streaming service stocks offer growth opportunities as these companies take market share away from traditional television broadcasters. However, like any other stock, one must carefully research the pros and cons of each company before putting their money to use.
Start Investing in 5 mins*
Rs. 20 Flat Per Order | 0% Brokerage
Open Free Demat Account
Mobile No. belongs to
By proceeding, you agree to the T&C.