Best Ethanol Stocks In India 2023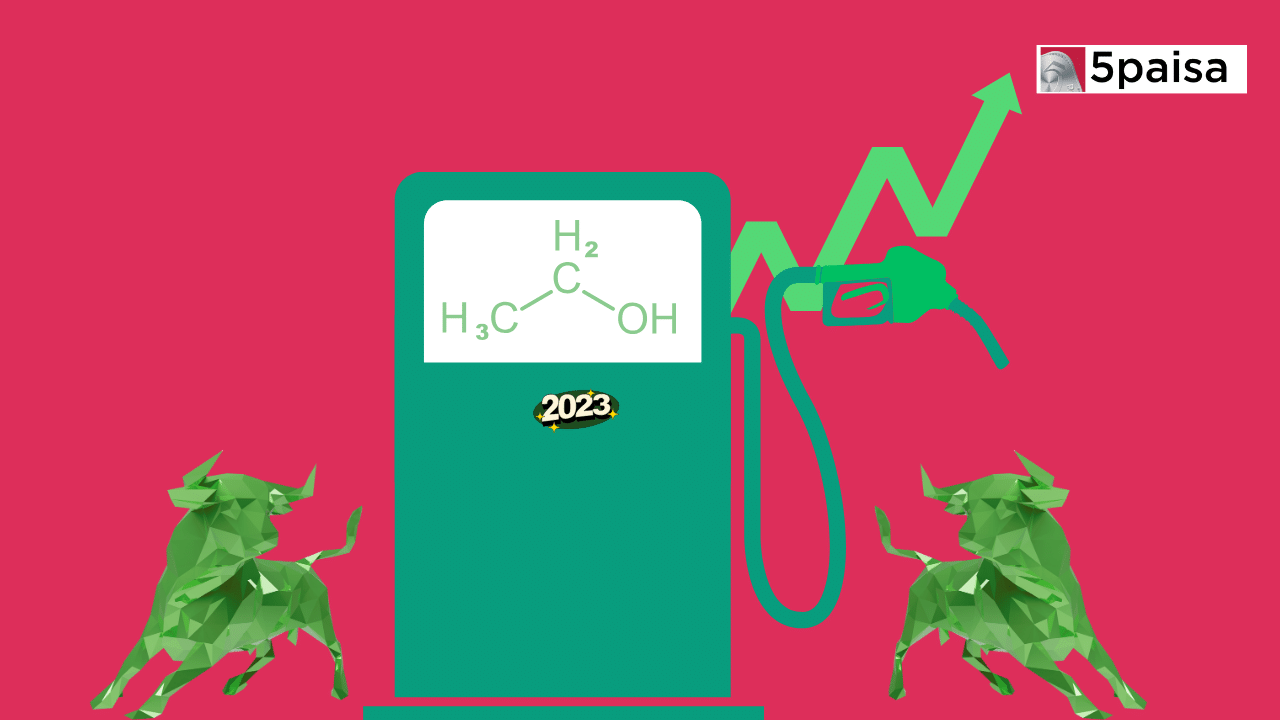 ---

India is targeting to achieve net-zero carbon emissions by 2070. To meet this, the government has rolled out a series of policies for the efficient use of energy across various economic sectors. Ethanol Blending Programme is one such programme, under which the government is aiming to achieve 20% blending of ethanol with petrol (E20) by 2025.
India is a net import of petroleum, most of which is used as fuel in transportation. E20 has many advantages as it will reduce imports, resulting in savings. In addition, ethanol is a more environment-friendly fuel.
E20 has put the spotlight on companies such as sugar manufacturers and producers of alcohol spirits, who are also involved in the production of ethanol.
What are ethanol stocks?
The government's focus on green growth through programmes such as E20 has made investors interested in ethanol stocks given their potential. Sugar companies, which are seen as a proxy for ethanol stocks, are benefiting from the programme because it involves procurement directly from them.
The progress of the scheme, given the procurement of blended ethanol by oil marketing companies, has made it favourable for the companies to ramp production as it gives predictability to their earnings profile. Last month, E20 fuel was launched at 84 retail outlets of oil marketing companies in 11 states and the union territories.
The production capacity of companies is the key factor that will help choose from the list of best ethanol stocks to buy 2023.
Oil marketing companies such as HPCL are also setting up ethanol plants that will facilitate the progress under the E20 plan. Besides, the auto industry has also taken a lead with the top car as well as 2-wheeler manufacturers bringing out models with ethanol-run flex engines.
Companies have been given various incentives, including interest subvention, have been given to companies involved in ethanol production.
Best ethanol stocks In India 2023
Some of the best ethanol stocks are listed below:
Shree Renuka Sugar
One of the largest sugar producers in the world is among the top ethanol stocks in India. Shree Renuka Sugars has eleven mills globally, of which four are in Centre-South Brazil and the remaining seven in India, with integrated ethanol and power co-generation capacity. It manufactures fuel-grade ethanol that can be blended with petrol and has a distillery capacity of a 930-kilo litre per day (klpd).
E.I.D.-Parry (India)
Among the ethanol stocks, this Chennai-based company that is part of the Murugappa Group is not only the leading sugar manufacturer in India but also has operations in the nutraceuticals space. E.I.D. Parry has charted out plans to spend 268 crore rupees in the coming financial year FY24 to augment ethanol production capacity. Given its business history, investors are betting on the company as among the best ethanol stocks.
Triveni Engineering
Recommendations of best ethanol stocks often include this company, which is one of the largest integrated sugar manufacturers in India. It has four well-equipped ultra-modern distilleries and produces potable alcohol as well as fuel-grade Ethanol. The company is also expanding its distillation capacity by setting up two new dual feedstock distilleries. The commercial production from the new distilleries is expected to commence in the October-December quarter, making Triveni Engineering among the best ethanol stocks to buy in 2023.
Dhampur Sugar Mills
A manufacturer of refined and raw sugar, bio-fuels, biomass-based renewable power and other related products has been also listed as the best ethanol stock. This is because it is one of the largest suppliers of fuel ethanol to OMCs across India. It adheres to the latest environmental standards for the production of fuel ethanol. Given the increasing demand from oil marketing companies, investors scouting for the best ethanol stocks to buy 2023 may look at Dhampur Sugar Mills.
Globus Spirit
This alcohol-beverage manufacturer is also on the radar of investors looking to buy ethanol stocks. It has nearly three decades of experience and operates integrated plants to facilitate the production of rectified spirits, grain-neutral alcohol, value-priced spirits, and premium spirits. The company plans to set up a 300 klpd ethanol plant in Odisha. This makes Globus Spirit among the top ethanol stocks 2023.
In addition to the above-mentioned list of companies with the potential to capture growth opportunities from the growing ethanol market, other ethanol stocks to look out for in 2023 are:
Bajaj Hindustan Sugar
Dwarikesh Sugar Industries
Dalmia Bharat Sugar
Balrampur Chini
Praj Industries
But before picking up these stocks, investors must consider some factors.
Factors to consider before investing in ethanol stocks
Sugar industry dependency
Among the top ethanol stocks in India are the companies that operate in the sugar sector. As we all know sugar is sucrose made from sugarcane. The cultivation of sugarcane requires the availability of water in large quantities, so by extension, the outcome of the monsoon has a direct impact on the sugar industry.
In addition, the government's policy on exports and the movement in international prices also has a direct impact on the earnings profile of sugar companies. So even if the company is benefiting from its ethanol production division, the impact on the main business of sugar manufacturers could potentially weigh on ethanol stock prices.
Fine print
Before investing in ethanol stocks, see the cash flows and revenues in the main as well as the ethanol business to assess the potential risks. Investors must also look at the plans charted by the companies to ramp up ethanol production which will help in meeting the growing demand.
Demand
Push from the government towards environmental-friendly initiatives like E20 has led to the creation of an ethanol economy. With a variety of incentives, the government is incentivising companies to increase production. To top it, oil marketing companies are also increasing procurement of blended fuel. This has put ethanol stocks in a sweet spot.
Inflation hedge
Commodities tend to do well in an inflationary environment. In the period of inflation, prices of commodities such as sugar and ethanol also rise. Hence, in addition to providing a hedge, ethanol stocks can also provide diversification benefits to the portfolios of investors.
Advantages of investing in ethanol stocks
Environment friendly
Large institutional investors are increasingly holding their portfolio companies accountable for any harm their business may cause to the environment. The impact of climate change has grabbed the attention of governments and policymakers, who are designing environment-friendly policies. The usage of ethanol fuel has advantages over other sources of fuel because it does not pollute the environment. The release of toxins when ethanol fuel is used in vehicles is at a lower level. This helps in reducing global warming, which is caused by the emission of greenhouse gases from the use of fossil fuels such as oil, natural gas, and coal. Investing in top ethanol stocks could be your way of ensuring that the portfolio is also environmentally-friendly.
Government support
With a focus on achieving net-zero carbon emissions by 2070, the government is expected to continue with initiatives like E20 that can potentially benefit companies involved in the production of ethanol. In fact, the 20% blending of ethanol with petrol was upgraded from the earlier 10%. In December, Oil Minister Hardeep Singh Puri said that the inhibition to confine to 20% will erode and the ecosystem will start and people will start talking about why not 30% or more. The statement indicates that there could be more room for ethanol manufacturers.
With OMCs preparing plans for a phased rollout, and vehicle manufacturers also pivoting towards compatible modes, there is visibility on demand, which is a positive factor for those looking to buy best ethanol stocks 2023.
Diversification
Typically, government policies are designed with a long-term vision. There could be short-term hurdles but in the long run, policies like E20 have great benefits. Investing in ethanol stocks could be a great way of loading the portfolio with stocks that can turn multi-bagger because of the government push. Ethanol stocks could also provide a diversification in your portfolio that could take earnings yield higher on a long-term basis.
Challenges and risks
But while there are many advantages to buying best ethanol stocks, investors must also watch out for risks.
Government policies
As discussed above, most of the top ethanol stocks are of the companies with main business in the sugar and alcohol beverage industry. Now, both these industries are heavily regulated by the government. Any impact on the revenues of the main business could also reflect in the stock prices.
Electric vehicles
Along with ethanol-blended fuel, the government is also supporting initiatives focused on electric vehicles. Now, E20 fuel is not going anywhere in the short to medium term. But from a long-term perspective, investors should consider the risk factor of falling demand for such fuel in the context of the rising acceptance of electric vehicles.
Conclusion
Efforts of the government to pursue green growth have benefited many sectors including ethanol producers. Policies like E20 are strategic in nature with multiple benefits from the point of view of economic growth. Investors must take note of this ethanol economy, which is expected to grow in leaps and bounds. 
Frequently asked questions
Which are the best ethanol stocks in India right now?
As shown above Shree Renuka Sugar, E.I.D.-Parry (India), Triveni Engineering, Dhampur Sugar Mills, Globus Spirit, Bajaj Hindustan Sugar, Dwarikesh Sugar Industries, Dalmia Bharat Sugar, Balrampur Chini and Praj Industries are among the best ethanol stocks in India.
When should you invest in ethanol stocks?
The Indian government has given a put a lot thrust on green growth and on cutting dependency on oil imports. All these measures may lead to huge growth opportunities for ethanol stocks.
What kind of dividend yields do ethanol stocks offer?
Currently, the companies listed above are offering dividend yields of 05%-3.0%.
Start Investing in 5 mins*
Rs. 20 Flat Per Order | 0% Brokerage
Open Free Demat Account
Mobile No. belongs to
By proceeding, you agree to the T&C.