Best Food Delivery Stocks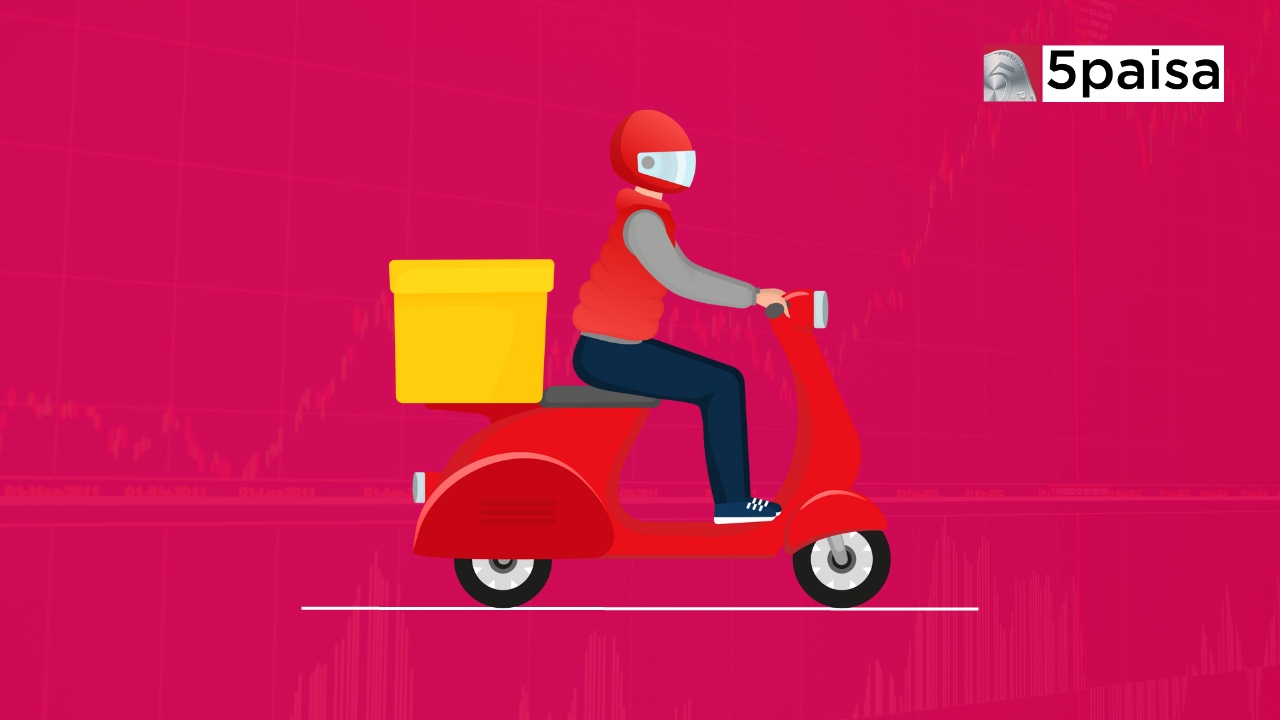 ---

India's online food delivery market is expected to cross revenue of $30 billion in 2023 and the anticipated annual growth rate is in excess of 25% over the next few years. This would make India one of the biggest food delivery markets in the world. The top food delivery stocks in India have seen sky-high valuations that are backed by rapid growth in their revenue and high market share.
What are food delivery stocks?
Broadly, there are three types of food delivery companies in India – aggregators such as Zomato and Swiggy, others that deliver food only from their own kitchens, and some delivery or courier companies that can also deliver food.
Many of these companies are listed on stock exchanges, providing opportunities to retail and others investors. Many of these food delivery stocks have seen a manifold rise in their share prices over the past few years but some also carry a burden of high valuations.
Overview of top food delivery stocks
Zomato: India's largest listed food delivery platform, Zomato, was one of the earliest entrants in the industry. The company has since grown exponentially and its monthly orders exceed 2-2.5 million. The stock has a low P/E ratio and has seen highest recovery from a 52-week low. It has also seen upgrades in target price by brokerages.
Jubilant Foodworks: The company pioneered quick food home delivery in India with its '30 minutes or free' service for Domino's Pizza's Indian franchisee. Over the years, it has also added Dunkin' Donuts and Hong's Kitchen among other brands. The stock has seen increased interest from FPIs and FIIs and its financials have also improved. However, increased competition and increase in pledged shares by promoters can be a drag.
Devyani International: The company has franchisee of Yum Brands in India and is among the largest operators of quick service restaurants, including KFC, Pizza Hut and Costa Coffee chains. The stock has shown strong annual EPS growth and book value per share has also been improving for the last two years. The company's earnings, however, have been under pressure, leading to lower shareholding by mutual funds.
Westlife Foodworld: The company operates McDonald's restaurants across West and South India. The stock has shown strong annual EPS growth and its return on capital employed (RoCE) has been improving over the last two years. However, pressure on profit margins and lower cash generation have hit the stock over the past few months. 
Sapphire Foods India: The company has non-exclusive rights to operate KFC, Pizza Hut, and Taco Bell in India, Sri Lanka, and Maldives. The delivery business comprises roughly 39% of its revenue. Its EPS and RoCE have improved over the last two years, but pressure on margins and cash flow has seen MFs lower their shareholding in the stock.
Restaurant Brands Asia: The company runs the Burger King chain in India and Popeyes in Indonesia. The company has zero promoter pledge and has also seen cash flow improve over the past two years. The stock has low PE ratio. However, high interest payments and weak financials have remained a big concern.
Barbeque-Nation Hospitality: The company is a pioneer in over-the-table-barbeque in India and has made a name for itself through its chain of restaurants. The stock has shown strong annual EPS growth and has low PE ratio. However, its stock is currently below long- and medium-term averages. It also faces concern around its recent earnings. 
Speciality Restaurants: The company runs chains like Mainland China and Oh! Calcutta with over 65 restaurants.  It has also entered the cloud kitchen category for online delivery purposes. The stock has shown strong EPS growth and its RoCE has been improving over the last two years. It also has low PE ratio. However, the stock is currently near its 52-week low following pressure on margins and weak earnings.
Why invest in food delivery stocks?
India has seen a sharp upswing in the number of people ordering food online, especially after the advent of food aggregators. These companies, through attractive offers and massive troops of delivery partners, were able to catch the fancy of customers. Food delivery stocks have seen a good uptick also due to the rise in internet penetration and rise in consumption level. However, lofty valuations can be a bugbear for the sector.  
Factors to consider before investing in food delivery stocks 
Deep pockets: With many established players in the sector, it is important for a food delivery company to have deep pockets and free cash to help attract customers.
Technology: Since most of the order for food is placed online, the top food delivery stocks must keep themselves must keep pace with any technological advancement.
Valuation: Some online food delivery stocks have also seen lofty valuations, which tends to get corrected later.
Financials: In search of topline growth and valuations, the profit and cash generations of many food delivery stocks have suffered in the past. One should look carefully at the financials of such companies before investment.
Peer comparison: Invest into a company that has some kind of advantage over its peers and has gained substantial market share.
User base: A company with a wider user base is better than one that leans heavily on few clients.
Performance of food delivery stocks
Conclusion
The food delivery industry is anticipated to grow at over 25% annually for the next few years. This sets the tone for the performance of top food delivery stocks in India.
These companies have also taken their model abroad, setting up restaurants and delivery models in many countries. However, one has to be careful of the lofty valuations some of them command before making investment decisions.
Frequently Asked Questions
Which Indian companies are investing in the food delivery sector?
Apart from Zomato and other companies listed above, another giant in the industry is Swiggy. While Swiggy is currently privately owned, it also has plans to go public.
What is the future of food delivery sector?
The food delivery industry is set for over 25% growth in revenue over the next few years, according to many studies.
Is investing in food delivery stocks a good idea?
Food delivery companies are on a high growth path, so investing in these stocks can be a good idea. However, one must scan the valuations and financials of these companies before finalizing any investment decision.
How can I invest in food delivery stocks using the 5Paisa app?
First, zero in on the food delivery stocks that you want to invest in and the amount of investment in each of them. Then, log into the 5Paisa app, check the current market prices and then place the buy order for the stocks.
Start Investing in 5 mins*
Rs. 20 Flat Per Order | 0% Brokerage
Open Free Demat Account
Mobile No. belongs to
By proceeding, you agree to the T&C.