LIC IPO , Is it fairly Valued?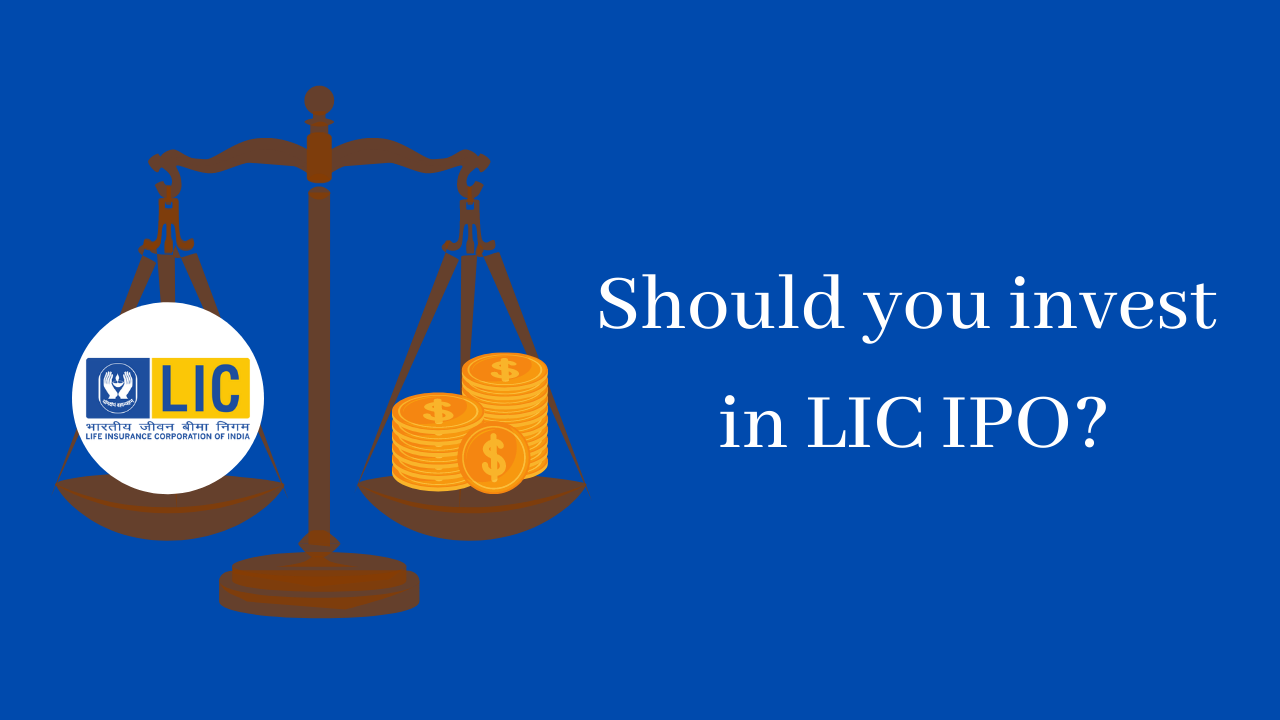 ---

In India, they say LIC kara lo, not insurance lelo, and that is the kind of power my friend, LIC has in India. Insurance in India is synonymous to LIC and that is why LIC's IPO was the most awaited IPO in the Indian Stock Market, and finally the company has given details of the IPO, but with the uncertain markets and different macroeconomic conditions, like record high inflation in most nations, wars, should you invest in LIC IPO, let's find out?

How Big is LIC ?
LIC is the largest insurance company in India, every 3 out of 4 policies sold in India are of LIC, it manages money worth 39 lakh crores, more than the money managed by the whole Indian mutual fund industry. 

Will LIC insure your portfolio ?
Humans by nature are highly optimistic, we all are of the opinion that why would something bad happen? And due to this optimism Insurance penetration is abysmally low in India. As of 2020, Insurance penetration was just 3.2%, which implies the insurance industry has a lot of potential to grow.

In recent years, be it because of deadly pandemic or wars, people have realized the importance of insurance as the new business premiums from 2016 to 2020 have grown at a CAGR of 12%.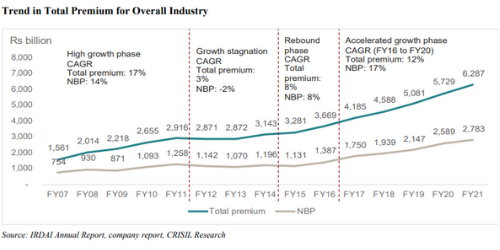 LIC is losing it!
LIC is an insurance company, it collects premiums from its customers in the exchange of a promise that in case of pre-specified outcome they would provide money to them. And LIC, invests this money in financial instruments like bonds, debentures, equity and earns money from it.
LIC has around 64% market share in India, which has declined from 71% in 2016, so this decline in market share is a cause of concern. 
LIC is not just losing the market share, even if we look at the Gross Written Premium and New business premiums of LIC, they have been declining over the last few years.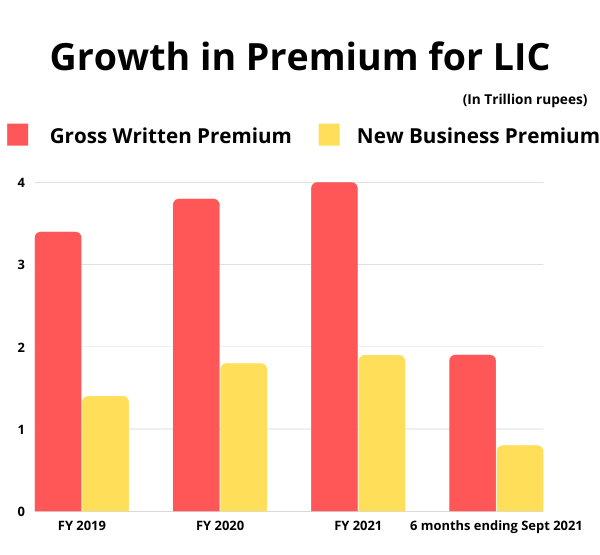 The premiums and market share has declined primarily because people are now more tech friendly and are willing to shift to private players. Private Insurance companies are also aggressively acquiring customers by providing policies with lower premiums.
Let's talk numbers
Let's have a look at the financials of LIC, the major source of revenue for LIC is the premium collected from policyholders, while the overall revenue in absolute terms has grown in the last four years, the revenue growth has declined from 13% in FY 19-20 to -2.92%, and the profits as well have witnessed a steep decline. The decline in revenue and profits of Insurance behemoth should be a reason for concern for investors.
Particulars

 

9 months ended 30th Dec 2021

FY 20-21
FY 19-20
 FY 18-19
Total Revenue
 512,398.79
 703,732.43
 645,640.92
 570,855.09
Revenue Growth
 -2.92%
 9.00%
 13.10%
 
Net Profit
 1,715.31
 2974.14
 2710.48
 2627.38
Profit growth
 -23.10%
 9.73%
 3.16%
 
Another key metric that assess the growth of a insurance company is the growth in the premiums collected,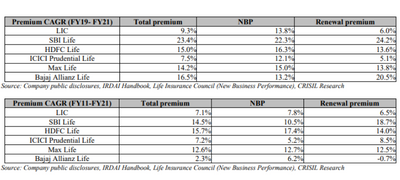 The first table depicts the growth in the premiums through individual policies, it's just 9.3% for LIC, while it's more than 2x of that for SBI life. Clearly, the premiums for both the renewal and new business premiums are growing at a much faster rate for private players than for LIC.
The next important metric is profitability. So, for insurance companies profitability is calculated through VNB margin, which is Value of new business/ Annualised premium equivalent, don't be intimidated by the formula, it is generally calculated by actuaries and measures the profitability of an insurance company by dividing the present value of the future profits of the business that company has generated in an year with the annualized premiums received. 
So, if you compare the VNB margins of LIC with other companies, they are quite low. As in FY21, while HDFC life had a VNB margin of 26%, LIC operated on a 9% margin.
What could be the reason for operating on such low margins?
When we talk about insurance, most people believe that insurance is when the death or hospitalization of a policy holder happens, the insurance company pays up an amount, now there other products in insurance which combine insurance with investment, where in even if the death doesn't occur company pays off a certain amount at the expiry off the policy, now these policies are quite appealing to most customers as they get something in return. 
These policies, though appealing for customers, are not that great for insurance companies as they are low margin products and LIC makes most of its revenues through these policies.
Also, another reason for this could be the high operating costs for LIC, as we discussed it has the largest network of agents and till today 95% of its individual business comes from agents. This channel of sales is quite expensive and contributes to high operating costs.

Valuation
Coming to the Valuations, LIC IPO is priced at Rs.901 - 949, the company's Market cap is 1.11 times of Embedded Value, which is quite less when compared to its peers that are trading 2-3 times of their EV, so in terms valuation its seems attractive, but a lot of different things have to considered like government intervention, old school method of operations etc.
Start Investing in 5 mins*
Rs. 20 Flat Per Order | 0% Brokerage
Open Free Demat Account
Account belongs to
By proceeding, you agree to the T&C.