Music Industry's Money Game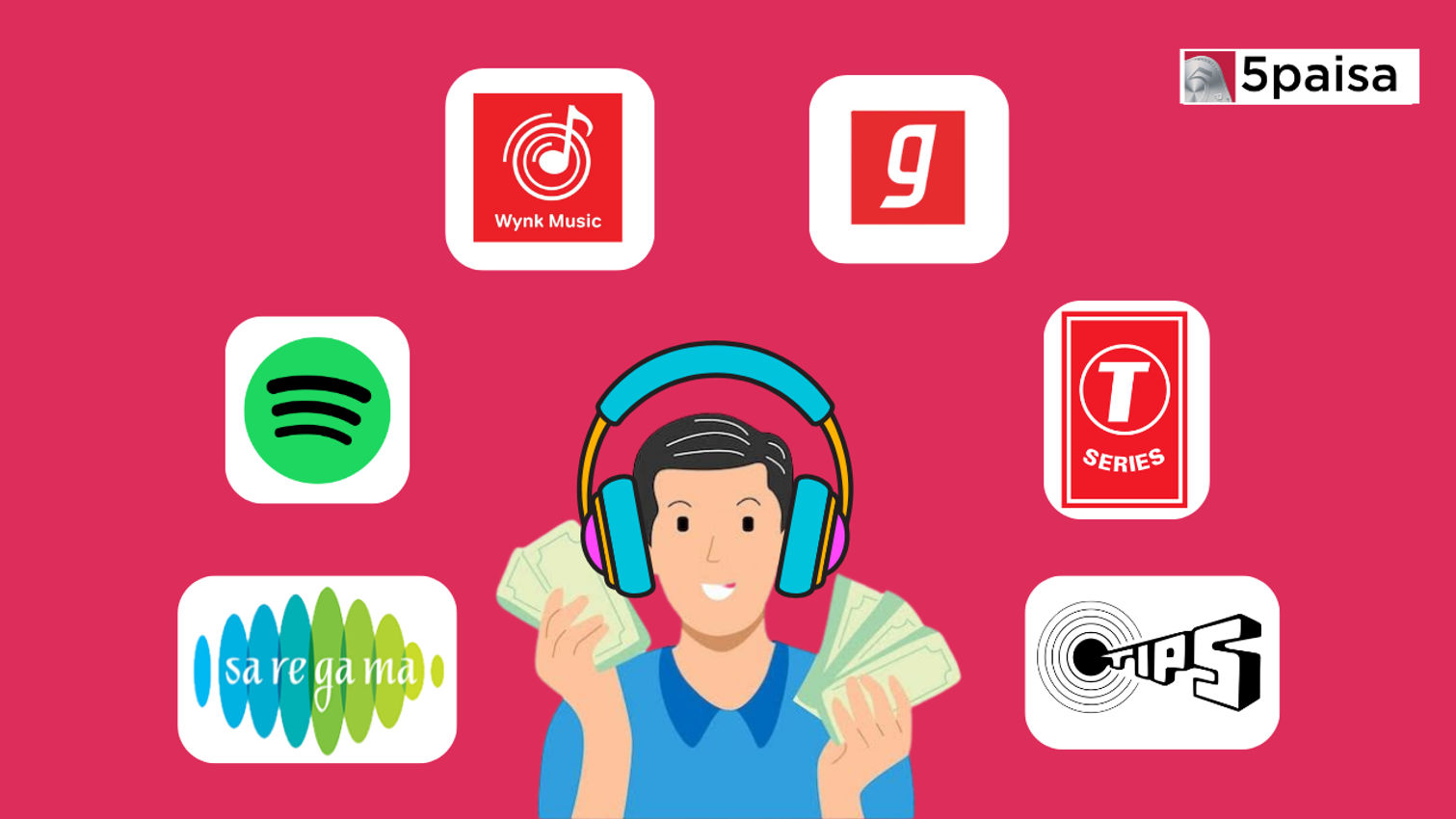 ---

From listening to the melodious "lag ja gale" by Lata Mangeshkar to the vibing on AP Dhillon, our music choices have evolved. In the last few decades, not just our music choices have evolved but the mediums through which we listen to music has evolved. You see when an industry undergoes a paradigm shift, the business model of companies operating in industry, their revenue stream also has to change. Only the companies that keep up to these changes thrive. 
Let's dive into the Music Industry, Value chain of Music Industry and the business thriving in it.
Value Chain of Music Industry
The music value chain starts with the people who create music - the songwriters, composers, and singers. They make songs and earn money from them. These creators team up with music labels, which help them reach more people and protect their rights to the music.
Then, there are the film producers who use these songs in movies. They sell the rights to the music to the music labels and pay singers for their work.
The most important part of this chain is the music label. They own the rights to the music and give permission for it to be used on different platforms. They also make money from the music and ensure that the people who made the music get paid.
Lastly, there are streaming platforms. They get permission to use the music and let people listen to it online.
Looking at the money in this industry, four big record labels made 82% of the music people listened to on Spotify in 2019. This means the industry is mostly controlled by a few companies. Around 55% of the money made from the music goes to the record labels, while about 15-20% goes to the music publishers. This gives us a big picture of how the music industry works globally.
Music Labels
There are four ways in which music labels make money.
1. They earn by issuing a fixed license fee to the TV channels, advertisers and OTT. For example, Saregama issued a license to Marico, Berger, Dabur, Limca etc. and for shows on Netflix like Big day for using its music. 
2. Fixed license fees are issued to social media platforms like Instagram reels, TikTok, Facebook etc., for using its songs. 
3. Music licensing companies also earn royalties from performance rights which includes live concerts or events by singers. 
Streaming platforms like Spotify, YouTube, and Gaana make money in two ways: through ads for free users and subscription fees from premium users.
Some people think that streaming services pay music companies based on the number of times songs are played, but that's not true. Instead, these services put money into a pool. Music companies get a portion of that pool based on how much their songs are played compared to all the songs on the platform.
The size of this pool depends on how much money the streaming platform makes, mostly from ads and subscriptions.
This way of making money is good for music labels because they can earn more without needing more people to listen to their songs. For example, if a free user starts paying for a subscription, the pool of money for music labels grows, and they make more money, even if that user doesn't listen to more music. This change is good not only for the music labels whose songs the user listens to but also for all the other labels, because they still get their share of the bigger money pool.
The music label industry globally and in India is dominated by a handful of players like Zee, Sony Music, T-series.
Why? Well it's difficult to be a new entrant in the music industry.
You see, around 300-400 Bollywood movies hit the screens every year, each carrying approximately five songs. That results in the release of almost 15,000-20,000 songs annually from the Bollywood industry. If a company aims to challenge a giant like T-series, which already possesses a collection of 26,000 songs, it would likely face financial setbacks for the next 4-5 years. Even after enduring those losses, it might struggle to match the vast music library of T-series. Therefore, establishing a comparable music repertoire could take as long as 20-30 years.
Music Streaming Industry
In the last three years, the music industry has seen a big increase in the number of times songs are played, reaching 460 million plays in FY23, which is 1.6 times more than before.
Lately, there's been a lot of interest in making music in local languages, especially after the success of the Telugu song "Naatu Naatu" from the movie RRR, winning at the Golden Globe Awards and Oscars. This trend is just starting and becoming popular. In terms of online music, songs in local languages have grown the quickest in the past three years, especially in smaller cities, thanks to more digital use and partnerships with local music labels. Local music accounted for 34 percent of all music played in FY23.
According to the EY-FICCI report, 83% of the time spent by the 200+ million Indians who use music streaming platforms is on Indian music, much higher than the global average of 49%. The share of regional music has also increased to around 40% of total music streaming in the country.
A report by Redseer mentioned that Spotify has become very popular in the last three years for offering a great music experience and becoming a strong brand. It has captured 26 percent of all music plays in FY23. The platform has been successful in attracting young users between 15 and 30 years old, playing a key role in bringing new users to music streaming.
Spotify's focus on adding more Hindi and local language songs, not just international music, has helped it get more users from different age groups all over India. This has contributed to Spotify's growth and success, making it a major player in the market.
A game changer strategy for Spotify has been its podcasts. 
One thing that can make Spotify stand out from other music apps is its unique and special podcasts. These podcasts are only available on Spotify, which means you can't find them anywhere else. This makes people more likely to choose Spotify over other apps. A good example of this is how Spotify paid a huge $200 million to have the rights to The Joe Rogan Experience podcast all to themselves. This shows how important these exclusive podcasts are to Spotify.
They've even teamed up with creators such as Ranveer Allahbadia and Leeza Mangaldas to create their own podcasts. Today, a quarter of Spotify's music listeners are also tuning into podcasts.
"Podcasting has been picking up pretty well in India, as more and more India-focussed content is generated, and Gen Z and millennials adopt listening habits. Another trend we are picking up is the audio series market, which is one of the fastest growing segments," said Mukesh Kumar, senior engagement manager at Redseer
Much like the ever-changing melodies that captivate the souls of India, the top dogs in the music realm continually adapt their strategies. It's akin to a thrilling musical quest, and the spotlight is on Spotify. Will it rise to become the undisputed ruler of the music streaming domain? The unfolding chapters of this captivating narrative hold the key to the future of our musical journey.
 
Start Investing in 5 mins*
Rs. 20 Flat Per Order | 0% Brokerage
Disclaimer
Investment/Trading in securities Market is subject to market risk, past performance is not a guarantee of future performance. The risk of loss in trading and investment in Securities markets including Equites and Derivatives can be substantial.
Open Free Demat Account
Mobile No. belongs to
By proceeding, you agree to the T&C.