Trading tips from a Taxi driver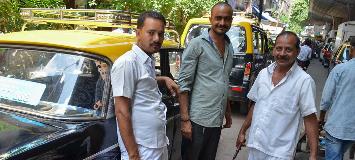 ---

Being an avid traveler, I try to go to as many places I can and meet interesting people; some of these people end up inspiring me in numerous ways. Last month, I was traveling to Mumbai to visit my sister.
I boarded a taxi from Mumbai Central to go to my hotel. I had no clue that this hour-long taxi ride was going to upturn my financial life and change my way of reaching my financial goals.
Ten minutes into the ride, I noticed a photograph glued to the dashboard. It was a photo of the taxi driver, his wife, and his two daughters. Out of curiosity, I asked him what his daughters were doing in life, to which he gave me a surprising answer: "This one is Radha, and she is pursuing her Bachelor's degree from IIT Bombay, and this is Sandhya who is doing Ph.D. from Yale University in Connecticut." Out of all the possible answers, this was one that I was not expecting from a taxi driver.
I congratulated him on his daughters' hard work and achievement. Curiously, I asked him: "All this must be costing you a fortune; do you earn enough from the taxi to fund your daughters' education and cover your daily expenses?"
To my surprise, he replied: "No, not from the taxi; I mostly earn my money by trading in the share market. Driving a taxi is something I started with because I don't like to sit all day in the house doing nothing. So, I decided to do the one thing that I'm good at; apart from investing, of course." This reply was followed by a big laugh as I sat there, even more astonished than before.
Since I have always been fascinated by the share market and the infinite opportunities that it provides to build wealth, I decided to ask him how he manages his investment and the strategies that he uses to trade in the share market. Given below is a small summary of what I learned:
Thorough research
On knowing that he hasn't had a loss in investing in 2 years, I asked him, how he picks the perfect stock. To this, he replied: "I research the investment inside and out before deciding to invest. I check the background of the company by looking at their previous earnings, their balance sheet, their income statement, and their potential to pay a regular dividend. If all of this seems right and I see that the company has a potential to grow in the future, I go ahead with my decision to invest in the company." I asked him where he got the time for all this.
"What are nights and early mornings for?" he replied with a smile.
Diversification
When he stated that he hadn't had a loss in over two years, I doubtfully commented: "But this seems like an impossible thing in the share market, even big-time investors incur regular losses." To this, I got an intelligent reply: "It's not that I have not suffered a loss in my investments, I just cut them by earning more profits through my other investments. You see, I am all in for diversification of my portfolio. I try to invest in different company's stocks rather than putting all of my money in just one place. It spreads my overall risk across multiple investments, and even if my one investment turns bad, profits from my other investments make my overall portfolio profitable."
"Well, that's just pure genius," I replied.
Discipline
On asking him what trait a person should have to be successful in the share market, he smiled and replied: "Discipline and patience are crucial. I have seen people selling their stocks as soon the prices go a little higher, losing out on earning so much more money as the price usually increases in the future. You have to be disciplined and patient when trading in the share market. If you sell early, you lose on making more money, and if you retain your stocks for too long even when the market is down, you incur massive losses. By regularly monitoring your investment, you will know the right time to buy or sell your stocks."
When I reached my hotel, I still had so many questions that I wanted to ask him. I realized that I didn't even know his name.
"In midst of all this, I forgot to ask your name."
"No worries, I am Dinkar Rajoria and here is my card. Feel free to call anytime you want a taxi."
"What about for investment advice?"
"Call me anytime for that."
Start Investing in 5 mins*
Rs. 20 Flat Per Order | 0% Brokerage
Open Free Demat Account
Mobile No. belongs to
By proceeding, you agree to the T&C.