Introduction
Discount brokers in India have been more well-known in recent years due to the rise in self-directed clients who like managing their investments and want to minimise trading expenses. One frequently asked question is, "what is discount broking?"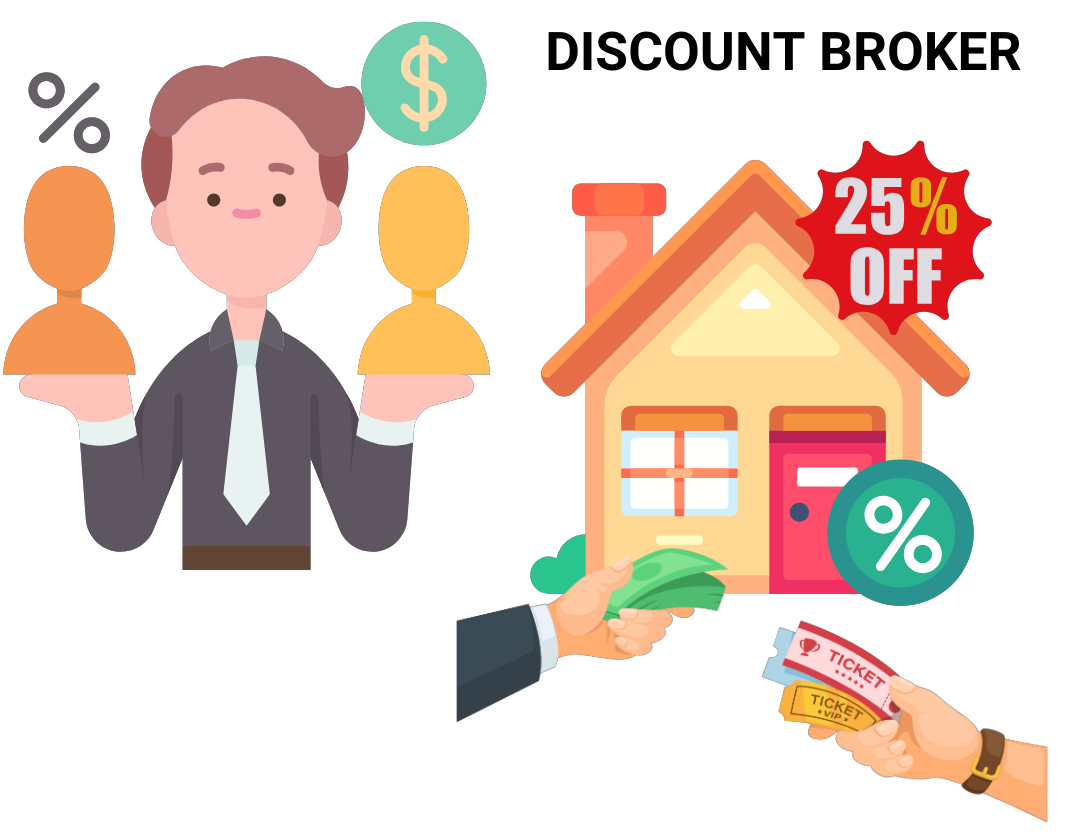 In this arrangement, the investor uses the broker's online trading platform to carry out their trades rather than receiving individual service or investment advice. This kind of brokerage is a viable option for seasoned investors who wish to cut costs and manage their own investments. A "discount broker" offers internet trading services cheaper than traditional full-service brokers as they reduce brokerage costs and charges.

What Is A Discount Broker?
As the name suggests, a discount broker provides low-cost trades, online account management, research tools, and educational resources. It is extremely beneficial for investors who keep track of their investments by themselves.
Compared to standard full-service brokers, a discount broker is a sort of brokerage firm that provides internet trading services at a lower cost. Cheap brokers often give their clients access to a simple, no-frills trading platform and limited research and advisory services. As a result, they can offer full-service brokers lower brokerage fees and commissions.

Who Are Discount Brokers?
Discount brokers offer a simple, no-frills trading platform with minimal advisory and research services. Self-directed investors that prefer to manage their assets and keep trading costs down are catered to by discount brokers. Unlike full-service brokers, discount brokers do not provide specialised account managers or personalised investment advice. Instead, they provide study materials, customer service, and internet tools to assist investors in making their own investing decisions. Experienced investors are confident in managing their accounts and don't need personalised assistance or investment guidance frequently favour discount brokers.
Discount Brokers Meaning:
How Do They Charge Less?
Discount brokerage firms could provide the same services as regular traditional brokers but at a much less cost. Unlike full-service brokers, discount brokers do not offer specialized account managers or customized investment advice. Instead, they offer a simple, straightforward trading platform with minimal advice and research services. They often have reduced brokerage costs and charges and provide a straightforward trading platform with constrained research and advisory services. This enables them to charge less.
Their services include:
● Use of online tools.
● Research resources to understand the investments.
● Customer services.
Discount brokers generally provide self-directed investors with a practical and affordable option to handle their investments. They may not provide the same level of individualized care as full-service brokers. Still, they nonetheless offer a variety of tools and services to aid investors in making wise investment choices and achieving their financial objectives.

Who Can Use It?
Discount brokers become an instant choice for experienced investors who want to manage their investments and keep their trading costs low. They are often preferred by active traders and long-term investors who want to minimise their trading costs and have greater control over their investment portfolios. While discount brokers may not offer the same level of investment advice or personalised service as full-service brokers, they can provide a cost-effective and efficient way to trade stocks, mutual funds, and other securities.

Key Features and Services Offered by Discount Brokers
To meet the needs of self-directed individuals who choose to manage their investments, discount brokers in India and the world provide various tools and services. They are as follows:
● Low-cost Trades:
Discount brokers provide low-cost trades to purchase and sell stocks, ETFs and mutual funds. Investors benefit by paying less for trading and earning higher returns. This helps discount brokers stand apart from other regular brokers.
● Online Trading Platform:
Investors can purchase and sell stocks from the convenience of their homes or workplaces using an online trading platform that discount brokers provide. Online platforms tend to be user-friendly. The platform often offers real-time quotes, charts, and news feeds to assist investors in making wise investment decisions.
● Research Tools:
To assist investors in making their investment decisions, they offer research resources such as corporate profile making, market research papers, and financial updates from all over the world.
● Customer Support:
Investors can often contact discount brokers for assistance with queries or concerns via email, phone, or one-to-one meetings. Any issues about accounts, problems with trade execution, or technical assistance could be solved.
● Mobile Trading App:
Investors can trade securities using a mobile trading app offered by several discount brokers on their smartphone or tablet, a one-in-all solution for all queries.
Thus they provide cost-effective and easy solutions for all trading-related issues.

Advantages and Disadvantages of Using a Discount Broker
Advantages and Disadvantages of Using a Discount Broker
● Low price: Using a discount broker has a low price as its main benefit. Long-term savings from this at a lesser cost are significant for investors, especially those who trade regularly.
No minimum balance required to start an account: Most discount brokers do not set a minimum balance requirement. As a result, it is simpler for novice investors to start investing, even with a modest sum of money.
● User-friendly platform: Discount brokers often provide an intuitive, simple-to-use internet trading interface, like an app or website. Investors can manage their money and complete trades more easily as a result.
● Flexibility: A wide range of investing options, including stocks, ETFs, mutual funds, and other securities, are available through discount brokers.

Disadvantages of using a discount broker:
● Minimal advisory services and research: Inexpensive brokers don't offer personalised financial advice or specialised account managers. This suggests that investors make their own investment decisions and may not have access to the same kinds of research and advisory services as full-service brokers.
● Inability to interact with people: Discount brokerage firms typically offer online customer assistance, but investors might not have access to a human account manager or financial advisor. This could disadvantage investors who desire personalised advice and a personal touch.
● No further services are provided: Inexpensive brokers often only offer basic trading services and research tools. They do not offer financial planning, estate planning, or tax preparation services.
Which Discount Broker is Right For You?
Your specific financial needs and goals will determine whether a discount or full-service broker is the best choice for you. A discount broker can be suitable for self-directed investors who prefer to make their own financial decisions. A discount broker's cheaper fees and commissions could save you a lot of money if you trade frequently.
A discount broker may be appropriate if your primary investment focuses on stocks, ETFs, and other fundamental securities. On the other hand, a full-service broker might be more appropriate if you need access to a wider variety of investment products, such as fixed-income securities, mutual funds, or options. A discount may be available if you feel at ease using self-service resources and online support.

What To Look At When Selecting Discount Brokers?
These are a few factors you can keep in mind to select who is the discount broker for you. Considering all the factors mentioned below will not only help you to make the right choice but also save a considerable amount of money.

● First, you must compare the investment cost of getting a discount broker.
● Research the broker's previous works, media interfaces and customer reviews to be assured.
● Opt for a broker offering a wide investment range from stocks to ETFs, bonds, mutual funds, etc.
● Prompt and continuous customer service is another aspect you can look for in a discount broker.
● Select a discount broker with robust security measures to safeguard your financial and personal data. Look for the licences and validations provided for discount brokers in India and determine one accordingly.

Conclusion
Hence, discount broker meaning easily shows what discount broking is. Before choosing a discount broker, it's crucial to thoroughly consider their trading costs, platforms, investment products, customer service, security, reputation, and reviews. Also ensure that there's no hidden charges to avoid any confusion in the future.
Open Free Demat Account
Mobile No. belongs to
By proceeding, you agree to the T&C.
More About Stock / Share Market
Frequently Asked Questions
Unlike traditional stockbrokers, discount brokers offer a platform for trading stocks, mutual funds, and other securities at a lower price. Unlike regular brokers, discount brokers frequently do not offer specialised investment advice or other value-added services. Instead, they concentrate on offering a cheap trading platform and fundamental research tools to assist investors in making educated judgements.
If investors make wise investments and do so with complete knowledge, the Indian stock market can be profitable for them. Yet it can also be profitable for other parties besides investors. You can pursue your financial objectives by opening your own brokerage company if you have entrepreneurial aspirations.
While comparing and selecting who is the best discount broker for your needs, take into account the following factors:
 
●       Commissions and Fees.
●       Investing options on a trading platform.
●       Research Resources
●       Customer service.
●       Account Requirements.
●       Security.
●       Further Services.
Considering these variables, you may compare several discount brokers and select the one that best suits your requirements and financial constraints.